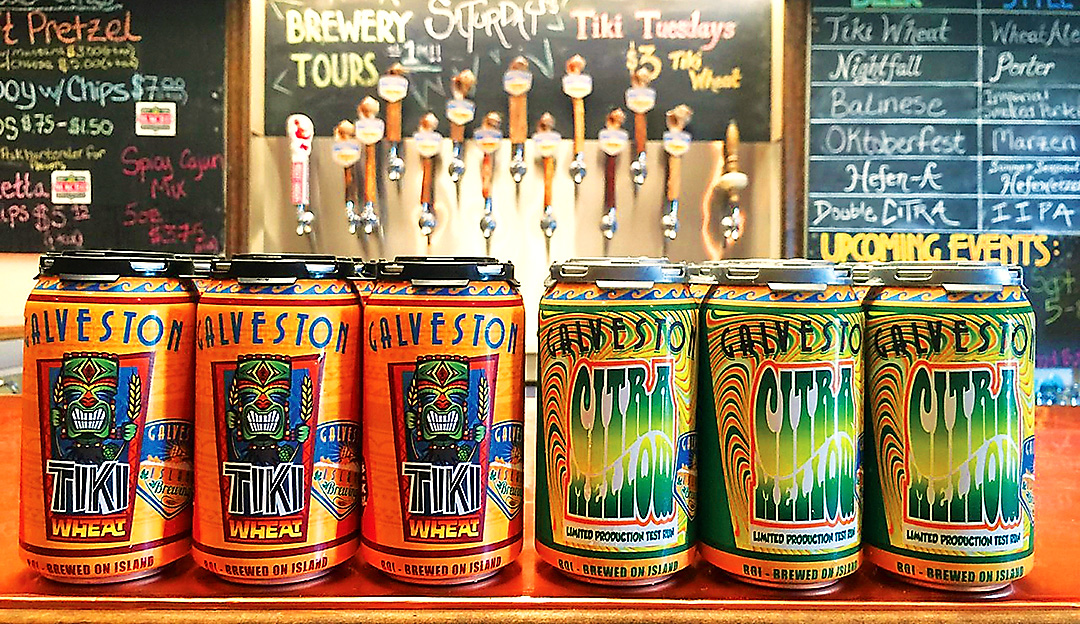 Galveston Island Brewing:
From Yoga to Saving Rhino's, There's Something To Do for Everyone
Galveston Island Brewery (GIB) is a local brewery featuring an on-site tap room showcasing classic beer styles from around the world.
The tap room is open seven days a week, Monday-Thursday 3-9pm, Friday 3pm-12 midnight, Saturday 12 noon-12 midnight, and Sunday 12 noon-9pm. GIB offers free brewery tours every Saturday at 1pm. Tours are about 30 minutes long. Beer, camera, and questions are encouraged.
For more info call (409)740-7000 or go to galvestonislandbrewing.com, or you can always stop by the brewery located at 8423 Stewart Rd., Galveston.
Live Music
May 5th (TBD): The High Mile Cinco de Mayo Party

May 12th (3-6pm): The Brush Poppers

May 18th (4pm): Dr. B on the Keys

May 19th (2-5pm): Campfire Soul

May 25th (5-8pm): Los Mighty Hooks

May 26th (3pm): Robert Kuhn

May 27th (2-6pm): Geoff Fish

May 28th (4-7pm): Monday Night Guys

June 2nd (4-7pm): Kickin' it Dixie

June 8th (4-7pm): Jaredd Reed

June 16th: 4th Anniversary Party: Live music all day!

June 17th (2-6pm): David Richardson

June 22nd (TBD): Alligator Handshake Time

June 23rd (5-8pm): The Brush Poppers

June 29th (5pm): Robert Kuhn Acoustic
Other events are:
May 5th, June 2nd (12 noon) Yoga At The Brewery –
These yoga classes are free and open to the public. All levels welcome. Please bring a beach towel or yoga mat, water and any additional equipment needed.
May 14th-20th
–
American Craft Beer Week
– To celebrate, there will be beer specials, releases all week long at the brewery.
May 17th – Galveston Island Brewing Beer Dinner –
As part of American Craft Beer Week, join GIB for a Craft Beer Pairing Dinner at The Tremont House. Dinner begins at 6pm with top seller Tiki Wheat (American Wheat) paired with a variety of appetizers. Next up is pork belly and other sides that will complement GIB's Citra Mellow (IPA). For the main course, enjoy Hefen-a (Hefeweizen) with pan seared gulf grouper. The meal concludes with Stranded On An Island (Barleywine) paired with sticky toffee date pudding with salted caramel and vanilla mousse. During dinner, you will hear more about locally brewed beer by owner Mark Dell'Osso. Dinner is $59 plus tax and gratuity. Advance reservations are required by calling (409)515-2188.
May 19th (2-6pm) – Tie Dye Party at The Brewery –
Swing into summer, with the release of your favorite beach side beer, Hefen-A! Nothing feels more like an endless summer than being in Galveston with a locally handcrafted beer in hand. Grab a pint and get your artistic hands ready because there will be tie dying all day. Purchase your white Galveston Island Brewing t-shirts then customize your look with full setups of tie dye stations. There will be live music from Campfire Soul 2-5pm.
May 19th (2-5pm) – Growlers for GRotters –
Growlers 4 GRotters is a fundraising event for giant otter conservation. Come out and have a fun night at the brewery all while helping out otters. There will be drinks, music, and great stuff for sale plus tons of fun.
May 26th (4-8pm) – Brewing for Rhinos Fundraiser –
Join GCAAZK as they raise money to support rhino conservation efforts! Come for the rhinos, stay for the local craft beer, live music, BFR merch, raffles with unique local prizes, food, and bake sale. Come wearing your Brewing for Rhinos merch and get a free raffle ticket. All proceeds go to AAZK's Bowling for Rhinos, which provides critical support for rhinos in Kenya and Indonesia. Rhinos share these habitats with countless other species, so everybody wins!
June 9th – Galveston Island Brewing Co. 5K Beer Run –
This run is#3 in the Run in Texas 5K 6-Pack Series. Start and finish at hip and groovy Galveston Island Brewing Co. There will be a post race party with food trucks and the usual four 8 oz. beer tastings with finisher glass included. Register at runintexas.com/galveston. The 2018 Texas 5K 6-Pack Beer Series & Challenge featuring breweries across Texas.
June 16th – 4th Anniversary Party at GIB – The Party will feature fun games, food, specialty beer releases, beer specials and live music all day! More details to come.