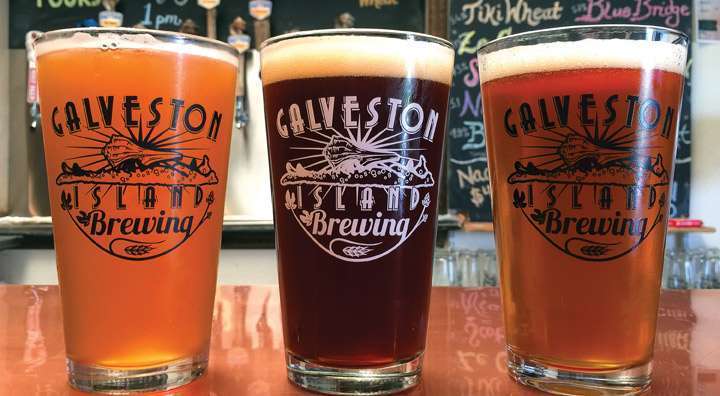 At Galveston Island Brewing This Month
Galveston Island Brewery (GIB) is a local brewery featuring an on-site taproom showcasing classic beer styles from around the world. The tap room is open seven days a week, Monday-Thursday 3-9pm, Friday 3pm-12 midnight, Saturday 12 noon-12 midnight, and Sunday 12 noon-9pm. For more info call (409)740-7000 or go to galvestonislandbrewing.com, or you can always stop by the brewery located at 8423 Stewart Rd., Galveston.
Live Music
Every Sunday (1-4pm) – Sunday Hootenanny Open Acoustic Jam
Other events are:
Every Saturday (1pm): Galveston Island Brewery offers free Brewery Tours! Tours are about 30 minutes long. Beer, camera, and questions are encouraged. Come and see how the magic is created in the brewery warehouse.
Ride the Galveston Island Brewing Mardi Gras Float in The Krewe of Aquarius Day Parade
Saturday, February 23rd, come out and ride the Galveston Island Brewing Mardi Gras Float in The Krewe of Aquarius Day Parade.
Ride high and parade through the streets of Galveston on Galveston Island Brewing's cool Mardi Gras float in the Krewe of Aquarius float February 23rd at 12 noon during the big parade.
Your ticket includes an exclusive invitation to the After the Parade Party at the owner of Galveston Island Brewing's house, which includes live music, food, and beer. Tickets are $275 which includes your parade entry fee, party with live music, food and drink, beer on the float, and beads. This is for 21+.
Tickets are on sale by calling (409)740-7000, email info@galvestonislandbrewing.com, or purchase in person in the GIB tap room.
Want to see your company logo in the Galveston Mardi Gras parade? Corporate sponsorship packages are available. A banner with your logo will be presented as a sponsor on the float as well as a minimum of six spots; cost is $300 per person.
GIB encourages you to dress up in the "beer theme" but it is not required. Dressing up as a beer goddess, keg costume, wearing a beer hat, or just sporting your Galveston Island Brewing shirt is also encouraged.