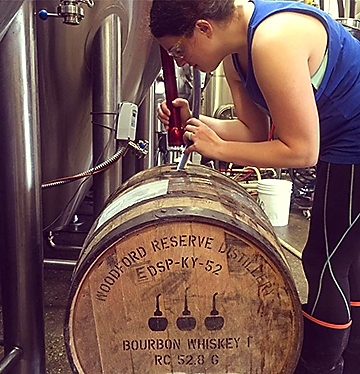 By Terry Card
Everyone loves a success story!
There is one Millennial in our midst who is the epitome of a success story. People may not recognize his name – Mark Dell'Osso – but they will most likely recognize the signature beer for which his craft brewery, Galveston Island Brewing, is gaining renown: TIKI Wheat.
No more is it sold exclusively in the tap room of Galveston Island Brewing as it was on the day it opened in May 2014. It is now sold at more than 125 Texas outlets including many of your favorite bars and restaurants. And if you want to be able to enjoy TIKI Wheat and several other Galveston Island brews at home, they are sold in cans at an outlet near you.
When Mark first made his dream come true on opening day, the brewery consisted of only two employees, 2.5 barrel tanks for production, plus "Waylon," his 2.5 barrel experimental tank. He quickly added two-ten barrel, one to fifteen barrel, and one to twenty barrel tank, bringing production up to 80 barrels or 16,000 pints per month. Today, production is 300 barrels or 60,000 pints per month. The brewery now has fourteen tanks and fifteen employees. The larger tanks are special Bright Tanks that produce a clearer product.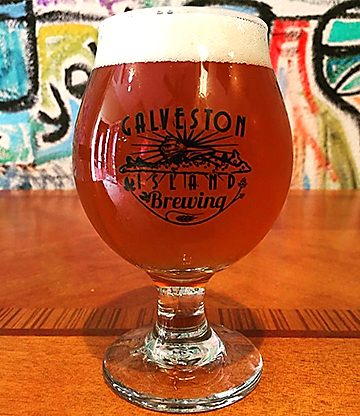 In addition, a new brew house was added in July 2016, which has allowed an increase of each batch size from 5 barrels to 20 barrels. This increases the number of pints produced per batch from 1,000 pints to 4,000 pints, all necessary to keep up with the phenomenal increase in demand over the past three years.
As is often the case, success breeds success. When Mark first tried to obtain financial backing he was rejected at every turn – just a 29 year old with a dream and nothing else. So, with friends and family, he self-financed. Today, his expansion is funded by Galveston's local Hometown Bank.
Wanting to increase the choice of beer available, he has introduced new varieties of seasonal beer as well as an increase in stronger beer with higher alcohol content. The stronger beer takes longer to age, which the brewery is now able to do because of the increased capacity and the addition of the new brew house.
Even though the brewery has expanded dramatically, the tap room in the bar at the brewery on Stewart Rd. still accounts for 25% of beer sales, with wholesale accounting for the remaining 75%. Of the wholesale product, 45% is now sold in cans and 30% by South Texas vendor outlets including many bars and restaurants. Wholesale product is limited to five beers – TIKI Wheat, Citra Mellow (Mark's favorite), Blue Bridge Amber Ale, Causeway Kolsch, and depending on the time of year, one of the seasonal beers. The seasonal spring beer is Flip Flop, the summer beer is Hefen–A, and the autumn beer is Oktoberfest.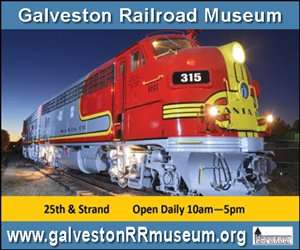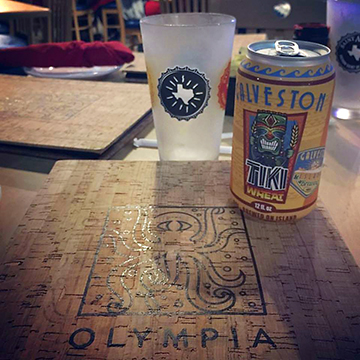 The largest contract vendor Galveston Island Brewing has is unsurprisingly the Landry Group, owned by Tilman Fertitta, a man with close historical family ties to Galveston. His group accounts for 15% of vendor sales and his outlets include Willie G's, Fish Tales, Fisherman's Wharf, Saltgrass, and of course, Landry's.
The cans are distributed by Del Papa. Spec's is the largest seller at this time, but Mark expects that they will be surpassed in the near future by his latest client, the H.E.B. grocery chain.
Mark has been gratified by the acceptance of not only his product, but of craft beer in general. Galveston Island Brewing has a wonderful relationship with its vendors. One that is mutually beneficial. The local craft brewing industry has a strong reputation that has been recognized by the traditional beer industry and local bars and restaurants. Even though Del Papa's distribution of craft beer represents only 3% of sales, craft beer volume has doubled over the last short while.
Kroger has just recently doubled their shelving space for craft beer, including both cans and bottles. Mark prefers cans because they block all light and they can be sealed 100% tight, unlike bottle caps, which by their nature, allow oxygen to get into the beer product, thus reducing its shelf life, taste, and freshness. In addition, cans are easier to handle and recycle.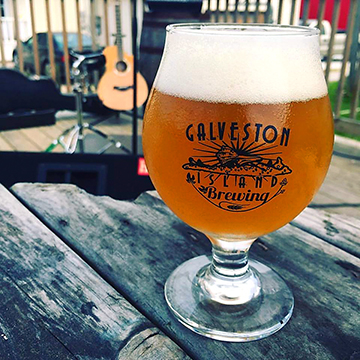 However, even with the tremendous expansion of vendor and can sales throughout South Texas, his tap room is still the most profitable. There are no middle men and no transportation costs. The tap room sales are also very important for brand recognition and connecting with customers. Vendor sales are the second most profitable. Future sales can increase because he still has room to expand at his present location. He believes he has room to add 3-4 additional tanks.
One of the benefits of having Del Papa as his distributor is that not only have can sales boomed but keg sales have also benefited.
Always thinking ahead, he is envisioning new brews utilizing aged whiskey barrels. Even though he is always looking at something new, his focus will remain on beer production, and therefore, he does not see expanding into food production. At present, he has a good relation with Maceo's Spice & Imports who provide muffalettas and Italian Po-boys. In addition, there are snacks available.
The tours of the brewery, which have been ongoing since inception, have proven to be increasingly popular. Perhaps it is because unlike tours at large breweries the tour is not conducted behind glass panels far from the production scene. They are up close and personal.
Now three years into fulfilling his dream, Mark is very happy with his brain-child, to the point where he would not change anything. He is very gratified with the acceptance that his customers have for his beer, his brewery, and the tap room. He has even had to expand the play area for children that he created in front of the brewery. He has added regular bands, yoga classes, and other events to increase enjoyment for his customers. Customers can even bring their pet on a leash while enjoying a brew.
Galveston Island Brewery is open seven days a week, Monday-Thursday 3-9pm, Friday 3pm-12 midnight, Saturday 12 noon-12 midnight, Sunday 12 noon-9pm. It is located at 8423 Stewart Rd.
For more info call(409) 740-7000 or go to galvestonislandbrewing.com.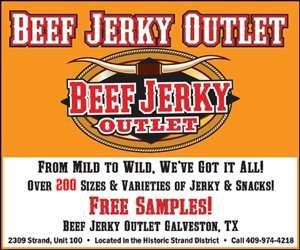 ---