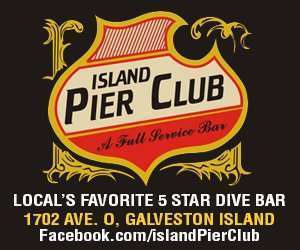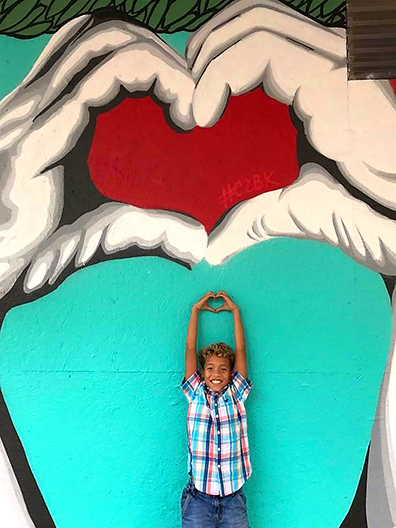 By Rachel Delanoix
A sunny burst of rainbow paint beams a bright welcome from the corner of 22nd and Postoffice St. The new mural is an homage to Shel Silverstein's "The Giving Tree," the surfboard-shaped leaves connect one end of the artwork to the other as it wraps around the corner of the ground floor of the old McCrory Building. The keen observer will note a small hashtag hidden among the artwork: #c2bk, an acronym for "Cool to Be Kind," which is the calling card of the Galveston Kindness Project, the organization behind this gorgeous collaborative masterpiece.
Begun one year ago by Erin Toberman, the Galveston Kindness Project was conceived out of a desire to empower the meek and give voice to a simple idea: that standing up to bullies is easy when the only question is kindness. "Is it kind?" Erin asks, in a passionate but matter-of-fact way, perched on the herb garden planters between the mural and the street. She is supervising local artist Gabriel Prusmack, whose deft movements are shaping burnt orange spray paint into the form of a monarch butterfly. "They land on the island during their migration to Mexico every year, usually in October," she tells me. "Have you ever seen a tree just covered in them? It's incredible!"
Erin, in her official title of Kindness Ambassador, can often be found sporting her now-familiar bee costume topped with a huge pair of bug-eye goggles and a broad smile. Her enthusiasm overflows when she talks about the heart of the Galveston Kindness Project.
"We believe that kindness is a core character quality that we should all nurture, value, and require of ourselves, our friends, and family, our communities, our companies, our churches, and our government. The words 'kind' and 'nice' are too often inappropriately exchanged, and I believe we need to be more attentive to the use of the word 'kind' and use that word with its correct purpose and intention. What do you believe is the difference between the words 'nice' and 'kind?' We like to explain that the word 'nice' should be most often used as an adjective or a describing word and the word 'kind' should be used most often as an adverb or an action word. For example, your shoes look nice, and it was kind of you to hold the door open for me. Words matter. It helps immensely when you use your words properly, carefully, and intentionally. Kindness is an intentional action, and we feel compelled to reintroduce the value of kindness to the community."
You could say it started with ice cream. Wielding x-rays and her son Nathan's back brace, Erin explained scoliosis to a room full of kids at Hey Mikey's Ice Cream on Postoffice St. It was an open house ice cream social that resulted in the formation of "We've Got Your Back," a support system of friends for Nathan who had just learned he would need to wear a back brace for 18 hours a day. Erin explains, "We needed the kindness of Nathan's peer group to increase the odds of a better outcome. And, his peer group, teachers, and our entire community has been amazing because we gave them the opportunity to help us by asking for their kindness in advance."
The group is going strong and will celebrate their annual party in February.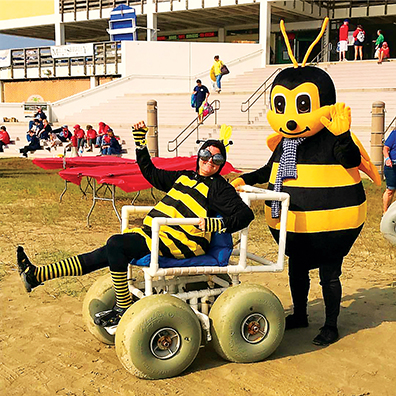 From that experience, Erin began to expand her message. Soon, a handmade tree appeared, its cheerful tuft of green fabric adorned with handprint-shaped leaves bearing handwritten messages of gratitude and love.
"The first Galveston Kindness Project public engagement was the creation of the Kindness Tree, which is located inside Mod Coffeehouse. There is a strong connection between art and community, and the Kindness Tree really started the conversation about the benefits of promoting and encouraging kindness in our personal and professional lives and interactions. The Kindness Tree inspired public interest in seeing larger displays of kindness through art throughout the city. So, we asked the owner of the old McCrory's building if we could paint a mural on the plywood boards that covered the Postoffice St. side of the 1st floor storefront and received permission to do so. It was at the request of the Postoffice District community that we expanded the mural to also cover the plywood on the 22nd St. side. A delightful request to receive, I might add!"
The Galveston Kindness Project continues to grow and expand! Keep your eyes peeled for the #c2bk group around town.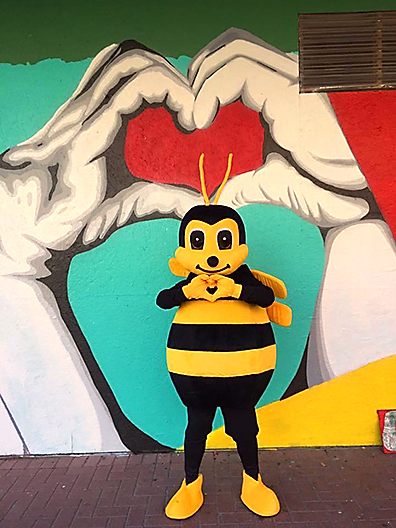 Look for the Galveston Kindness Krewe in the Mardi Gras 2017 Umbrella Parade on February 17th. There will also be a fun umbrella painting and costume decorating event on Wednesday, February 15th at Clay Cup Studios on 22nd St. near Postoffice.
On January 26th at the Galveston City Council meeting, the Galveston Kindness Project received a proclamation announcing the recognition of Galveston Kindness Week: February 12th-18th!
"We have a variety of activities and suggested random acts of kindness projects available through our Galveston Kindness Project Facebook page. You can also stop by Clay Cup Studios during studio hours to sign up or participate in the available art activities."
The Kindness Project is quick to share their gratitude to Amy Owens, owner of Clay Cup Studios, for donating her interactive art studio space to coordinate Galveston Kindness Project events. She and many others have helped bring attention to this simple yet powerful movement.
From the sunny sidewalk on a warm winter day, the smell of fresh paint and rosemary in the breeze, the monarch is almost finished, and Erin is all smiles. "From our experience this year, the Galveston Kindness Project has been not only well received but is eagerly appreciated by young and old, neighbor and visitor. It is our pleasure and treasured responsibility to continue to share kindness with all."
For more info contact The Galveston Kindness Project through Facebook (facebook.com/galvestonkindnessproject), Instagram (c2bkgalveston), Twitter (c2bkgalveston), WhatsApp (Toberman), or in person at Clay Cup Studios at 409 22nd St., downtown Galveston, (409)762-2529.

---