Has boredom set in yet? Why not get out of the house and take a self-guided tour and get some fresh air. Here is a list of ones available that we like:
Seawall Interpretive Tours, aka the S.I.T. Project
The Seawall Interpretive Trail, also known as Project S.I.T, consists of 70 concrete benches covered in hand-painted mosaic tiles that form a trail along Galveston's historic Seawall that interpret the ecology, economy, and history of the Texas Coast.
The trail was envisioned by Karla Klay, Executive Director of Artist Boat. While others saw ugly concrete benches, she saw an opportunity for beauty and education.  A panel of scientists, artists, and arts professionals chose designs submitted by artists based on execution, technique, originality, organization, and interpretation.
When walking, biking, or jogging along the Seawall, take a moment to check them out.  You might just learn something about the Texas Coast. More info on the benches is available HERE.
East End Lagoon Nature Preserve: A 685 Acre Microcosm of the Island
If you haven't visited the East End Lagoon lately, you may want to reconsider. Recently, walking trails and signs have been added to the nearly 700-acre parcel that will enhance your experience there. The Galveston Park Board in cooperation with its partners, the East End Lagoon Advisory Committee and the tourism council, brought these improvements to fruition and plan several more. On tap for the area are improved access to fishing and human-powered boating (like kayaking), overnight camping, and the construction of an open-air pavilion that will serve as an interpretive center.
The East End Lagoon Nature Preserve, situated at the eastern end of the island, is a microcosm of the island as a whole. The 685-acre Preserve includes the East End Lagoon. The Lagoon is a slender finger of water that is bordered by several zones of land that are defined by elevation (measured in inches!), tides, and salinity. Although the Preserve is almost entirely wet, these slight variations of elevation determine what can grow and, by extension, the wildlife that can inhabit each zone.
The birds of the East End Lagoon are stitched together by a common thread–water. The Lagoon's birds are those of open water, shore, and wet coastal prairie. During storms and high tides, there is no land in or around the Lagoon that remains dry. Birds of the Lagoon have adapted to these wetlands, and prosper in conditions that exclude most land and forest birds. A number of shorebirds can be found, including sandpipers, plovers, herons, and egrets. In the lagoon itself, look for ducks, geese, grebes, loons, cormorants, and pelicans.
Thanks to the Galveston Island Park Board, Galveston Island Nature Tourism Council, and a grant from the GLO Coastal Management Program, an ADA accessible trail is now in place with parking off of Boddeker Road.
The trail is an early step in a bigger vision for the East End Lagoon Nature Preserve to provide a natural experience for both residents and visitors.  By utilizing both the natural beauty and man-made improvements it will be possible to explore the intersection of man and nature while focusing on the ever-changing environments of a barrier island.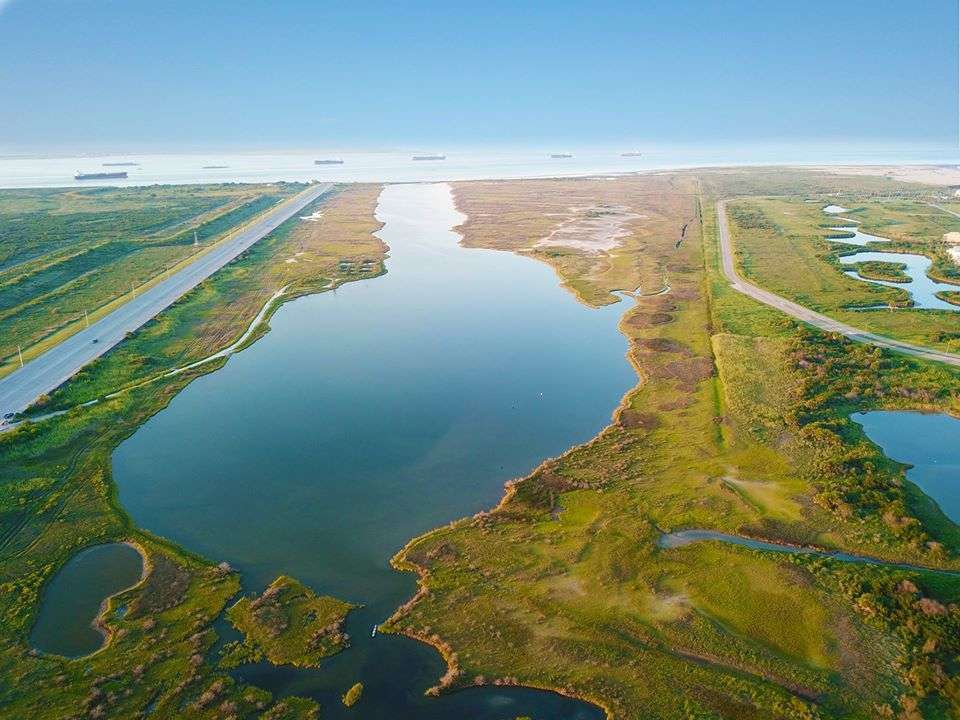 Anglers fish around the mouth of the Lagoon, and kayakers and canoers can paddle the calm waters along the entire length. Whatever your interest, take advantage of one of Galveston's most easily accessed natural areas!
The East End Lagoon Nature Park and Preserve is located on Galveston Island at the east end of Seawall Blvd along Boddecker Dr. adjacent to Apffel Park (East Beach).
---