There are three harbor excursions that allow you to learn about Galveston's port and, more than likely, see a dolphin or two. All tours depart from various docks on Pier 21 Downtown. These tours are:
Seagull II Harbor Tour – Fast, stable, and sheltered, Seagull II was built specifically for harbor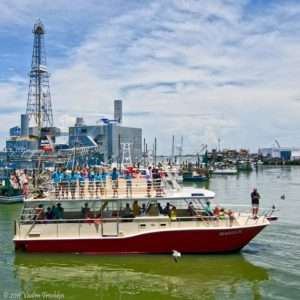 sightseeing excursions and education and is a perfect platform for waterborne experiential learning. The boat is U.S. Coast Guard certified and her operators are fully licensed and knowledgeable about the history and lore of her home waters. Seagull II offers a comfortable main deck sheltered from sun and rain. An open upper deck affords a full panorama of water and sky. Tours are $10 for adults, $8 for students (6-13), and free for children under 5. Purchase tickets at the Texas Seaport Museum Gift Shop at Pier 22 next to Fisherman's Wharf restaurant. Harbor tours depart at 11:30am, 1pm, 2:30pm, and 4pm daily except for Wednesdays. Reservations are not required. For more info go to galvestonhistory.org.
BayWatch Dolphin Tours – BayWatch Dolphin Tours is a family-owned and operated business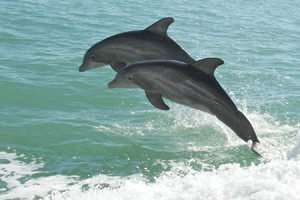 located on Pier 21 in front of the Harbor House Hotel. The boat has a covered interior and is a dolphin-safe tour boat with no propellers. On BayWatch, you will see an up-close view of the dolphins in their natural habitat. BayWatch Dolphin Tours is open 7 days a week year round, 10am-5pm with tours departing every hour on the hour. Tickets are $10 for adults, and $5 for children (12 and under).  No advance reservations are necessary. BayWatch's ticket booth is located directly in front of Harbor House Hotel at 21st Street and Harborside near Downtown Galveston. They depart and return on Pier 21 behind Willie's. For more info, go to galvestonbaywatch.com.
Cruise-N-Time Dolphin Tour – These one hour tours of Galveston's Harbor are specifically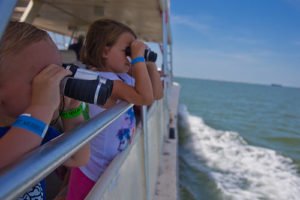 designed to see birds and marine life plus you can get a close-up view of playful dolphins jumping. The tour is aboard Cruise-N-Time, a twin-engine open-air tour boat. Tickets are $12for adults, $8 for children (12 and under). Tours are at 10am, 11:30am, 1pm, 2:15pm, 3:30pm, and 5pm seven days a week. Sunset tours are available at 7pm daily at $30 for adults. This is perfect for couples who want to sip champagne and watch the sunset or a group of friends just looking for something different to do. Tickets are at Galveston Water Adventures booth located on Pier 21. For more info go to galvestonwateradventures.com or call (409)276-6116.
---