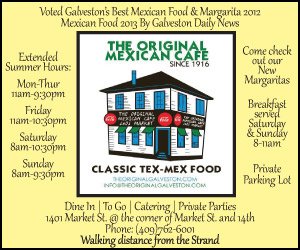 By Kimber Fountain, Photos by Christa Schreckengost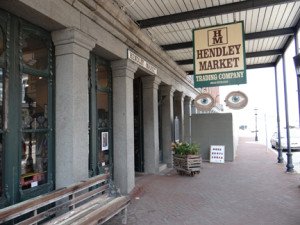 One stretch of The Strand is somehow different than the others. Between 20th and 21st Streets lies the block that was the main arena for The Battle of Galveston, fought on January 1st of 1863, as well as many other ongoing skirmishes involving the Island during the Civil War. Among the buildings that still stand from the days of the United States' internal dissolution is Hendley Row, the oldest building on The Strand, completed fully in 1859. At the time it was built, it was the largest commercial building in the entire state of Texas, and its advantageous height and fortitude served the military forces well as they used the building for their watchtower and headquarters. Perhaps the block still resonates with the emotion of those battles, or maybe there remains a silent but lingering echo of battle cries and cannon fire, but a distinct feeling resonates around and through Hendley Row that sets it apart from all the rest.
Undoubtedly the same can be said of the shop to which it plays host, albeit with a much brighter history. Hendley Market has been a fixture on The Strand since 1979, and its seemingly unending display of curiosities and its earthy, old town feel place it in a category all of its own, hence its reputation as a priority shopping destination for anyone visiting downtown. The Market was one of the first business that initiated the resurgence of The Strand as an historical and shopping district, and was opened at a time when the iconic street had been little more than deserted for nearly two decades. Now a long-established favorite of locals and visitors alike, Hendley Market is just like its namesake, Hendley Row – stoic and unassuming from the outside, but full to the brim with intrigue and wonder.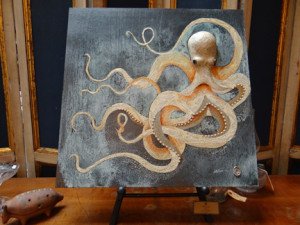 Cheryl Jenkines currently manages the store and has for nearly 25 years, and her family has owned and operated it since its inception. Also integral to the business is long-time employee Tulisha Dampier, who has worked for the Market off and on since 1995. Cheryl says of her store, "this is the place where everyone, from babies to grandmothers, can come in and find something that interests them." Indeed, the real beauty of Hendley Market is that in essence it is so simple, has such a warm and inviting atmosphere and is reminiscent of an old general store where 'bare feet and dogs are welcome.' In actuality, though, it is far from simplistic, and the easy atmosphere only serves as a backdrop for a collection of goods nearly staggering in its variety and appeal.
Some of Hendley Market's most sought-after items are their nativity scenes, which are imported from all over the world and constructed from a wide assortment of materials. Some of the scenes are crafted from clay, like the ones from Cambodia and Cameroon; others hail from Kenya, Mexico and Poland. One nativity from Vietnam was handmade from recycled paper, another is woven from Bethlehem Wool, while still others were created with beads from Ghana or Perli clay and alabaster.
Three local artists showcase their work and designs at The Market, including Robert Dampier of Robert Dampier Studios. His three-dimensional art is a gathering of 'odds-and-ends' materials into what he calls 'parables,' or works with an imbued meaning or allegory. His pieces carry with them a touch of a dark, Victorian feel, innately similar to the Steampunk genre. Dampier has perfected the balance of darkness and mystery: there is just enough to be intriguing and at times captivating, but never so much as to be off-putting. Trisha Thompson Adams is another of their resident artists, who upcycles materials into soft and sweet plush figures, and the third is the design shop Hand of Bela Peck, who markets her work as "Needful Goodes in the Primitive Tradition."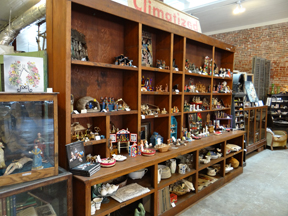 Although the artist and nativity showcases are the most prominent of the displays at Hendley Market, they by no means overshadow the many other shelves, tables, and cases lined with items as eclectic and diverse as the Island itself. Journals, stationery, and notecards find their place among vintage postcards, antique doll dishes, and religious items. Collectors can find old silver spoons and dishes, while kids can try to decide whether disappearing ink, a hand buzzer, or party rats will best prank their friends. A glass case at the rear of the store houses authentic vintage and Victorian items such as bloodletting instruments, snuff and tobacco boxes, cigar rugs, a jewelry casket, and even glass eyes from France.
Also among the Market's collection of goods and wares are bracelets, tote bags, pouches, Italian paper, oven mitts, sarongs, and headbands. They also carry The Strand's best collection of books, which ranges from works on Galveston history, to new and more novel publications, to their prized collection of antique books, some of which are stamped by the Rosenberg Library with dates as early as 1907.
This summer Hendley Market is branching out from retailing the strange and unusual to actually hosting performances of them. Currently running every day during regular business hours is their own personal Sideshow Performance. It features a former member of the Museum of the Weird in Austin.
The performances are not only an exciting addition and added bonus to the realm of intrigues already present at the Market, they also are a fitting celebration, as this summer marks the 35th anniversary of the store. Its enduring success is no doubt in part due to the myriad of memories it creates in the minds of both children and adults alike. With charm oozing out of every eclectic corner, Hendley Market is indeed a place you will never forget.
Hendley Market
2010 Strand, (409)762.2610
Summer Hours: Thursday through Monday 11am-5pm, (Closed Tuesday and Wednesday)
www.hendleymarket.com
For the most current information and communications, find Hendley Market on Facebook.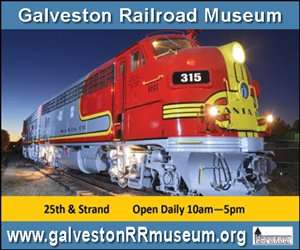 ---