---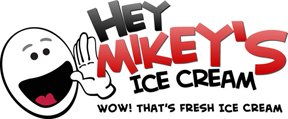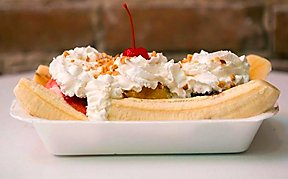 By Kimber Fountain, Photos by Christa Schreckengost
It would seem that ice cream, one of the most popular desserts in the world, could easily fall under the "if it ain't broke, don't fix it" category. Luckily for ice cream lovers everywhere Mike Bouvier never took that advice. Just when you think that the cornucopia of frozen delights at Hey Mikey's Ice Cream could not possibly get any more awesomely creative or deliciously decadent, well, it does. Family owned and operated and boasting such marvels as Ice Cream Nachos (yes, you read that right – Ice Cream Nachos) and The Bucket (yes, a bucket of ice cream), the husband and wife team of Mike and Kathy Bouvier, along with their sons Robert and Nick, have dreamed up yet another way to tantalize your sweet tooth.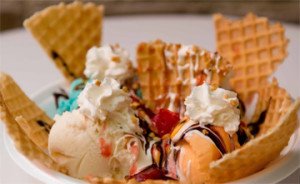 But before we introduce the bun of the hour, let us take a moment to appreciate everything that came before it. Mike began making ice cream in his garage many years ago when he lived in Idaho, and shortly after he and his family moved to Galveston the original Hey Mikey's was opened at the corner of 9th Street and Postoffice Street. After they relocated the business to its current downtown location, business exploded and there is absolutely no question as to why. One hundred percent of their ice cream is homemade, on site, and they rotate between 130 unique flavors like Chocolate Chipotle and French Toast & Bacon, with the only guarantees being chocolate and vanilla.
Mikey's secret specialty and their house favorite is also regularly on the menu. The Irish Car Bomb flavor swirls fudge, chocolate chips, and pralines into Bailey's flavored ice cream, but despite its regular appearance it cannot be deemed a guarantee because at times (understandably) it is entirely sold out. They also make their own waffle cones from scratch, and Kathy's talent as a baker is showcased along with the ice cream in the form of homemade brownies, massive chocolate chip cookies, and Texas Cowboy Cookies made with oatmeal, coconut, chocolate chips, and pecans.
Now for the newest addition to the frozen family…Icy Buns – an insanely and outrageously brilliant combination of donuts and ice cream made their debut on the Hey Mikey's menu last
month. A fresh, homemade sweet bun from Home Cut Donuts (6807 Stewart Rd., Galveston) is sliced in half and served warm, stuffed with your choice of any available ice cream flavor, with the option of adding one of their homemade toppings: marshmallow, strawberry, hot fudge, pineapple, caramel, or chocolate.
So the only question that remains is, if Icy Buns are made from a donut, don't they count as breakfast? We vote YES!
Hey Mikey's Ice Cream is located at 2120 Postoffice St., downtown, and is open Tuesday-Thursday and Sunday from 12 noon-9pm, and Friday-Saturday 12 noon-10pm (closed Mondays).
Find them on the web at www.heymikeysicecream.com and like them on Facebook.
---