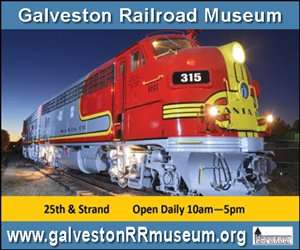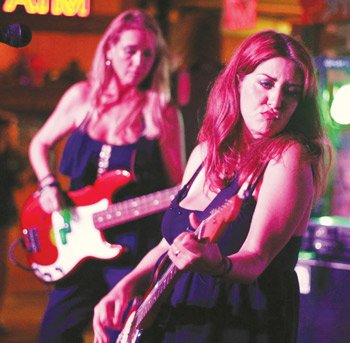 By Michael Alan Basham
Recently I was able to catch Coastal Fury playing to a packed house at Crow's Southwest Cantina, located at 2408 Strand St, downtown Galveston. They put on a flawless performance and a rawk'n good time on Saturday, July 24th. The foursome in the Coastal Fury band puts on a kind of a retro-Rock-N-Roll floor show – doing classic rock with some R&B added, in a style that some would call "that real Houston style blues influence."
Coastal Fury knows how to work it, and it is hard work to produce such authentic rock and blues at such a high quality, and in what appears to be very little in the way of effects. Most of the band's sound is a clean, straight fender tube amp-type sound, with some distortion only where needed, leaving the lead solos and bluesy chords authentic to the studio sounds of the era that they cover so well.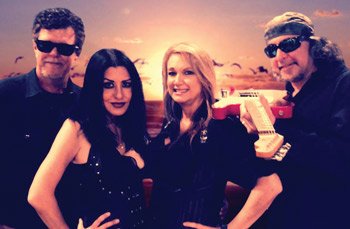 Leading the band is leader singer, Shea Marie Smith. She is a powerhouse of bluesy, throaty, vocals that are reminiscent of Cher's lower range. She amazingly resembles Jefferson Airplane's Grace Slick too. Make no mistake, though, she's her own girl and has quite an original sound overall. The night I caught up with the band, Shea even wailed some classic Joe Cocker and totally owned her own sound.
In addition to the great music Chromien-Smith performs, she is also an awesome stand-up comedian. Between songs, she had a continuous monolog that kept the crowd in stitches while the band all caught their breath from the intense effort and visible exertion.
The lead guitarist is George Pappas, who clearly has sufficient road miles and confidence under his belt. The guy is a solid guitarist, with his licks as sure and spot on as one could ever hope for.
The bassist, Becki Leon, is a firm anchor of a solid bottom and keeps the action simple but full, and doesn't spend a lot of time on razzle dazzle.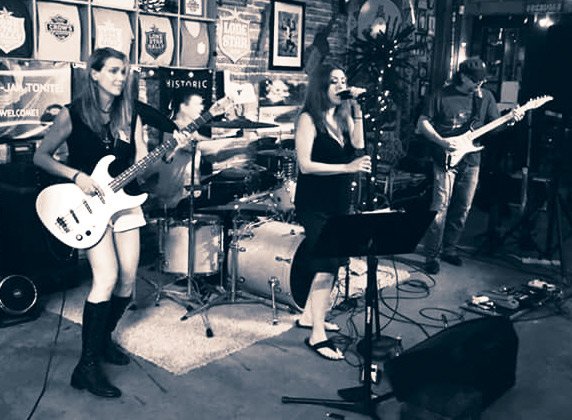 Blues requires a solid foundation of bass and percussion and that's where excellent drummer Thomas Wray comes in. His kit set-up is a little different from most but you understand why after you watch him. Working with one foot on the pedal, a snare, one medium and one-floor tom centrally positioned (which I don't see all that often) allows some real clean roll through. That might be work for others but not Wray. He's that good!
Part of the discipline exhibited by all four members of the band might be because they have a lot of years under their belt. They are not shy about letting their deep emotion and intensity shine on every song that they do. In the Blues Rock niche, this is one of the best bands to play our area, and the Saturday night that I was able to catch them, Coastal Fury put on a great show and had the dance floor covered at all times.
When Coastal Fury spins into town again, I'll try my best to give you a Hurricane Warning. Keep up with Crow's performance schedule at GalvestonIslandGuide.com/gig-guide or at
www.facebook.com/crowsonthestrand.
Keep it real and keep it rawk'n!

---