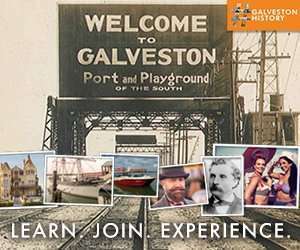 By Kimber Fountain
Inside an unassuming little storefront off 22nd Street is a world of trinkets and treasures that sparkles with the brilliance of the Island sun and radiates the eclectic energy of Galveston. Island Relics is the culmination of twenty different vendors who bring their own unique talents and specialties to the store, and create a finished product that is never really finished, due to its ever-changing inventory and a constant flux of new, or rather renewed, items. Vintage wares and antique furniture are only the beginning, and the delight of Island Relics is not only in its variety but in its warm and inviting atmosphere.
Bright, sparkling, and happy, Island Relics has been a fixture of Galveston resale for over twenty years, and was most recently acquired by Barbara Boyd three years ago. No stranger to retail, Barbara owned a ladies clothing boutique for seventeen years, but she says her newfound niche in antique and vintage resale "gives me a purpose," which extends to her many different vendors who have also uncovered and rediscovered their talents via Island Relics.
Island Relics features vendors like Kay Turney, who retired and was looking for an outlet; and Jeanne McRee, who has been an artist all of her life, but admits it was only upon moving to Galveston that she decided to start selling her art. Using her creative abilities to upcycle and restore vintage pieces, Jeanne jokes that "we will take anything that won't run away and paint it." Carol Hensley has been with Island Relics for two years, and loves the way the store is always fresh and new. "If you see it and want it, you better get it," she states emphatically. Between the purchases of the regular, repeat customers they frequently serve, and the number of vendors who are always ready to usher in new items, chances are that what is in the store now will not be there for long.
Carol continues and emphasizes that the store "is always evolving," and that is what really sets Island Relics apart from the others. She also credits the ever-changing nature of the store for bringing people back in, again and again. "I grew up in a town with many stores similar to this," she continues, "but I would go in several times and everything was always the same, so I eventually stopped going." That is definitely not the case with Island Relics however, and Carol remembers many customers who tell her that every time they come to Galveston, they come to Island Relics, "because they know there will always be something new and fun and different to see."
The variety of Island Relics' offerings is also due in part to the expansive draw of its vendors. Several of the sellers are from Galveston, but Carol lives in Surfside, Kay is from Bayou Vista, and other vendors hail from Friendswood and even Dallas. The scope of the vendors' residences broadens the circuit for the acquisition of inventory, and pulls in items from all over the state. In fact the only thing all of the vendors have in common is that they all sell furniture, but aside from that their individual collections include everything from jewelry to kitchenware, hand bags to oil paintings, figurines to lamps, and home décor that ranges from vintage to beach and nautical themes. There is even a clothing boutique at the back of the store, and a small adjoining warehouse for larger, and at times, unfinished items that do not fit on the showroom floor.
Another alluring aspect of this vintage smorgasbord is something that is often brought to their attention by way of observant and grateful customers, and is yet another reason why they keep coming back. "I have had several comments from people about our prices," Carol states. With the raging popularity of HGTV-inspired restorations and re-purposing, often the demand for such items drives the prices up, or all too often similar stores will set ridiculous prices to combat those determined to negotiate. Island Relics keeps it reasonable, though, and also puts forth an extensive range of price points for both the thrift spender and the big spender, and everyone in between.
All of its attributes combined make Island Relics a destination, not just a retail center, thus reflecting the draw of Galveston itself. The inside glows with a friendly warmth, amplified by the energetic personalities of the vendors who also run the store during business hours. "The Galveston community is so great. I mean, you go into a place one or two times and you are considered a 'regular,'" Carol says. This means that after a few trips to Island Relics you will not only acquire some unique and special pieces, you might just pick up a couple of new friends along the way.
Island Relics
911 22nd Street, Galveston, (512)925-0290
Open Seven Days a Week 10am-6pm