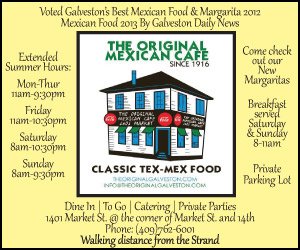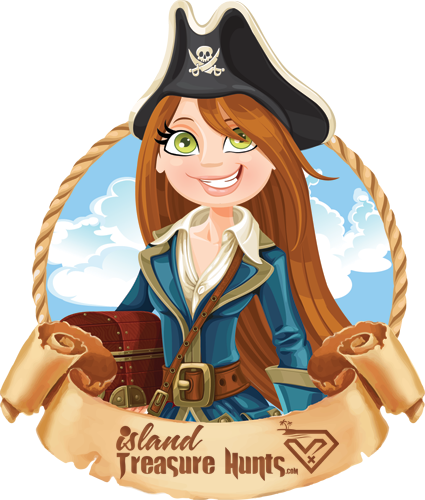 By Terry Card
Texans who live close to the heady atmosphere of space technology at NASA and Johnson Space Center will appreciate the high tech application of Island Treasure Hunts to the age-old scavenger hunt.
Just like soaring off into space, participants in this unique approach to searching out the sights, history, architecture, and natural beauty of Galveston will appreciate the flexibility available when they sign up with Island Treasure Hunts for one of three existing hunts.
How flexible is the scheduling? Well, for example, let's say that you and your friends or family have just finished a wonderful meal at any one of Galveston's great restaurants, the evening is cooling and you are looking for something to do. You've not booked anything, so you're at a bit of a loss. Then someone is surfing the net on a smartphone and finds islandtreasurehunts.com. Since your group consists of four people, the maximum number per phone, the next steps are straightforward. Or, if you are alone, it is equally applicable and equally fun and simple.
After deciding which of the three hunts you want to play, you can pay for the hunt on your phone and start immediately. If you are with friends and decide that you want to stop in at a bar for a while and get into dancing, you can do that and then finish the hunt later that night or the next day, or go on a cruise with your family and finish when you return to port. Now that is flexibility! All at the same price! And you can pick up where you left off. There is no time limit, and the purchase of the hunt is yours until it is completed.
The three hunts available on this interactive mobile tour are the Scavenger Hunt on the Strand ($14.95), the Hysterical Historical Hunt ($19.95), or the Seawall Stroll ($14.95).
During each of the challenging and fun mobile guided tours, you will solve multiple-choice riddles and challenges (hints available) that lead you step-by-step from one interesting location to the next. You can take selfies with heroic and historical figures, take your time and soak in the sights, or race against your friends. The choice is yours.
Each time you correctly answer one of the multiple choice questions you will be awarded points based on the time to solve the puzzle and the answers you provide. These points will be tallied automatically, and you can win up to 100 Treasure Coins on each of the tours which can be used for special prizes and vouchers from local establishments.
These are essentially walking tours, but many walk or bike, and on the Strand Hunt and the Hysterical Historical Hunt, street-approved golf carts may also be used.
The Scavenger Hunt on the Strand interactively guides participants on a 1.2 mile round trip through the Strand, Tremont House, Pier 21, Storm Survivors, and other great locations. It begins at Saengerfest Park at the corner of The Strand and 23rd St. There are 25 challenge stops and two selfie stops, as well as one bonus.
The Hysterical Historical Hunt is a 3.1-mile round trip and visits the Postoffice Arts District, historical mansions, Texas Heroes Monument, Storm Survivors, The Strand, and more, again starting from Saengerfest Park. There are 34 challenge stops, two selfie stops, and one bonus.
The Seawall Stroll is a 1.1-mile round trip starting at Seawall Blvd. and 23rd St. and visits the Hotel Galvez & Spa, Pleasure Pier, the Seawall, beach hot spots, and much more. In this hunt, there are 28 challenge stops, two selfie stops, and one bonus.
Island Treasure Hunt was co-founded by David Willingham, his 17-year-old daughter Hannah, and his fiancée Delores. It was based on a similar enterprise they experienced while on holiday in Tampa, Florida. It struck them that Galveston needed something high tech like this to complement all the other entertainment available on the island, but it had to be at a reasonable price.
David was born in Downey (L.A. County), California and is close to Disneyland, he always had an interest in the entertainment industry. His father was in the oil industry, and when David was about seven years old, his father moved to the Midland/Odessa area, which is where he grew up. During his college years in Dallas, he studied Communications, majoring in Radio and TV production. After graduating, he became an outdoor education specialist and was in charge of setting up programs at youth camps.
After this, he decided to follow in his father's footsteps, becoming a Petroleum Land Manager on contract to oil and gas companies, a position he still holds.
But his passion has always been getting people outdoors and having fun. Island Treasure Hunt dovetails with that passion, and it fits exactly with his view of life and business. So, he and his co-founding partners decided to develop a website that would provide fun, challenges, and information while guiding Galveston visitors and locals through the sights and sounds of Galveston. David feels strongly that this type of entertaining challenge – with its low pressure in which you can set your own pace and do with others or by yourself – is educational, inspires team building skills, and is not only wonderfully entertaining for the participants, but is a very good addition to the tourism industry in Galveston.
With the website completed, they opened for business on Memorial Weekend in 2016. After only three months, they are receiving thousands of hits on their website and have already achieved break-even status in spite of heavy technical development costs. Their clientele has so far been evenly split between locals and visitors.
With the success already generated, they are in talks with local businesses and planning to expand with at least one or two more hunts within the next year.
Again – all you need is your smartphone. Select your hunts, pay by phone – or however you wish – and you can start anytime you like, take as much time as you want, end when you want, and pay a very reasonable price for great and educational fun! It really is simply fun.
For more info call (844)752-9386 or go to islandtreasurehunts.com.

---