---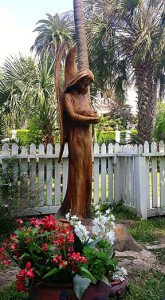 By Kimber Fountain
James Phillips was first introduced to the world of art by his mother, who taught him how to draw at a very young age. But it took about 30 years for him to rediscover his calling, and it happened almost accidentally one day when he was cutting down a tree. Inspiration took over, and before he knew it the old, dead tree had transformed in front of his eyes and by his hand into the shape of a pelican.
As if the miraculous emergence of his hidden talents was not enough, he followed their lead and continued to carve. Soon, his works were on display at an Island gallery called Simply Art, previously located at 25th St. and the Strand. James remembers that the success of his work surprised even him, "and I remember thinking to myself, 'can I make a living at this?'" he says. Things seemed to be headed in that direction, until September of 2008 when Hurricane Ike struck Galveston and wiped out the gallery.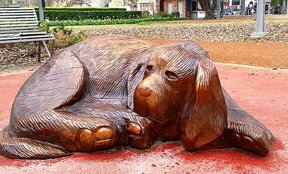 "I was without a gallery for over a year after that," he remembers. But then, in another fortuitous turn of events, his talent was suddenly more relevant than it had ever been. Galveston lost 30,000 trees to Ike, and James was put in contact with Island resident Donna Libert. "She had it in her head that she was going to save trees," James says admiringly, and his skills were exactly what she needed to help her do just that.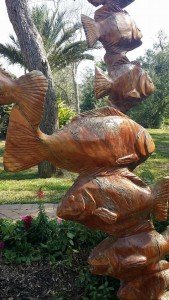 So in the spirit of survival, and in a display that proves the Island community's ability to turn the destruction of a storm into a creative outlet, James began to carve fallen trees. The first tree sculpture he executed stands in front of the King Vidor house at the corner of 17th St. and Winnie St. King Vidor was a Hollywood producer who directed the black-and-white sequences of "The Wizard of Oz," and so James expertly rendered the tree into a statue of Tin Man with Toto at his feet.
Requests from not only individual homeowners but also the City of Galveston began to stack up, and James remembers that suddenly, "they became a really big deal." Other artists were commissioned for tree sculptures, including Dale Lewis out of Indiana and Earl Jones, but still the demand reached such a fervor that in less than three years James had quit his full-time job to focus entirely on his art.
As the popularity of his tree carvings grew Rene Wiley Gallery, on Postoffice St. and the corner of 20th, agreed to show his work and his studio pieces found a new home. Meanwhile, the individual tree sculptures had morphed into a full-blown tour, complete with self-guided pamphlet and the backing and promotion of the Galveston Historical Foundation's Visitor Center at Ashton Villa. Since then, he has carved trees at residences all over Texas, from Bellville to Beeville, to Goldthwaite and all the way up to Dallas. His work can also be seen at Market Square Park in Houston, and his largest piece measures at 40 feet high.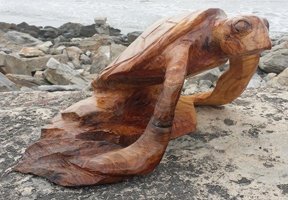 Of course his work can also be seen in front yards and on the grounds of public buildings all over the Island, all of which are included on the official Tree Sculpture tour. Some highlights of James' include "Geisha," "Pelican Diving into a School of Fish," and "Fireplug" at City Hall.
In addition to giving new life to lifeless and fallen trees, James also spends much of his time in the studio, carving free-standing pieces of both his own inspiration and others. "Most of my clients will give me a subject, then I will sketch some ideas depending on how elaborate they want it." After they decide on a sketch, he sculpts a miniature clay model before he begins with the wood. "I use the chainsaw as much as possible to get the basic shape," James explains, "and then I use grinders and sanders." Pieces are finished with varnish or sealant, but they do still require maintenance over the years which is also a service he provides. "Not everyone is interested in tree sculptures, but the ones who are," James muses, "are so cool."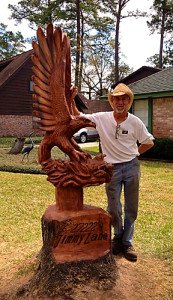 For the free-standing sculptures, he uses wood from trees that have already been cut down, and he still has a store of wood that he salvaged from Hurricane Ike, marked on the sculptures' display labels as "Iked." His favorite wood is Cedar because of the rich color and swirling grain, but he has created pieces from nearly every variety of tree, including Live Oak, Camphor Wood, Pecan, and Crepe Myrtle.
By far one of the most intriguing aspect of James' art is derived innately from his earthy, wooden medium. The grains of the various trees and their curvy fractals embellish the surface of his works with a visual texture that is always alluring but even more so when it seems to mimic the traits of the subject, such as the scales of a fish or the lines of a turtle shell.
What truly sets the tree carvings apart, however, is not their novelty or even their beauty, it is the unbreakable spirit imbued within them and the transformation they represent. Like Hurricane Ike and his own rediscovered passions, James Phillips and his tree carvings prove that nothing is ever lost, it only changes form.
The work of James Phillips is currently on display and available for purchase at the Rene Wiley Gallery, 2128 Postoffice St., (409)750-9077. For commissioned pieces contact James directly at (832)243-8473 or jdp@inshoresculpture.com. You can see more of his work at inshoresculpture.com.
For more info on the self-guided Tree Sculpture Tour, visit the Galveston Island Visitor's Center (2328 Broadway Avenue, parking and entrance in the rear) or www.galveston.com/treesculpturetour.
---