By Gini Rainey 
"Checking Out of The Hotel Euthanasia" by Gerard Graham 
Here is a very interesting read that reveals a lot about human nature in a very satirical format.  Graham proves he is a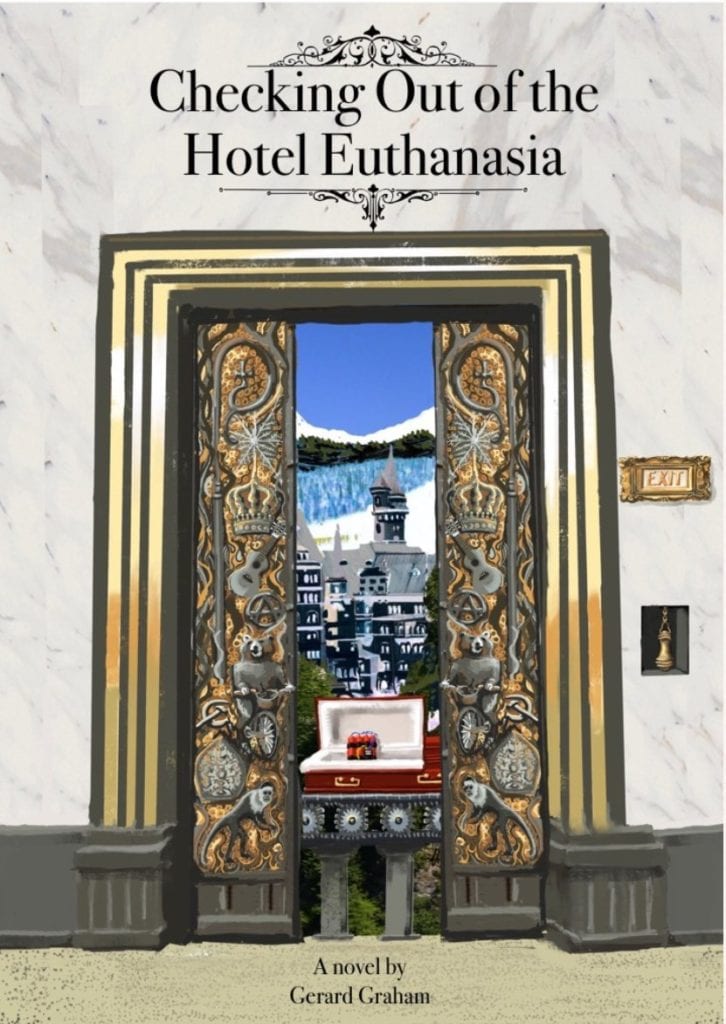 wizard at subtlety and irony as he spins a tale about a fictitious hotel in the fictitious kingdom of Villadedino that had pretty much fallen to ruin when Zeca, a hotel manager, was appointed to the most prestigious hotel management spot in the world by King Eugene III.  Because of Zeca's capable management, the once decaying hotel, rose from the ashes to become a mecca for those seeking assisted dying. 
On the other side of this coin is Rab and a small group of cohorts who are on a Pope-funded mission to destroy the hotel because of the Catholic anti-assisted death platform.  Rab, who once supported assisted-suicide with a great passion, now has turned those passions against the Hotel Euthanasia and all that it represents and assumes his leadership role with great vigor. 
Along the way, we are introduced to a group of people from various walks of like who are guests at the Hotel and are seeking release from their earthly bodies in one of the various ways offered by the Hotel.  The back stories of these people could be novels in and of themselves but, bound together they comprise a very interesting read filled with different ways to look at euthanasia.  And while some readers might find the whole concept exceptionally macabre, the idea behind it certainly carries merit for those facing a lifetime of pain (however long) and an eventual death. 
 5 of 5 – Copyright 2017 – Ringwood Publishing  
 "Dark Places" by Gillian Flynn 
Told from various character's points of view, this book is Gillian Flynn's (Gone Girl and Sharp Objects) second novel that was published in 2009 and made into a movie in 2015 and starring Charlize Theron.  Based on the fictious satanic murder of a family in Kinnakee, Kansas, "Dark Places" follows the investigation that Libby Day, who was 7 at the time her family was murdered, undertakes to find out who actually killed 3 members of her family.  If she can
find the real murderer, her brother Ben will be freed from prison where he has been held for 25 years, mostly because of her coached testimony during his trial. 
Funded and aided by the Kill Club members who believe in her brother's innocence, Libby finally opens the boxes that hold a lot of family secrets and provide her with leads to the various people who wandered in and out of the Day's lives 25 ago, prior to their grizzly murders. 
As usual, Gillian Flynn has written a page-turning, spell-binder that keeps you guessing till the very end about "who dun it!"  Flynn has filled this novel with characters as raw and real as possible, so real that you will find yourself drawn into their hard lives and perhaps even develop compassion for what they have face.  As with Flynn's other books, this one is definitely worth the read and will keep you turning the pages until the very end.