params='groups=102&limit=1&orderby=random&container_html=center']
By Kimber Fountain
I met Kevin Anthony on a sunny day outside Mod Coffee Shop, and admittedly I did not recognize him without his hat. As we began to chat he handed me a copy of his newest album, 45 Southbound, and as I glanced at it I thought, "Yeah, this is definitely the kind of guy that doesn't care if his face is on the cover." Kevin Anthony is a musician of the highest order, the kind that does not have to chase music because music follows him everywhere; the kind for whom music is not just an art form, it is therapy, it is a necessity, and it is a calling. He is the kind of musician who calls Galveston home.
A native Islander and an alumnus of Ball High School, Kevin left Galveston after graduation to study advertising at the Art Institute of Houston, all the while playing in various bands. "Music has been with me since I was a kid, in fact, I don't really remember a time without it. My grandfather loved music and was a big influence on me." Then, in what Kevin refers to as a "Bass or Guinness induced inspiration," he and a friend decided to move to New York City. There he began a long, successful career as a writer and producer of electronic music for television and advertising, creating jingles, and composing scores for television series. Ultimately he built a studio in Manhattan, where he did freelance production for the Viacom networks and websites such as MTV, VH1, and Nickelodeon.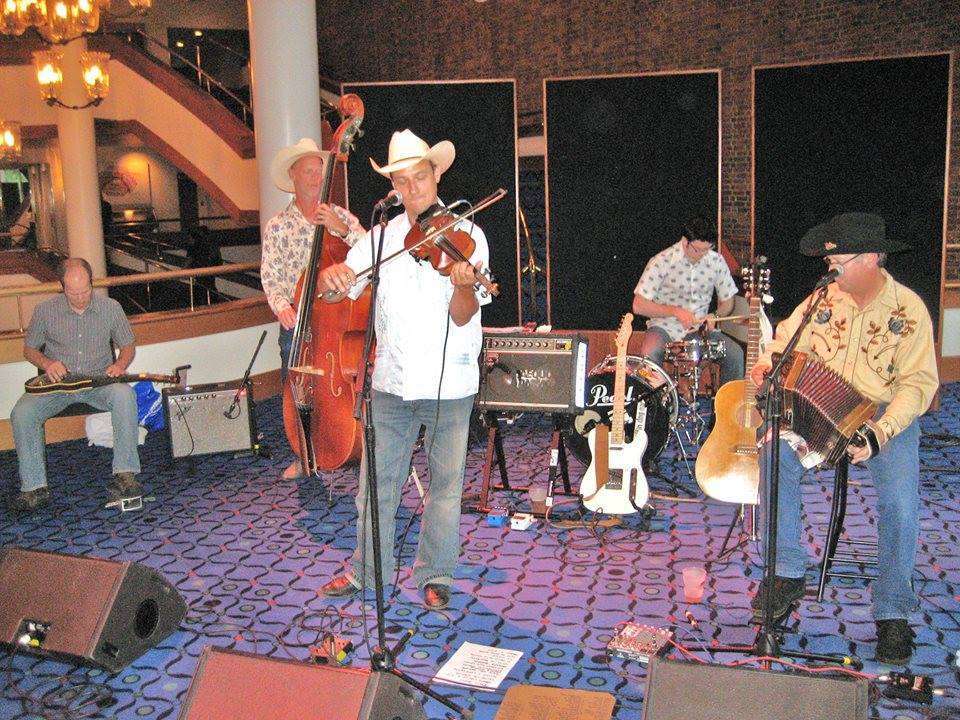 The success continued with the signing of a one-year contract with Warner Brothers, but then the fateful day of 9/11 struck, shortly after which the contract ended, and his friend and business partner left to join the Marine Corps. He continued the business solo for a few years, until he happened to stumble across Las Bayous City Ramblers, a notable Cajun band, playing at a pizza joint in Brooklyn. "And it just hit me, this was the kind of music I wanted to play." So he moved to Minnesota with his wife and decided to return to the music he loved. Kevin says, "I enjoyed the electronic music, and I learned a lot about the music industry and met a lot of people, but in the end, I really have a more historic appreciation for music." So as every accomplished Cajun musician does, he began to learn how to play the fiddle, and this quest took him to some of the most untouched pieces of wilderness in the United States: the swamplands of Louisiana.
He sought out fiddle players to teach him what they knew. "I literally just went and knocked on doors, and a lot of the people were retired but most of them were very willing to help me," he said. At the same time, he was traveling back and forth to Louisiana, he formed Kevin Anthony and the Twin City Playboys, whose sound he describes as a blend of Gulf Coast and Cajun music, and with whom he produced four albums. They traveled all over their area as one of the only Cajun-esque bands around, and Kevin continued to hone his skills by entering fiddle contests around the country.
In 2010 he recorded his very first solo album entitled North Star, and because of various circumstances, the least of which being the call of Galveston, he returned to the Island for its release in January of 2011. "At the time of the release I was still living in Minnesota, and when I came down here I was just amazed at the growth of the music scene, and I decided this is where I needed to be." He arrived and immediately started seeking out musicians and soon began working on his next album.
45 Southbound, Kevin Anthony's second solo album slated for official release on February 8th, is the culmination and creation of over two years of work and several musicians, many of whom are his fiddle mentors from Louisiana. Two of the featured musicians on the album are Christopher Smith Gonzales and Gene Harper, with whom he recorded the majority of the album in January of 2012. "Since then I have just continued to edit it and add to it with the time I had, and we finally wrapped just before Christmas."
Kevin says his main goal with this album was to capture the simplicity of some of the best-loved folk songs from previous generations. "When I was researching, I really wanted to know, 'What is memorable?' and I found that all of the most memorable songs have one common thread: a simple melody with lots of space that lets the music breathe." But at the same time, he says he also worked on taking those traditional song structures and, "giving them steroids, making them a little faster, a little more energetic."
45 Southbound as a whole is all Kevin Anthony hoped to achieve with it and more. "I wanted to do some silly songs, and at the same time I wanted to become a better songwriter, but it worked out because I learned that writing simple songs is more complicated than it sounds." The timing was another complication that served in his interest, "It got frustrating, having to take all of these breaks and pauses in producing the album, but I found that when I came back to it after those periods of time, I was much more objective, and it really gave me a lot more perspective on the album than I would have had otherwise." From the catchy and quirky Bacon Blues to the sweet and sentimental Can't Wait to Meet You written for his son, to the soulful Still that resounds with a cavernous yearning reminiscent of Pete Yorn, 45 Southbound is just like its creator. Simple in essence, but remarkable in what it has achieved.
For more info, go to www.kevin-anthony.com or to hear him, go to www.reverbnation.com/kevinanthony.
params='groups=102&limit=1&orderby=random&container_html=center']

---