Written by Joanna Yates, Photo by Sharis DeJaynes
On any given day there's so much going on in Galveston that it's hard to decide what to do, where to go, and who to see. One thing that you can count on, however, is the thriving music scene that is taking the island by storm. There is always great live music to be found all over the island. The Historic Downtown/Strand District is a thrilling area because you can literally walk or dance your way from one venue to the next and get your fill of great music! Just follow the beat, and you'll likely find what you're looking for.
One must-see area is Pier 21 off Harborside Drive. It's like an amusement park of excitement and entertainment where one can enjoy world-class seafood, Italian food, and Greek food within steps of each other while enjoying the view of the active Port of Galveston. You are certain to see dolphins frolicking in the ship channel and playing in the wake of cruise ships as they leave port.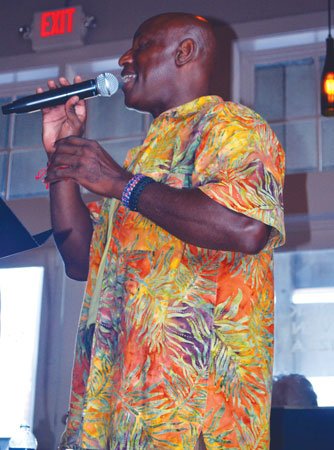 If you are lucky enough to find yourself at Pier 21 on Wednesdays, be sure to join the locals as they fill the bar for happy hour at Nonno Tony's Seafood Kitchen for the amazing sounds of Mickey Hobbs. A local Houstonian, Mickey has been entertaining folks in the greater Houston area with his unique style for more than twenty years and has a huge Galveston following. With his diverse style, Mickey is able to sing all genres of music from blues and country to R&B and soul. Mickey covers music from the 40's to present day, and with a library of more than one thousand songs, you can bet he has your favorite and will gladly sing it for you.
When crooning Frank Sinatra songs, Mickey takes you back in time to the days of the glamorous dinner clubs in Las Vegas and Galveston's historical Balinese Room, where Frank himself performed. Mickey then brings you back and has you on your feet dancing to old favorites from the Beatles, Fleetwood Mac, Doobie Brothers, and the Eagles. You'll sway to the soulful sounds of Luther Vandross, Marvin Gaye, Al Green, and Prince. Then just as suddenly find yourself doing the twist to Chubby Checker. One minute "you be jammin" to Bob Marley and the next trying to keep step line-dancing.
The emotions and memories that he evokes will flow through you as he sings one after another of the great classics that you grew up with. He'll take you back to your high school prom and then center stage at your wedding. It's a rare quality indeed to find a performer who so effortlessly flows from one era to another, while at the same time keeping the energy upbeat and moving.
Another island hot spot that Mickey can be found singing in is the Hilton Hotel on the Galveston Seawall. The hotel has a gorgeous view of the Gulf and with a much larger dance floor, you can shake your booty all night long and get a great workout at the same time. Mickey also plays a few weekends a month at the Galveston Country Club.
It's not only his soothing voice, unique talent, and style that keep him busy and in demand, but also the fact that Mickey is a genuinely kind and nice guy. He remembers his fans and always makes sure to sing their favorite songs when they come in. In his free time, he's a professional lineman for the United States Tennis Association and referees high school basketball.
Mickey says he prefers smaller venues like restaurants and private parties because of the intimacy he can share with the guests, and he feels his quality of singing is best when he's able to relax and let the music flow. He also has a group of talented musicians that he can pull together for duo and trio performances, as well as a full band for weddings, corporate events, and Gala Fundraisers.
Mickey is managed by Brinkley Entertainment. To follow Mickey's performance schedule visit his website at mickeyhobbsmusic.com. There, you can also peruse his song list and have your favorites ready to request the next time you see him.


---