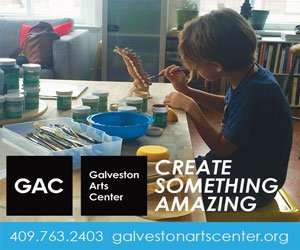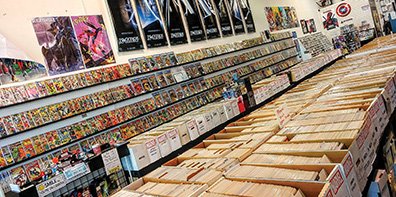 By Matthew West
Lone Star Heroes: Comics, Toys, and Collectibles, right here in Galveston, is about to celebrate their first anniversary. It is also probably the only comic book store not only owned and operated by not just one, but three women. Sarah Violet, her mother Jody Wood, and grandmother Lois Ving went into business last year to bring the island a large selection of current and back issues of comics and collectibles.
If you or your kids are looking for a way to spend a rained out day of vacation or just want to catch the latest issues of your favorite comic that maybe sold out before you can get back home, I can't think of a better place to visit. To say that this comic shop is bigger on the inside than it is on the outside is a severe understatement. The amount of product that is hidden behind the inconspicuous, movie poster covered doors, that sits between a souvenir shop and a pretty decent burger joint, is almost overwhelming.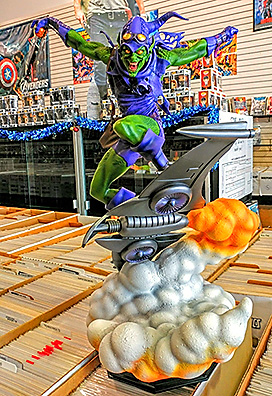 Behind these doors the boxes of inventory are filled with fencing, fighting, torture, revenge, giants, monsters, chases, escapes, true love, and miracles. Luckily there is a map posted just beyond the entranceway to help you find your way through the vast boxes that hold all the adventures you're looking for – and all in the form of comics and memorabilia of yesteryear to the latest adventures of your favorite superheroes, villains, and antiheroes.
The first comic strip was created in Switzerland in 1827 by Rudolphe Töpffer, who later went on to publish seven of what we now call 'graphic novels.' Since then, comics strips have grown into comic books, which have become one of the most widespread ways that people, both young and old, seek entertainment.
Comic books were originally collections of comic strips and are truly an American concept. The first such comic book was "Famous Funnies" published in 1933. The modern publications have covered topics from current political events to the everyday events that happen while a child tries to make his or her way through the social norms of school.
The history of comics and superheroes is as vast as our real life history and for many of us has itself become a part of our everyday life. Almost everybody in America has read a comic book, comic strip in a newspaper, or the satire of "The New Yorker" and other news magazines.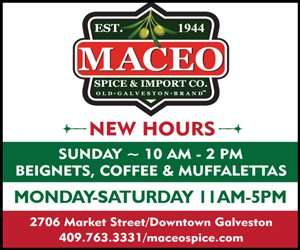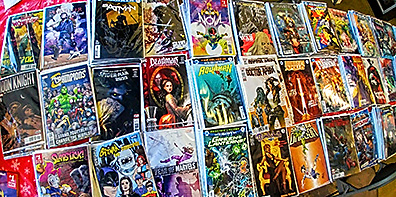 "Brenda Starr, Reporter," the first comic strip written by a woman, was published in the United States and came to life in 1940. At the height of its publication it was being read in more than 250 different newspapers. This comic was about a female reporter based in Chicago, just two short years after Lois Lane appeared in "Action Comics" number one along with Superman, which ushered in the golden age of our modern day Superheroes.
My own collection of childhood memories, along with a vast collection of comics, was destroyed during a house fire. Since then, I have been slowly rebuilding my collection of comics and memorabilia. Thanks to the huge back issue selection at Lone Star Heroes, I have been able to find limited editions of comics that I haven't seen since shortly after their release back in the 1980's and early 1990's.
Back then, I was a frequent visitor to my local comic book shop where I would be sure to pick up sealed packaged editions of comics that I, and nearly every other child in town, had sat and read at the nearest gas station while my parents pumped gas and tried to decide what snack they wanted to buy. The only time we ever bought the comics from the gas station was when they were all sold out at the comic book shops, and there was no hope of ordering our very own copy.
These days, you can join a mailing list where they set aside a pristine copy of whatever comics you would like to subscribe to, kept nicely in a storage box until you have the time to stop by and pick it up. It may not be as fast as Amazon sending it straight to your doorstep, but it doesn't end up waterlogged or torn, and its arrival provides the perfect excuse needed for a guilt-free trip to Lone Star Heroes to pick it up and browse while you're there.
Wednesday, March 1st, is the anniversary of Lone Star Heroes. Join them for their 50% off sale on select merchandise, which I am sure will not disappoint.
Looking for that hard to find comic, special edition that you might have missed out on? There is a good possibility that this is where you will find it. I know I have seen a handful of comics that I thought I would never see again each time I have gone here. And if 50% wasn't good enough, they also have a free comic book day on May 6th with thousands of free comics to give away.
So whether it's to compare differences between a movie or TV series to its comic book roots, or learn the backstory before you go see the next "Avengers" movie that'll be talked about among your friends and colleagues, come out and visit Lone Star Heroes, located at 8910 Seawall Ste. C.
Don't forget to like them on Facebook so you can be among the first to hear about their upcoming sales and anniversary events.