By Terry Card
When Concetta Maceo talks about her family business, Maceo Spice & Import, her enthusiasm, and dedication are self-evident. She has a burning desire to continue her family legacy.
The Maceo family is tied to Galveston Island by her great uncles Sam and Rose, founders of the Turf Club and the famous Balinese Room. They were the older brothers of her great grandfather Frank Thomas Maceo.
Prior to her great uncles' move to Galveston, her great uncle Rosario, at eight years of age,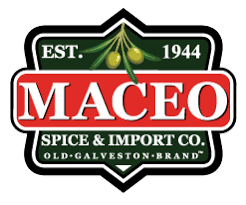 would help his uncle Tony make and sell Muffalettas in the French Quarter of New Orleans, running in front of his uncle's wooden wagon shouting "Muffalettas! Muffalettas! Get your fresh Muffalettas!
And of course, today – Maceo Spice & Import is famous for its Muffalettas, made of the finest Italian salami, ham, and provolone cheese in freshly baked round Italian bread with a specially blended secret family olive dressing, the recipe of which is generations old.
Frank and Katherine Maceo's son, Rosario Samuel Maceo, Concetta's grandfather, was born on July 14, 1917 in New Orleans. After moving to Galveston, he started the Maceo Spice & Import Company in 1944. In those days, it was strictly a commercial enterprise, originally designed for chefs to browse products while placing their orders. It was grandfather Rosario who purchased the building they are now in as a warehouse. Initially, it was only a warehouse, but slowly it evolved so that a small part was dedicated to retail under Rosario and his son Ronnie's guidance. Subsequently, the retail and commercial shop they had moved to at 25th St. (Rosenberg) and Market St., was destroyed during Hurricane Ike, so they relocated back to the old warehouse at Market St. and 27th  St.
Concetta was born in Austin, Texas and at six years of age moved to The Woodlands with her mother after her mother and father got divorced. But they always functioned together as a family and her father Ronnie's greatest desire was to see her become a nurse. She attended St. Edwards College in Austin and was just one semester away from graduating when she decided nursing was not for her. She wanted to be in the family business and found that during class she was miles away doing business plans in her head. Starting around Christmas in 2011, under the guise of needing money for college, she worked for her father, cashiering and generally helping in the office. At first, her father was bitterly disappointed when she told him she was not going to finish college. She moved to Houston in 2012, working as a representative for National Liquor while learning the retail trade.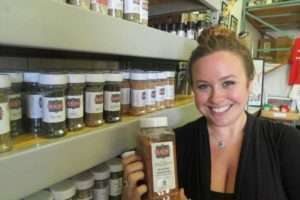 Then in 2014, Ronnie had a liver transplant, so Concetta lived with her brother while she helped her father run the company. Although by her own admission, she and her father fight like cats and dogs, they complement each other in business – Ronnie in the CEO role making the overall decisions, and Concetta in a Operations Manager's role looking after the day to day business.
The result of this collaboration has been a reorganization to emphasize more retail while still growing the commercial. They brought in new business after Concetta applied for and got a beer and wine license. This has allowed them to expand both the retail and commercial sides of the business.   
In addition, the shop has been reorganized. It started two years ago with product placement aligned to accommodate the expanding retail and last year was dedicated to changing the ordering system and adding coolers to accommodate new product. It has now become a regular start of the year process to revamp store arrangements and office procedures. The latest addition to the business is evident immediately to passers-by and customers.
At the end of May 2017, they created an outside gathering area for holding special events including concerts and parties that Ronnie traditionally held for his friends and customers. In the summer from June to September, parties are held every other Thursday evening 6-9pm.
To this end, a concrete slab was constructed on the property they owned next to their building, for general use, and as a dance floor. A stage was constructed for musical groups. Trees and grass were planted and tables were built for their friends and patrons. Smoking is allowed only outside.
Friday evenings from 6-9pm, they have dinner specials featuring a different menu each time. Some of the specialty meals include steak, quail, or shrimp.
The company imports the finest spices, meat, and cheese from all over the world. When trying new products, they always contact the suppliers no matter where they are, for samples for tasting and testing. The original network for the worldwide importing process was set up by Concetta's grandfather. In addition to purchasing bulk quantities, Maceo Spice & Import go out of their way to fulfill individual customer requests.
The majority of their clientele are local individuals and companies in Galveston and Harris counties. Previously, virtually all business was commercial, but they have added retail to the mix, including sales to the Italian American grocery in Houston and Galveston, Seven Seas Grocery, and H&R Meat & Grocery. They also supply muffalettas to east and west end Galveston bars.
As many businesses on Galveston Island do, they support charitable organizations such as the Valiant Church Outreach Program. In addition, they donate in times of need like the aftermath of hurricane Harvey, after the Santa Fe High School shooting, as well as ongoing donations to organizations like the Beach Patrol.
Concetta is the new generation of the Maceo family and her enthusiasm for the family business is as bright as ever. She has been surprised on more than one occasion at how being in the business has impacted her personally.
One time she was interviewed by a local newspaper. The article was picked up nationally and soon, she was being called by relatives in Vermont congratulating her. It was the busiest time for the store ever. They ran out of everything!
But, by far the biggest and most exciting impact for Concetta, is that she met her husband at the shop. He came in so often that her staff said – uh, uh, he is not coming for a muffaletta – HE IS COMING FOR YOU!
Maceo Spice & Import is located at 2706 Market St. in Downtown Galveston. It is open Monday-Saturday 11am-5pm with lunch 11am-3pm. Friday evenings dinner is 6-9pm. Sunday brunch is available 10am-3pm. For more information call (409)763-3331 or email info@maceospice.com.
---