Everyone always asks, "Where do the locals go to eat?" Well, locals choose the locally-owned small spots that are a little off the beaten path and loaded with charm and yummy food. Mom-and-pop-style restaurants are a staple in Galveston. Here are a few of them. You're sure to enjoy the home cooking and sampling of the local flavors.
Mel's Blueplate Diner
Ready for the ultimate in comfort food? Mel's Blueplate Diner serves up some of the very best, featuring favorites like burgers, chicken fried steak, chicken fried chicken, fresh veggies, daily lunch specials, and much more. Mel's is the family-friendly spot you've been looking for.
Fork-tender chicken fried steak, real mashed potatoes, good old fashioned, un-trendy green peas and onions, homemade cornbread muffins, red velvet cupcakes with real cream cheese frosting, and a retro orange soda: that's dining!
But if you like their lunch, you should try their breakfasts. The biscuits and gravy are all handmade as well as the turnovers (pastries filled with either apple, cherry, cream cheese, or pecan). The "Eye Opener" is two open-faced biscuits topped with two eggs, cooked any way you like, then covered in rich creamy sausage gravy. This is a hangover cure! The Chicken & Waffles are delicious, and Mel's omelets are freshly made and served fluffy and stuffed to the gill.
Mel's is located on 38th Street, one block north of Broadway, kind of tucked behind a building in a converted house.
Be forwarned: the word is out, and they literally run out of their favorites (especially the daily specials) some days.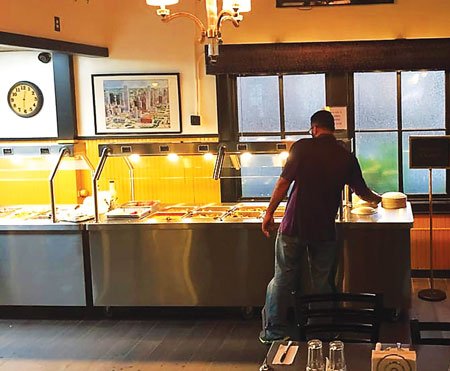 Mel's Blueplate Diner is located at 910 38th St., Galveston. They are open 10am-3pm Monday-Friday, 8am-3pm on Saturday, closed Sunday. For more info call (409)789-6355 or go to galveston.com/mels or facebook.com/melsblueplate.
Rice & Curry Cuisine
Rice & Curry Cuisine is new to the restaurant scene and located on the Island's east end, steps from The University of Texas Medical Branch. Featuring "Indo-Pack" cuisine, the eatery features an extensive menu of vegetable, goat, lamb, chicken, seafood, and beef dishes, along with a variety of homemade soups, grilled kabobs, botis, burgers, and shakes.
The menu has everything from jalapeno poppers to Onion Kulcha as a side order. Lamb Boti Kabob is a favorite. This is lamb marinated in ginger, garlic, and special seasonings. Boti Kabab is an Indian cooking technique where small pieces of meat are marinated and cooked rapidly under intense heat, basted with butter or ghee.
Rice & Curry Cuisine features a nice selection of vegetarian dishes with a lot of variety. They also serve goat, seafood, lamb, and a great combo platter of chicken, biryani (a mixed rice dish), curry chicken, aloo keema (ground beef and potatoes), capli kabob (Pashtun-style minced kebab, usually made from ground beef or mutton with various spices in the shape of a patty), and naan bread which allows you a nice sampling of tastes.
A lunch buffet is available Monday-Friday from 11am-2:30pm, which will help you sample it all.
They are open Monday-Saturday 11am-9:30pm, and closed on Sunday.
Rice & Curry is located at 712 7th St., Galveston. For more info call (409)974-4906 or go to riceandcurrycuisine.com.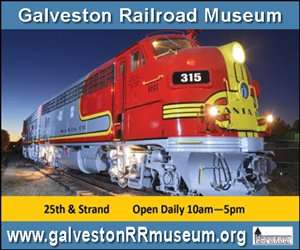 BBQ Barn & Burgers
BBQ Barn & Burgers is a great locally-run restaurant serving up authentic Texas barbecue. Newly remodeled to capture the essence of southern cuisine, they offer a selection of smoked meats including brisket, turkey, ribs, and sausage as well as classic American dishes.
Ms. Mona serves up tender brisket, boudin balls, and juicy burgers. This small restaurant offers huge servings inside and outside on the patio. The smoked pulled pork sandwiches are some of the best around. The fried chicken wing basket is heavenly as well as the fried okra!
The Buffalo Burger is a piled-high ½ pound burger, deep fried, served with a signature wing sauce, lettuce, tomatoes, pickles, onions, and fresh crumbled bleu cheese. Did we mention the servings are huge? You might want to get a to-go box for their burgers!
Enjoy Happy Hour Monday-Friday 3-7pm, with $1 Lone Star drafts and $2 domestic bottles.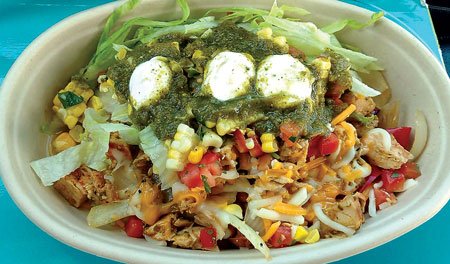 BBQ Barn & Burgers is located at 5703 Stewart Rd., Galveston. For more info call (409)740-2783.
Chilaca Mexican Grill
Specializing in huge burritos, tacos, quesadillas, burrito bowls, and salads, Chilaca Mexican Grill has a simple menu but an extensive variety of combinations.
From their website, "Born from a simple desire of having a decent Burrito Bowl for lunch or dinner on Galveston Island, and an urge for a nutritionally rich meal that has a great standard without the price of a fine dining restaurant, we would like to introduce you to Chilaca Mexican Grill."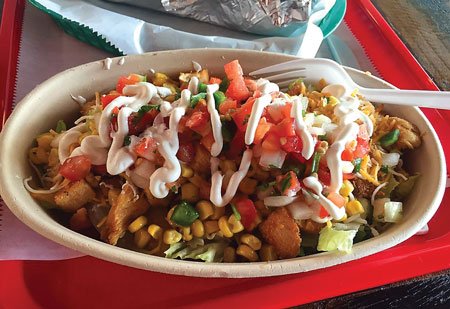 You can create your own combos for the entree types then go to town with your unique combination. First, select your entree type (burritos, tacos, quesadillas, burrito bowls, or salads) then select your meat (steak, chicken, Chilaca Chicken, Chilaca Steak, or veggies), then build your creation from the other toppings like cilantro rice, black or pinto beans, sauteed veggies, salsa, cheese, sour cream, roasted corn, guacamole, and queso.
A few favorites are the steak Crispy Tacos; they host lots of flavor and taste. Another good one is the Chilaca Chicken Burrito Bowl with a side of chips and guacamole and Chilaca sauce.
Brian Mitchell said, "Galveston has been needing a place like this. On the opening day, I actually ate there for lunch (dine-in) and dinner (take-out). The Chilaca chicken and sauce is pretty amazing. I will definitely be back."
They also offer delivery and fax-in to-go orders as well as dine in.
Chilaca is open daily 11am-10pm and is located at 708 Holiday Dr., Galveston. For more info call (409)974-4582, fax (409)762-2003 or go to chilacagrill.com.
Food Trucks
Food trucks are making the scene in Galveston recently. These are two of our favorites:
Jenny on the Block
"Growing up, all my friends would call me Jenny from the block," says Jennifer (Jenny) Perez, owner and chef of this food truck serving Puerto Rican and Latin-style Caribbean foods.
Jenny has always had a passion for cooking, especially her Latin Caribbean cultural cuisine, with recipes that have been passed down from generation to generation.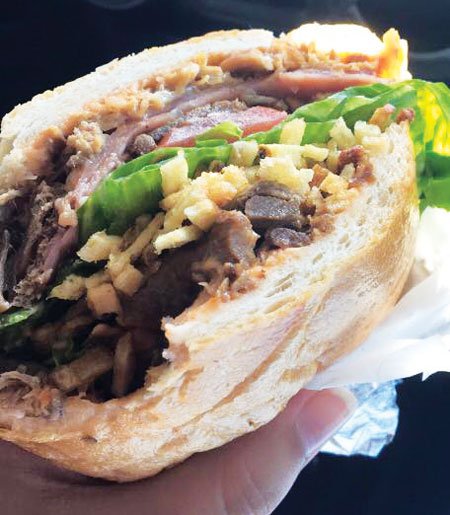 Since childhood, she has always been in the kitchen. As a child, she watched her mother closely to learn all the tricks and tips to cooking Puerto Rican dishes perfectly. As she got older, her love for cooking manifested into a passion for pleasing people through that very same skill. From conception to reality, the Jenny from the Block food truck has been a fast road to success and is currently the first and only Puerto Rican food truck food spot in Galveston.
Emblazoned with a likeness of the Puerto Rican flag, Jenny from the Block food truck serves dishes including Mofongo Carne Frita, which is mashed plantains with meat, and a jibarito steak sandwich with onions, cheese, lettuce, tomatoes, and condiments between two twice fried green plantains.
Frankie De Soto said, "I found out about this place on the local news and being from Puerto Rico, I needed a taste of nostalgia. Jenny didn't disappoint. The Mofongo con Chuleta was both tender and juicy, the rice was cooked perfectly, the Papa Rellena is one of those tough recipes that my mom couldn't do, but Jenny pulled it off perfectly. The Jibarito sandwich is a must-eat dish for lunch or on the go. If you're looking to take a break from Tex-mex, this is the place to go. And for my fellow Puerto Ricans, bring your dominoes and enjoy the weather."
Many locals love the Frituras (fried fritters). Pastelillos (empanada-style fried hand pie) are filled with either seasoned ground beef filling or Jenny's pizza filling: mozzarella cheese and marinara sauce. Jenny's Mofongo is delicious with fried green plantains, mashed with garlic and chicharron, served with a small side of Caldo de Pollo (chicken broth).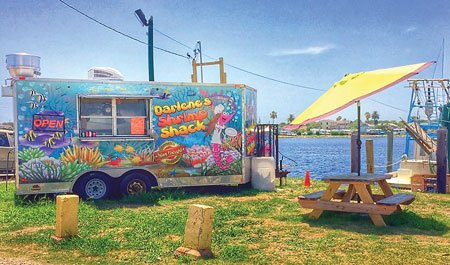 La Tripleta sandwich is what dreams are made of! This hot sandwich is piled high with deli ham, roasted pork, steak with onions, and American cheese, served on fresh Cuban bread.
"We serve food with an attitude," notes Perez. You can find the truck at 2122 61st St., Galveston. For more info call (409)996-7220 or go to jennyfromtheblocktx.com.
Darlene's Shrimp Shack
Darlene's Shrimp Shack is a little food trailer located just north of Aunt Margie's Bait and Seafood Shop on 61st St. It looks small and colorful and has some awesome fresh shrimp.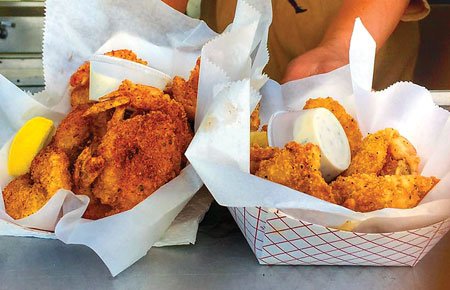 The menu is simple. Shrimp. Big fresh shrimp baskets are available in seven different flavors: coconut shrimp, buffalo shrimp, sweet onion peppers, Cajun rub shrimp, fajita rub shrimp, lemon pepper shrimp, and good old plain Galveston style fried shrimp. There are sandwiches on the menu too with the shrimp.
Alexander McKay said, "I just got to Galveston and immediately stopped off at Darlene's Shrimp Shack to order the 'Original' fried golden shrimp basket: done in a delicious crust with 10 large, fresh, deveined shrimp, two hush puppies, lemon wedges, (I like the cocktail sauce they serve too) in a paper basket for $9.95. It is so delicious! Absolutely the best!"
Be forewarned, Darlene's hours are a little odd sometimes, and they are only open for lunch during the week. They are open Monday-Thursday 11am-3pm; Friday, Saturday, and Sunday 11am-8pm. Darlene's is located at 1727 61st St., Galveston. There are a few picnic tables.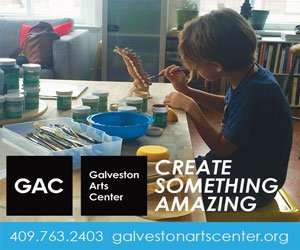 ---