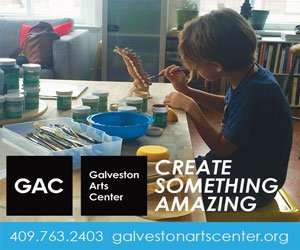 By Terry Card
An unusual journey that started with marine animals and led to dogs does not seem as disjointed as might first be perceived.
Heather Samper, who is one of the owners of Mutts with Manners in Galveston and past president of the Animal Behavior Management Alliance, decided she wanted to work with animals when, as a young girl swimming in the Gulf of Mexico, she spied her first pod of dolphins close by. Later, in her final two years of high school and during college, she volunteered at the Knoxville Zoo. She graduated with a degree in Marine Biology from Texas A&M at Galveston, putting that to good use, when in 2000, she started working with marine animals in the Aquarium at Moody Gardens. Later she switched to the Rainforest, training exotic birds and animals in that facility. Since 2004, she had been training search dogs which, with her passion of helping dog owners properly train their pets, led to her work with Mutts with Manners.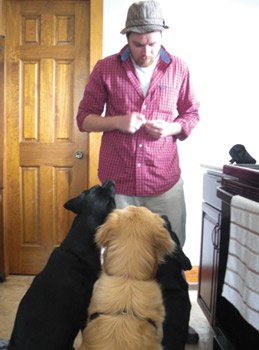 Trelle Dandridge became passionate about animals when at twelve years old her family moved to a ranch in Oklahoma. Trelle also started working in the Aquarium at Moody Gardens, where she met Heather. Her marine life didn't start with dolphins, it started with sharks. After both of them were introduced to the Operant Conditioning learning system over 15 years ago, they began training both marine animals and land animals by using this positive reinforcement system. It was in 2000, while they were working together at Moody Gardens, that they decided to start Mutts with Manners. Trelle, along with Heather and Laura, are members of the Association of Pet Dog Trainers.
The third member of the team, Laura Hafferty, was a registered nurse, who after 20 years of caring for people, decided to follow her passion for animals, graduating as a certified pet dog trainer from Animal Behavior College. She completed a mentorship with Heather and Trelle and has since joined them as a business partner. This internship program is initially done through an online college, followed by personal one on one instruction. The interns are rotated through the various training aspects required for the positive training of dogs. Three people are currently active in the program. Laura also offers classes in pet CPR, first aid, and pet care.
The Operant conditioning method used by Mutts with Manners was developed in the 1950's, and is based on consequences following a behavior. Their focus is on positive reinforcement like verbal praise, petting, and treats, trying to make learning fun for both the pet and the owner. They teach the system to both the dog and the owner, because it is the owner who trains his or her pet, not the school. As Trelle says, "Training a dog is the easy part. Unfortunately, sometimes it is difficult to get owners to let go of their old habits, especially negative reinforcement caused by frustration, like physically forcing the dog to sit, using choke collars, and the like." She laughs as she said, "they would not be doing that if they worked in the tank with sharks as I did where you need to use positive reinforcement. Negative reinforcement techniques do not work with animals that can easily kill you."
All classes and private lessons offered, require a non-refundable deposit of $30, which guarantees your spot in a class or your private lesson home appointment. The deposit may be refunded if the pet owner contacts them by e-mail or in writing at least one hour before the scheduled time.
For everyone's safety, there are six class rules. No sick dogs, dogs must be on a leash at all times, the owner must clean up after the dog, bring treats and/or a favorite toy to class, and if you have more than one dog, the owner must bring another person to work with that dog.
There are many classes, some which directly address specific behaviors of your dog and some that address general training.
Some of the classes on offer include:
Basic Obedience:
Basic Obedience classes of four or six weeks are for dogs 12 weeks old and older only. They are taught socialization with other dogs, commands such as sit, down, come, stay, off, and leave it. They will also be taught loose leash walking, and a fun trick. Owners will be given some health care tips. Both the four and six week classes are $150.
Agility for Fun:
This class, as the name suggests, is the teaching of agility for fun, not for competition. Special equipment such as weave poles, open tunnel, balance beam, A-frame, ring and high jumps, see-saw and pause box are used to increase your pet's agility. The course runs for four weeks and costs $150. Each week your dog will learn to use different pieces of equipment which will increase your pet agility level.
Leash Walking 101 and 201:
These classes go beyond basic leash walking.
Class 101 includes auto-sits when stopping, eye contact, and heel position in high traffic.
Class 201 teaches loose leash walking in the real world on the streets of Galveston.
Classes are a 4 week class costing $150.
Other Classes:
Specialized classes including Doggie Door Dashers and Bombshell Recall, deal with specific dog behaviors such as bolting through doors, gates etc., and how to recall them. These classes could save your pet's life if they have a habit of bolting into traffic or putting themselves in other dangerous situations. Each class is four weeks and costs $150.
The latest class added to the program is the A.K.C. – S.T.A.R. Puppy Class. This is a basic training class for puppies, teaching communication, socialization with other dogs, house training, chewing problems, and coming when called. This is a six week class costing $150.
Telephone Consultation:
There will be times when your pet's unwanted behaviors need correction, but you are just not able to attend a class or get a private lesson. In that case an initial 60 minute consultation is available for $60. Follow–up consultations of varying time lengths and costs may also be arranged as necessary.
More Info:
For further information on contacting Mutts with Manners, go to their website at Muttswithmanners.com, or call Trelle at (281)685-7601.
Woof!

---