By Kimber Fountain, Photos by Christa Schreckengost
Napolera Galveston is warm and authentic, a genuine reflection of its dedicated owners, and is the home of what is easily the best salsa in Galveston. Guests are greeted immediately upon walking in the door, and the staff appears energetic and enthusiastic, happy to be at work. The menu is large, a commonality among many Mexican restaurants, but Napolera's menu is not just expansive, it is diverse and creative. Instead of endless combinations of the same ingredients, Napolera offers unique, hand-crafted dishes such as pork ribs and cabbage and the elusive mole (a culinary feat attempted by only the most skilled in Mexican cuisine) alongside all of the standard South of the Border comfort foods.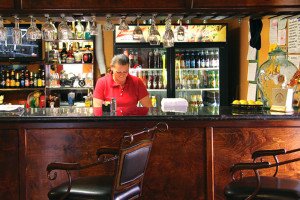 Napolera is one of two restaurants owned by Evelia Mendez, who is active in the operations of both. Napolera Grill in Texas City opened in 2003, and has such a loyal following that some of their customers have actually dined there at least once every week since it opened.
When Evelia decided to expand and open Napolera Galveston, she brought on her boyfriend Ray Cruz, who had recently moved to the Island from Utah, as a partner. But their arrival in Galveston was actually a return, as Ray is an island native and Evelia is an easily recognized figure in Galveston from her years working at Napolito's and Armando's, both of which were once two of the town's best-loved restaurants, and she one of their best-loved servers.
In fact the name 'Napolera' is a spin-off and is in essence a tribute not only to Evelia's loyal customers from her years as a server, but also to Napolera Grill, in operation since 2003, which is in the same location used by Napolito's when they expanded and opened a restaurant in Texas City. Ray remembers, "At first Evelia thought about changing the name for the Galveston location," but with such an established reputation in Galveston's neighboring city, they decided to continue the tradition, opting only to make a slight distinction. The Texas City location is officially known as Napolera Grill, and its island sibling is formally titled Napolera Galveston.
There are notable differences between the two, highlighted in the hours of operation, which in effect slightly alter the ambiance of the Galveston location. "The Texas City location is more of a breakfast and lunch place, but in Galveston we wanted to focus more on dinner," Ray explains. They still serve breakfast and lunch, but the opening time was pushed back to accommodate additional dinner service not available at the Texas City restaurant. Also, unlike its counterpart, Napolera Galveston features a full service bar and happy hour.
As far as the magic on the menu, much of that is Evelia's doing, as well, where she drew inspiration from not only Napolito's menu but bits and pieces she picked up while working in restaurants. "I worked all over Galveston," Evelia says, "as a waitress, a line cook… I just took everything I learned and put it all together, and tried to add my own style." Evelia attests, and Ray confirms, however, that it is the loyalty of their guests that is the most rewarding part of the experience. Evelia continues, "I have people who have followed me everywhere, no matter what restaurant I was working in, and now those people are regulars at my restaurant, sometimes every week, and that's really what I love. Those things are what make you feel like you are doing something right."
Ray adds to that sentiment, "We would be nothing without our Galveston locals, the people who stuck by us in the early days when we struggled with thirty minute cook times and inconsistency in the food, and now we get entrees out in ten minutes, every time, and our recipes have been perfected so you get the same quality, every time. We could not have gotten better without Galveston's support."
And more improvements are on the way. Soon the bar in the front dining room will be torn out and a new, larger bar will be added to their back dining room, a fitting location for it considering that this particular room in the building contains original fixtures and artifacts from its days as a casino/speak-easy, its location presumably cloaked by a business housed in the front room.
Also slated for debut soon is a senior citizens special featuring $3.99 entrees from 3-5pm. Currently, Napolera hosts Happy Hour on weekdays from 3-7pm with $1.99 frozen margaritas, and offers a 10% discount to all Galveston Police and Fire Department officers in uniform.
With one restaurant that has surpassed a decade of business, and another that will cross the proverbial small-business milestone of two years this month, it is only natural that one would be inclined to ask Evelia what her secret is. But she simply shrugs, and says matter-of-factly, "If you work hard for what you want, and you care about what you do, it shows."
And perhaps the most remarkable aspect of Evelia's journey and achievements thus far are their unmistakable similarity to those of a man whose name is the pinnacle of achievement in Galveston dining. Who else worked as a server around Galveston, had a loyal following, and went on to start their own restaurant that eventually turned into two restaurants? Why, none other than the one and only San Giacinto Gaido.
Napolera Grill
5001 Broadway Avenue
(409)762-5777
Tuesday-Saturday 7am-9pm, Sunday 7am-3pm, Monday Closed
Catering and Private Party Space Available

---