By Rob Lucey
Whether you are fortunate enough to own an island home or just want to take a bit of the coast home with you to remember your visit, a great way to do so is to incorporate nautical décor into your interior design.
The nautical look can take many forms, from a serious traditional collection of historic artifacts to kitschy seaside inspired arts and crafts and pirates and mythical mermaids to tall ships and the beauty of sea life and shorebirds, lighthouses, and yacht races.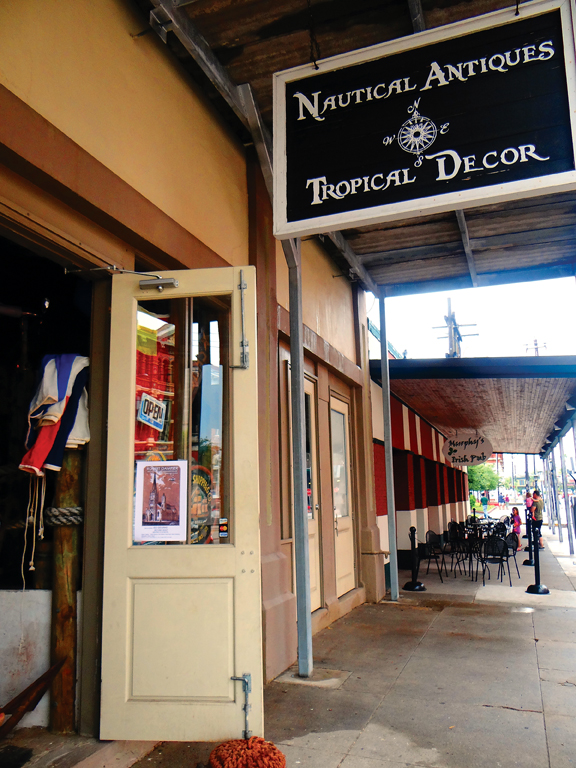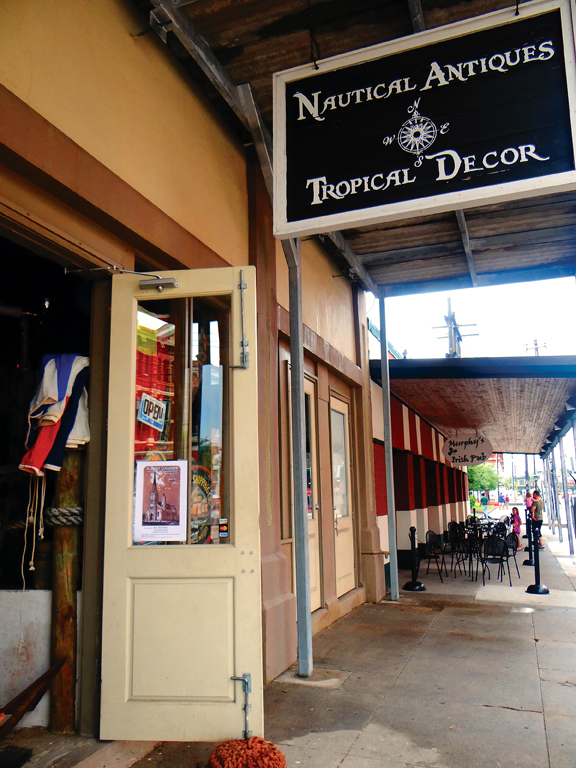 Some decorating ideas include papering a wall in old marine charts, hanging a fishing net from the ceiling, or dropping in some select shells. You might even pick up some driftwood from the beach and build a frame for your old fishing lures, mount a surfboard above your sofa, add some choice art pieces, or lean an antique outboard in the corner.
All can be mixed and matched to express your personal salty style. Ample examples of each coastal sub-genre can be found around the island, from resort hotel lobbies and restaurants to museums and historic homes. When you see something you like, you can probably locate it for sale on the island.
Smitten with the look of old sailing vessels? Take a stroll aboard Galveston's own authentic tall ship, the 1877 barque Elissa at the Texas Seaport Museum, 2100 Harborside Dr., and take note of all the decorative possibilities. Then start shopping in the museum gift shop where you can acquire deck prisms, volumes for the shelves in your nautical library, artwork depicting Elissa and other nautical scenes, occasional crafts created by the volunteer crew, and much more.
If you seek authentic ship's wheels, pennants, binnacles (compass stands), hatches, ladders, lanterns, life rings, charts, bells, figureheads, or other pieces pulled from actual ships, Nautical Antiques & Tropical Decor located at 2202 Ship Mechanic Row, is the place to go. Proprietors Michael and Adrienne Culpepper travel to ship breaking yards in Europe, Asia, and beyond. They purchase select pieces to have cleaned up and shipped back to their store by the container load, so there is always plenty to pick through to find the perfect treasure.
Other home decorating shops on the island also lean heavily toward the coastal themes. You can't miss with the ever-changing furnishings and accessories available at Bayside Chic, 4002 Broadway. Some pieces are built with reclaimed lumber giving them a weathered look that lends itself to windswept beach houses. They also have a range of bedding featuring ships, shells, anchors, and sea creatures.
Coastal Creations, 3802 Cove View Blvd., has a similar selection of tropical pieces, including plenty of wicker and rattan, coastal throw pillows, carvings and paintings of pelicans, and shelves loaded with blue crab and mermaid depictions.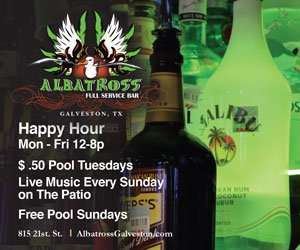 Gift shops on the island naturally stock island-themed pieces that can be incorporated into your interior design. The Admiralty, 221 Strand St., has many model ships and marine life pieces.
You can't beat the selection of shells and other coastal pieces at the island's oldest gift shop, Murdochs, located at 2215 Seawall Blvd.
For a bathroom or girl's room, a mermaid theme can hit the spot. The Naked Mermaid, 2113 Postoffice St., has many pieces reflecting its name as well as other coastal furnishings.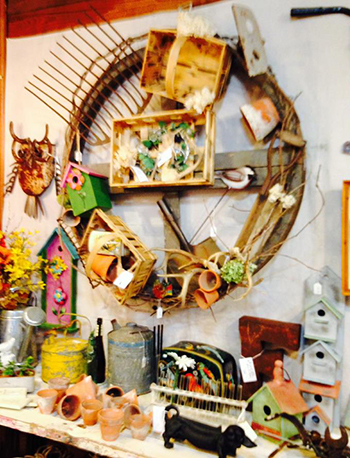 Flea by the Sea, 2501 Market St., also has an eclectic collection of vintage and art items including art depicting mermaids.
Many of the shops on the Strand carry items that could be incorporated into a pirate-themed bedroom for younger buccaneers inspired by a visit to the Pirates – Legends of the Gulf Coast exhibit in Saengerfest Park. Haunt some of the island's more than two dozen antique shops, and you might scare up a chest to fill with Mardi Gras beads for booty. Bolt a ship's helm wheel to the footboard of the bed and drape a skull and crossbones flag from the ceiling. Arrr! Salty!
Wander past one of the island's marinas or the yacht basin, and you might be inspired to include some yacht club or sport fishing styling in your décor. You can re-purpose much of the gear available in the West Marine, 5926 Broadway or the fishing and boating section of Academy Sports & Outdoors, 4523 Fort Crockett Blvd.
No matter which coastal theme you prefer, you can cap off the look with select pieces of original art from the island's numerous art galleries. Most of the local galleries showcase local artists, and those artists are frequently inspired by the beauty of their coastal surroundings.
Heard Gallery, 2217 Postoffice St., features "beach art for beach homes." René Wiley Gallery, 2128 Postoffice St., is packed with art depicting island scenes and "Hurricane Ike wood" carvings of sea life. Galveston Art League, 2117 Postoffice St., always has a variety of local artists exhibiting coastal talents, and Vacation on Canvas, 2113 Postoffice St., depicts life on the island through original paintings.
So put on your shopping shoes and get decorative. Bring the beauty of the island indoors.