---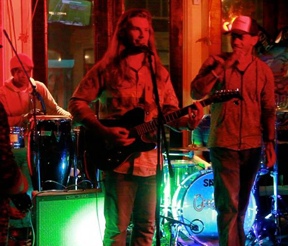 By Kimber Fountain
Where does music come from? From notes on a page, from instruments, from voices? Yes, but that is a bit like saying that water comes from the faucet in the kitchen, when there is so much more to the story. Touted by many as the "Universal Language," music knows no dialect and no boundaries. It is as deep as the fathoms of the Gulf of Mexico, as infinite as the view of the horizon from the Seawall; its notes are as numerous as the sands on Galveston's beach and as life-giving as the salty seas. And if you were to ask a band called Ocean Roots from whence their music comes, they would most likely answer, "all of the above."
Of course if you were to meet them or listen to their music that question would be unnecessary and redundant, for their Island style is unmistakable, and the lives they have lived that conjured such a sound have been steeped in the warm coastal waters of Galveston and brewed by the beach. At a mere 20 years old, fraternal twins Morgan and Skylar Smith elicit a sound and a musical style that resounds with a wisdom and maturity of musicians twice their age, undoubtedly due to a remarkable life on the Island. "We wanted them to live on the earth, we wanted them to have a real life, not a plastic one," says their mother Gillian Smith.
As children they would dumpster dive and use their reclaimed materials to build boats and rafts, they fished every day, and their watery adventures even garnered them a friend in the form of a magnificent Blue Heron, who for eight years until disappearing after Hurricane Ike, would follow them everywhere they went and even eat out of their hands. Shortly after the storm, the family procured a television (their first) simply to keep them apprised of the aftermath, but it was not long until the brothers told their mother to get rid of it, saying, "There is nothing on TV that is good for us."
Although Hurricane Ike took their friend the heron, in its wake it also brought a remarkable validation of their talent. A roofer who was working on the repairs to their house heard the two practicing in their room, and subsequently dropped what he was doing, jumped down on to the balcony from the roof, and knocked on the door. "Your kids play reggae?" he asked Gillian, incredulously, to which she answered yes, and agreed to let him listen for a minute. When the worker asked Skylar and Morgan where and how they learned to play like that, they merely answered, "We just feel it." That man ended up being an old friend of Bob Marley's who had grown up next door to him and had even played in his first three bands. He had come to Galveston specifically to help with the clean-up efforts, and although many would just chalk that up to "coincidence" even though there is no such thing, his praise of their talent and their answer to his inquiry is a concise summation of their captivating musical prowess.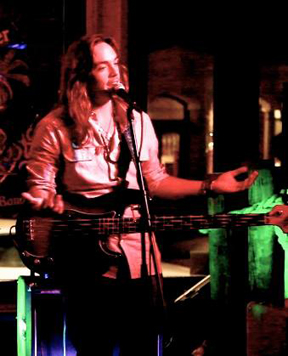 Morgan began playing music at a very early age, first picking up the violin. After that he transitioned to the mandolin, then finally to the guitar. Skylar embarked on his own musical journey whose immediate outlet was the guitar, but then about six years ago he switched to the bass. "We liked having two guitars because it creates a more well-rounded sound," Morgan explains. Skylar continues, "but we couldn't find a bassist so I decided just to play it myself."
Their songwriting is a collaborative effort, most of them are written initially by Morgan but Skylar takes them and fleshes out the sound. As far as Morgan's vocal performances go, "they convinced me I could sing, so I did," he laughs, and remembers being really confused when a family member began crying at the sound of his voice. Although he would not guarantee such a reaction for his audiences, his soft, poignant timbre is unmistakably reminiscent of the incomparable Bob Dylan.
Their first album was released in 2012, entitled "Wind N Water," a tribute to the natural forces that have shaped their lives and their music, and most of the songs were written and recorded when they were only 15. It is not, however, a cacophony of teenage angst or adolescent pursuits. "We really focus on positivity in our music," Morgan says, "we try to keep it upbeat and positive." The album plays out as a celebration of an already well-lived life and an awareness of much, much more than the six-inch screen of a smart phone around which most kids' lives at that age revolve. "Be who you wanna be," "Just live your life and be free," and "Love is the key to livin' free," are just a sampling of their quintessentially reggae lyrics, along with the beyond-their-years pontification of "Why don't nobody ever stop and take the time to feel the earth beneath their feet or stop and listen to the wind speak?"
In the three short years since that album was released, Morgan and Skylar's music has grown exponentially both in technique and in maturity, changed dually by their continuing life experience and the tutelage of many renown music instructors who include the legendary Bert Wills. In addition to working on their second album with the title "Natural" with all eco-friendly packaging, the two play regularly around Galveston. They play several acoustic shows, but also many that include a full band with percussionist Gerry Zaragemca from Cuba and even a local rapper named Thaddeus Richardson. Either way you hear them, their current performances showcase a depth and intensity that outshines even their album.
Of course they only play music when they are not piloting boats as Licensed Captains; or pursuing their Maritime Administration degrees at Texas A&M Galveston; or launching their own non-profit organization for the preservation of surrounding wetlands and wildlife called the Wetland ERA of the Sea Fund (Equal Rights for Animals); or investing an estimated 5,000 hours of community service into volunteer efforts with Pedal for Purple, Blue Santa, Waves of Impact, and Mauli Ola. All in all, Ocean Roots defy the tired adage of "misery-begets-art," and instead prove that positive living makes a positive impact…and really great music. For more info go to www.oceanrootsband.com, www.facebook.com/oceanrootsband, or ocean.roots@yahoo.com.


---