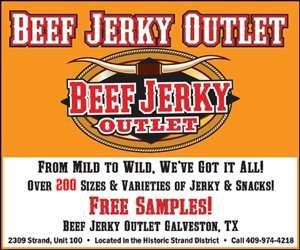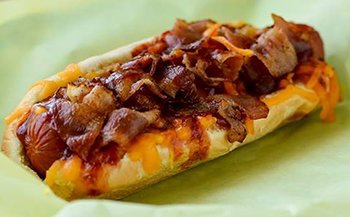 By Sissie Coomes
Sometimes the best places are those that are a tad hard to find. It's a part of all of us – we love the challenge of something new and unexplored. It's the adventurer in all of us.
The West End is a treasure trove of new things, whether it's to unwind and watch the sunset, hit a few balls and have a cocktail, or admire a plethora of dreamy boats. The long summer days are upon us so get ready to do some exploring on Galveston's West End.
Bryant's Jungle Cafe
Under new management and back to original owner David Morley's recipes (owner of a long time BOI favorite, The Jungle on 23rd St.), new owners Brett and Jennifer Bryant have opened up Bryant's Jungle on the West End. They have perfected the signature dishes of times past. The casual family-style dining, either inside or outside by the pool, is open seven days a week, offering breakfast, lunch, and dinner – plus a Kids Eat Free Friday (4pm – close) evening special.
"From our specialty sandwiches like the long-time favorites The Jaguar and the Aardvark, to our fresh salads and our Cajun Fried Catfish, chances are we have something to please everyone. Stop in and dine with us or call for a delivery or pick up. We will bring it to you wherever you are on the island," said new owner Jennifer Bryant. "We offer a variety of handmade hamburgers, fresh salads, gyros, specialty sandwiches, stuffed Idaho baked potatoes, chicken fried steak, fried shrimp, Cajun fried catfish, hand-dipped milkshakes, and so much more, including a large kid's menu."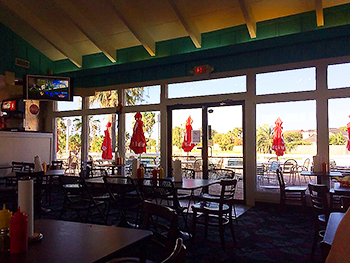 Bryant's Jungle Cafe offers a daily Breakfast Buffet, which is All-You-Can-Eat. It includes made-to-order pancakes and create-your-own omelets, plus an abundance of traditional breakfast favorites. The Breakfast Buffet is Monday-Friday 7-9:15am and Saturday and Sunday 7:15-10:15am.
If you are there for lunch or dinner, our favorites are their Cheetah Pita Gyro (hot turkey with loads of melted Swiss cheese), Fried Pork Chops, or the Gone Wild Gyro. The Piranha on a Kaiser is awesome too – grilled lemon pepper grouper loaded high with veggies and the Jungle's addictive Jungle sauce.
Bryant's Jungle is located in front of Schlitterbahn Water Park and Moody Gardens. "Dine in or order your meal by phone or online for delivery or pick up. We deliver to the whole island and we strive to make your dining experience a great one."
Tin Cups Caddyshack
Located on Stewart Road on the back side of the Scholes International Airport at Galveston, Tin Cups Caddyshack opened about a year ago.
Although they do not offer food, they offer a great view of incoming and outgoing airplanes, stunning sunsets, a large, fun driving range, and a daily happy hour. Whether you're looking to hit a small or large bucket of golf balls at dusk across the field, or simply unwind after a long day, you'll find Tin Cups deck very relaxing "with a cold beer in hand."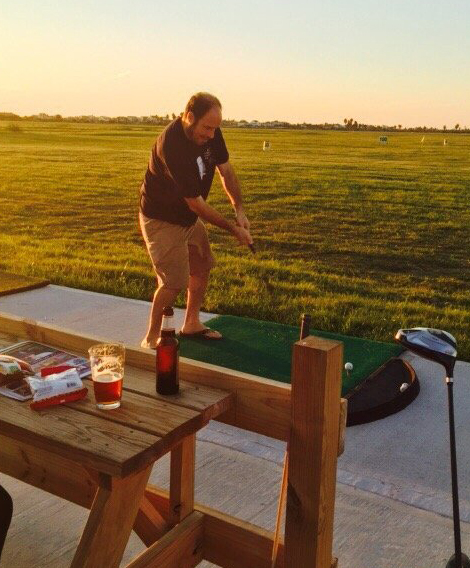 Buzztime Trivia and Games are now at Tin Cups, as well as pool, cornhole, daily happy hours, and Sunday Funday specials. Buckets of Balls are available in three sizes – X-Large (400 balls), Large (110 balls) and Small (45 balls).
You can share the buckets, and Tin Cups provides the clubs. No matter your skill level, you'll enjoy your time at Tin Cups.
Tin Cups Caddyshack is open seven days a week, 10am-10pm. The driving range is lit at night.
Cafe Michael Burger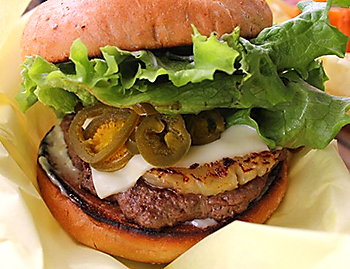 Cafe Michael Burger took a little bit of time off to do some construction but it is now open again, and serving some of the best burgers on the island, as well as an outstanding view of the beach across San Luis Pass Road.
Besides a wide array of a dozen or more themed-burgers, this establishment also offers German favorites – think wiener schnitzel, bratwurst, red cabbage, fried potatoes, and sauerkraut. Cafe Michael Burger also features a nice selection of American and German beers for the perfect ice-cold accompaniment to your meal.
Our picks, new to the menu, are the Wiener-schnitzel and Ruben Sandwiches. They are "must tries" in our opinion.
"Be sure to try the onion rings – they are huge, hand battered, and there's more than enough for at least two people. This was a good snack, sitting out on the covered deck, and enjoying the ocean view…such a nice break," said Steven Morris.
Cafe Michael Burger is open Wednesday-Sunday 11am-9pm. Indoor and outdoor patio dining is available.
The West End Restaurant & Sandbar
21706 Burnet Dr.
   Upstairs Restaurant (409)497-4152 for reservations
   The Sandbar & Grill (409)497-4153 (no reservations needed), westendmarina.com
Whether you are in the mood for something fancy or something totally casual, West End Restaurant and Sandbar is the place to be. We simply can not say enough about this place! It's tucked away in the Sea Isle subdivision, overlooking Galveston Bay, surrounded by everything we all love about the water and being near it.
"West End Marina offers full-service dining upstairs in our restaurant, and we offer island casual dining downstairs in our famous Sandbar. We also have a fully stocked general store for all your grocery needs, and we offer a full-service bait shop and marina, complete with 4-ton lifts, electric, water supply, and quality marine grade fuel," said owner Roy Beck.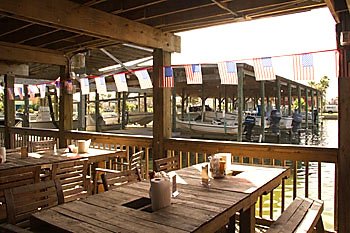 The Sandbar is a favorite place to hang out and unwind after work. The super casual open-air atmosphere is great for unwinding after a long day. Most days they have crawfish and raw oysters on the half shell. We love the fried shrimp basket. From their website, "Crisp fried pickles, award winning Gulf Coast crab cakes, and shrimp, either cocktail-style or wrapped in bacon, cheese, and jalapeno – we have something for everyone. Salad and soup offerings include a caesar, a seasonal salad, legendary seafood gumbo, and lobster bisque. Of course, for sandwich lovers, you won't wanna miss the juicy burgers, French Quarter-style po-boys, and fish tacos." The Sandbar opens daily at 11am and has live music and karaoke on the weekends.
Upstairs in the restaurant, you can dine overlooking the beautiful Galveston Bay. Entrees include fresh Gulf shrimp, crawfish, oysters, pecan-crusted snapper, lemon pepper grilled fish of the day, drunken chicken with Jack Daniel's sauce, herb-rubbed grilled chicken breast, filet mignon, juicy ribeyes, fresh gulf red snapper, and more. The West End also features a wide array of fine wines, as well as decadent dessert offerings. The restaurant opens at 5pm, Tuesday-Sunday starting May 8th and will be open seven days a week starting on Memorial Day, Monday, May 30th. Reservations are recommended.
Bahia Oaks BBQ
12410 Stewart Rd., (409)443-5122, bahiaoaksgalveston.com
Have you been to Bahia Oaks BBQ? This "new to the west end" restaurant is a must-try. Super casual dining is far surpassed by the tasty barbecue and super friendly staff. "Bahia Oaks began as a hobby when my wife Lisa, our partners John Bruns and Brian Perry, and myself started competing in local BBQ cook-off competitions with good friends, fun times, and great BBQ. We progressively (and thankfully) got better and better with each local competition and began winning. As our meats increased in popularity, we began catering for friends and family events, and low and behold, Bahia Oaks was born. We wanted our community to have the same quality experience that our close friends and family enjoyed regularly. Whether you're a sandwich person or like meat by the pound, Bahia Oaks serves up quality meats, excellent sides, and a homemade BBQ sauce that leaves you wanting more," said owner Kevin Peters.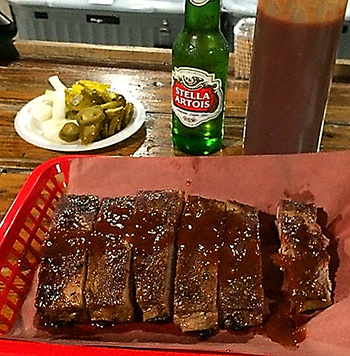 Offering pulled pork, smoked turkey and chicken, sliced and chopped brisket, sausage, and of course, ribs – all their meats are tender and juicy. Smoked baked potatoes, combo plates, beans, potato salad, and coleslaw are available too. Daily lunch specials are usually around $7 and include a sandwich, chips, and a drink.
"Bahia has plenty of TV's and ice cold beer. It is off the beaten path and away from the crowds and it's a very cool place," said Stephanie Ansel.
Many people remember the location as Crazy Oaks. Under brand new ownership, this place definitely has taken a turn in a nice, smokey direction.
The Waterman Restaurant
14302 Stewart Rd., (409)632-0233, www.waterman-galveston.com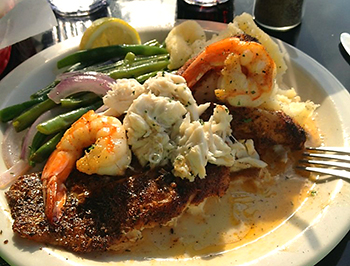 Located on the second floor, all you have to do is simply climb the steps (or take the elevator) up to see a wonderful view of Lake Como and Galveston Bay. The sunset is gorgeous here and the food is perfect.This upscale restaurant has a little bit of everything from fresh seafood such as snapper, shrimp, redfish (when in season), crab, oysters, and more. Prime cut steaks, burgers, and signature cocktails are a favorite too. Be sure to try the Lobster Stuffed Ravioli or the Redfish Ponchartrain – to die for!
This upscale restaurant has a little bit of everything from fresh seafood such as snapper, shrimp, redfish (when in season), crab, oysters, and more. Prime cut steaks, burgers, and signature cocktails are a favorite too. Be sure to try the Lobster Stuffed Ravioli or the Redfish Ponchartrain – to die for!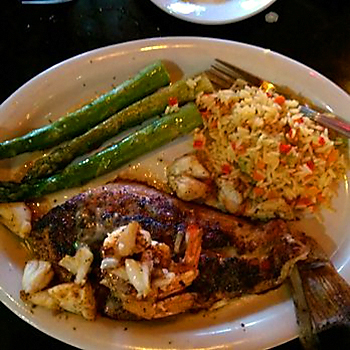 Downstairs Waterman offers a more casual Sand Bar with burgers and many drink specials.
Waterman upstairs is perfect for a romantic dinner, appetizers at the bar, a happy hour get-together with friends, or downstairs, it is perfect for a casual 'dock and dine' lunch with family.
The Waterman is open Tuesday-Thursday 4-9pm, Friday-Saturday 11am-10pm, and Sunday 11am-9pm.
Other restaurants on the west end include:
Blue Water Grill & Ignoble Pizzeria (16708 San Luis Pass Rd., Jamaica Beach, (409)974-4934)- From their website, "Blue Water Grill is a surrealistic restaurant/circus/lighthouse filled with loving-kindness where the continent ends. A quiet revolution that will not be televised." Blue Water Grill offers delectable pizza (try their Old Man Smiff's Pizza), good burgers, sandwiches, and salads – and it is always a colorful dining experience. There are over 30 different kinds of pizza to choose from. Blue Water offers "fresh, tasty, and whimsically-named food, and they deliver when it's cold or rainy. It's a cut above your normal place." BYOB.
Nate's West End Seafood & Steaks (17515 Termini San Luis Pass Rd., (409)737-9530) – "I had the best flounder I have ever eaten in my life at Nate's. I was dancing in my seat with every bite! Don't forget to finish up with dessert. I had the Black Russian cake, trust me – you will crave it for the rest of your days," said Maria Noble. Nate's is a small restaurant located on San Luis Pass Rd., next door to Seven Seas Grocery. They offer home cooking and daily specials as well as happy hour. Their grilled red snapper, hamburgers, fried oysters and shrimp, as well as fried catfish, are great. Nate's offers casual beach dining. The flounder is seasonal.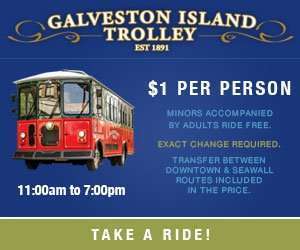 ---