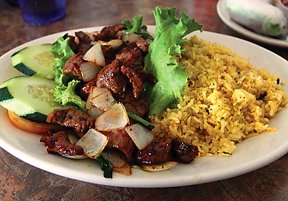 By Kimber Fountain, Photos by Christa Schreckengost
Galveston is and has always been the most diverse melting pot in Texas, due mostly to its establishment as a worldwide port in the 19th Century. Sailors, shippers, architects, and entrepreneurs from all over the globe set into motion a cultural hodgepodge that has remained a significant part of the city's multi-faceted identity for the entirety of its existence. And perhaps the greatest achievement born from the breadth of our cultural awareness has been, of course, the food. Unlike the farmers and residents of rural Texas who were limited to the fruits of their land and livestock, those original Galvestonians enjoyed the finest flavors from European and Asian restaurants, and fortunately for present-day residents their expansive and welcoming appetites have passed down through the generations and continued the legacy of welcoming fine foreign food.
Therefore, it should be no wonder why Pho 20, in its less-than-stunning, used-to-be-a-bank building on one of the less assuming blocks of Broadway, almost instantly became an Island favorite, serving up huge dishes of delicious authenticity. Labeled "Fine Vietnamese Cuisine," Pho 20 is the complete dining package, a great atmosphere, stellar service, expansive variety, and outstanding food. I can easily say it is unquestionably one of the best restaurants in Galveston, and it opened much to the delight of Island foodies who immediately recognized that Pho 20 was the aphoristic book not to be judged by its cliché cover.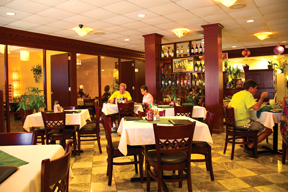 The first page that reads nothing like the title is the ambiance of the dining room; an outdated, uninspired brick structure on the outside lends the notion that the interior will be just as dull, drab, and sterile, perhaps with counter service and booths made from material that is a notch above particle board. As much as I hate to ruin the effect for first-time diners, everything opposite of that above description is what is actually inside Pho 20. The dining room is beautiful, and echoes with that effervescent Zen quality only achieved by the finest of Asian restaurants. And no counters here, only tablecloths and tableside service. The main dining room is flanked by several small private rooms for larger parties, which holds a twofold advantage. Big groups can enjoy the privacy and privilege of their own room, but also by seating larger parties separately, they help to maintain the dining room's air of serene sophistication.
Pho 20's staff is easily one of the friendliest and most accommodating on the Island, as well. Guests have only to take a few steps inside the restaurant before they are immediately greeted and ushered to a table, unless of course it is during peak hours; due to its popularity Pho 20 is known to sometimes require waiting for a table. Throughout the meal, service is attentive but not overbearing, and caters to the needs of each table. Servers are all smiles and are eager to assist diners in navigating their way through the pages of menu items, offering recommendations and answering questions.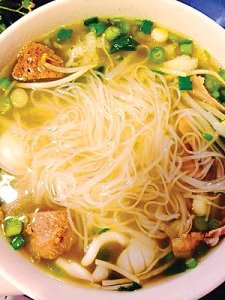 The heart of Pho 20's menu is its authenticity and vast range of freshly made Vietnamese specialties, as it boasts 117 different items. The restaurant's namesake, Pho, is a traditional Vietnamese beef soup presented in thirteen different varieties. A bowl quite literally bigger than your head is filled to the brim with savory, steaming beef broth infused with onion and coriander. Fresh rice noodles are added to the broth, as is a squeeze of lime and raw bean sprouts for texture. It is then finished off with Asian basil, saw-leaf herbs, and fresh chilies. Another of their specialties and favorites is the House Lo Mein, dense noodles in a sweet and savory brown sauce, tossed with chicken, beef, and shrimp. The most stunning of their dishes, however, fall under the category of Mi Xao Don, or Fried Egg Noodles. Several different combinations of meat and vegetables are sautéed in an absolutely scrumptious brown sauce, then piled high with crisp noodles that start out crisp and crunchy but eventually soften when added to the sauce.
Appetizers include dumplings, Vietnamese crepes, and several variations of egg rolls, as well as spring rolls wrapped in soft and chewy rice paper and served with homemade peanut sauce. The entrée menu is categorized for easy reference and includes several variations of the dish under each heading. Entrée categories include, of course, the Pho and Fried Egg Noodles, along with Vermicelli Rice Noodles, Thin Vermicelli, Vietnamese Hot & Sour Soup, Steamed Rice Platters, Fried Rice, Beef, Chicken, Seafood, Tofu, Vegetables, Salads, and finally, the Chef's Specialties. Of course the traditional Hoisin and Sriracha sauces are available for embellishment, but the food has so much flavor you will probably not even consider using them.
The most noteworthy aspect of Pho 20 is its obvious lack of pork on the menu, there is not any at all, not even in the egg rolls, but perhaps that coincides with the fact that it also has one of the most extensive selections of vegetarian and vegan meals in Galveston. Those practicing alternative diets or those with dietary restrictions are not confined to the list of side dishes or limited to one or two items, in fact at least one-third of their menu is entirely meatless. Pho 20 is also the only place on the Island that serves authentic Bubble Tea in ten different flavors ranging from Avocado to Mango to Mocha.
With endless variety, a great atmosphere, and welcoming service, Pho 20 will quickly become that spot you visit every time you come to Galveston, and for locals it is already on the regular lunchtime agenda. It can provide a peaceful meal time respite, or the perfect forum to celebrate with large groups no matter how varied the tastes are among them. Pho 20 is quite simply that place that will always keep you wanting Pho.
Pho 20
2101 Broadway Avenue on the East End of the Island
(409)750-9200
www.pho20.com
Open Monday – Saturday, 11am-9pm, Closed Sunday

---