By Kimber Fountain, Photos by Christa Schreckengost
For seventeen years, the lower west half of the historic and monumental Hutchings and Sealy Building on the corner of 24th and Strand was the home of Luigi's Restaurant, which undoubtedly no one expected to close. Even less expected was for someone to come into that space and proceed to raise the bar even higher than it could be set by a restaurant that was a Galveston favorite for almost two decades. But such a happening has indeed occurred, and the opening of Riondo's has breathed a fresh and inspired life into these classic confines.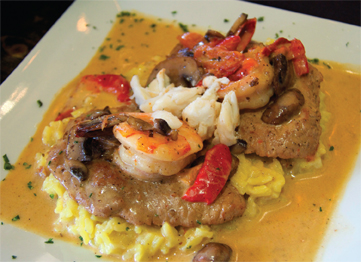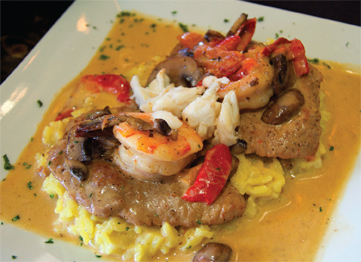 Proprietor Don McClaugherty is a seasoned veteran of the restaurant industry, having worked with food since he was 16 years old. His experience also includes marketing and promoting with the United States Ski and Snowboarding Association, as well as the Association of Volleyball Professionals. Locally he employed his expertise at Willie G's and most recently Farley Girls, where six months ago he found himself engaged in a most serendipitous conversation with Al Fichera, a prominent Galveston builder and restaurateur. Don remembers, "He came in to the restaurant one day, and said, 'Hey, you know Luigi just moved to Houston, maybe it is about time you open up your restaurant'." Well-known to Al was both Don's long-held desire to own his own restaurant, and him being a chef, that seemed to be a perfect fit. It was then Don was connected with long-time chef of Mario's on the Seawall, Rico Caminos, and together with Don's wife, Dr. Melissa Pope, they set off to bring Galveston a stunning combination of old- and new-world artistry, from the dining room to the kitchen, both culinary and otherwise.
Oozing with elegance and sophistication, one cannot help but think that from somewhere in the ethers, Nicholas Clayton himself inspired and is now applauding the interior renovation. Unknowingly, Don and Melissa redesigned the restaurant's downstairs space in a way that perfectly mirrors the intentions that Galveston's premiere 19th century architect set forth in his construction of the Hutchings and Sealy Building. Built between 1895 and 1897, Clayton's most notable commercial work fuses the foundational design elements of High Victorian architecture with an overlay of Renaissance Revival artistry. Inside Riondo's, the atmosphere is illuminated literally and figuratively by an appreciation and re-purposing of Victorian era technology. But at its essence, a reverberating melody echoes through the interior landscape that is reminiscent of the strum of a lute winding down the canals of 16th century Venice.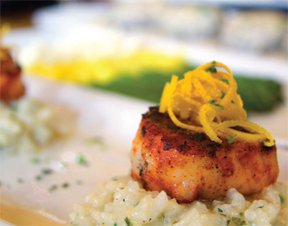 The walls have taken on warm and creamy earth tones that coordinate effortlessly with the building's exterior, and are further brought to life by the works of local artist Joey Quiroga. The custom tables that Melissa designed herself are built of Douglas Fir and Swedish Pine and are coupled with handmade table settings from Wayne Schulz's Living Soul Pottery. Together they emanate a rustic, old-world feel, brilliantly lit by low-hanging strings of Edison bulbs and a color-changing Mason Jar Wall inspired by High West Distillery in Park City, Utah.
The once vault of Hutchings bank now houses an intimate dining space, with newly painted wine cabinets and curtains that flank the archways to provide even more privacy. Up front in the bar, the serenity of an elegant fish tank meets guest by the entrance, and the renovated bar includes two flat screen televisions. "Our goal was really to provide guests an ambiance that matches the flavors of our food," says Don, and undoubtedly the dining room sets a perfect scene for the voluminous creativity of Chef Rico Caminos.
"I have to create all the time," says Rico with conviction, "I have to be in a place where I can create, or I get bored, and Don and I definitely agree on that." Create he did, and create he does. Rico, who has roots in both Italy and Argentina, designed the entire menu, "basically from all of my experiences over the past thirty years," he explains. On a daily basis, he not only devises off-the-menu featured items for both lunch and dinner, he also oversees and participates in the creation of most of the integral ingredients for his dishes. He grinds his own pastas and meats; makes his own sausage and sauces; the pizza dough, Focaccia, and Ciabatta breads are baked in house; and Rico even goes so far as to make his own cheeses and the ladyfingers for his Tiramisu.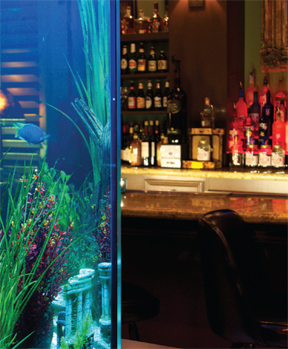 His output is also noticeably lighter than most Italian fare, which is attributed again to his attention to detail. "I don't go crazy with the butter," Rico says, and instead he makes an assortment of stocks in house that provide the base for his sauces. "I make veal stock, and chicken stock, also shrimp and fish, and for each dish I use the stock that is particular to the dish." For example , sauces made to complement his chicken dishes are made from chicken stock, veal for veal, and so on, and thus they serve to enhance the subtle flavor nuances of the meat instead of masking it with heavy creams.
Riondo's boasts both a lunch menu ($7-$15) featured daily until 3pm and a more elaborate dinner menu ($15-$32) that is served from 3pm until close. Both menus are equally approachable in price and flavor while still capturing Rico's creative ferocity, and include a variety of appetizers, soups, salads, pastas, meats, and seafood. Described as "farm to fork" the team grows many of their own herbs and procures seafood, dairy, and produce from local farms and markets including Healthy Way Dairy out of Santa Fe and Katie's Seafood on the harbor.
Authentic fare includes a Country Table Antipasti, complete with prosciutto de Parma and Soppressata, along with fresh melon, marinated artichokes and olives, and Parmigiano-Reggiano drizzled with a dry-aged balsamic vinegar reduction; as well as a Cioppino, or Zuppa di Pesce, a bed of homemade fettuccine pasta piled high with mussels, shrimp, and fish tossed in a chunky and savory tomato sauce.
Rounding out and still further embellishing the Riondo's dining experience is their excellent service, as well as the capability to host larger private parties and events. Servers and bartenders were hand-selected and are as knowledgeable about their food as they are willing to provide detailed and personalized service. The team extends their dining offerings into both off-site catering and their upstairs private dining room which can seat up to 120 people. It is available for reservation, and also used for special events hosted by the restaurant itself.
Riondo's Italian Ristorante
2328 Strand St., downtown Galveston
(409)621-9595, riondos.com
Open Sunday-Thursday 11am-9pm, Friday and Saturday, 11am-10pm

---