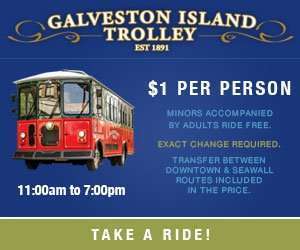 By Kimber Fountain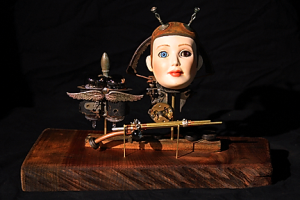 The relationship between darkness and light is one that has confounded the human race for the entirety of its existence. Some even go so far as to say that it is a battle, the mysterious forces of night railing against the powerful alacrity of day, as if the dark has a strength equal to that of light. But ultimately the only battle is the one of our perception, for how else does one rid their surroundings of darkness, except by turning on the light? How else is the inky mist of night time squelched but by the rising of the sun? Furthermore, our physical eyes could not even interpret light if not for the shadows that it cast, and is not joy made even sweeter by a brush with sadness?
For the answers to those questions, look no further than to the work of local Galveston artist Robert Dampier, which at first glance carries with it a touch of the morose, but upon further inspection reveals a resounding triumph, akin to those rays of sunlight that boldly eek their way through the cracks of an old stone wall. Robert crafts his assemblages and shadowboxes from predominantly used and abandoned pieces that he collects on his walks around the Island, and the result is an inspired and intriguing collection that induces emotion as easily as it provokes thought.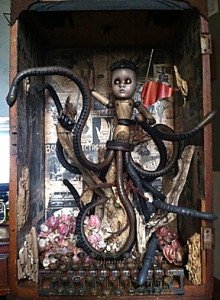 "As a kid, I was always tinkering with stuff," remembers Robert, "I would make my own toys, or take them apart to see how they worked." As a young artist in college, "I never resonated with new stuff," he explains, and his mentor Joseph Cornell encouraged his preferences. "He taught me to be okay with using trash," he reminisces fondly. "[It] is an endless resource… and it takes nature, time, and exposure to the elements to create the look." This fascination with deconstruction and reconstruction was further heightened when he lived in downtown Houston in the late 1990s. Robert was compelled by his time spent amid the industrial ambiance of Commerce Street, and there became interested in metalworking and metal sculpture. He wandered around the abandoned warehouses and railroad tracks surrounding his home, picking up random pieces of scrap metal and items long-since discarded and forgotten, not knowing at the time what exactly he would do with them.
In 2001 Robert moved to Galveston, a decision which sparked his iconic style and further inspired his foray into this unique art form. Always captivated by history and ancient history, the fabric of the Island's colorful past provided an additional impetus to his courageous art, as did the miles of alleyways, railroad tracks and beaches, all brimming with endless resources. As for his process, Robert attest that "If I try to pre-plan it, it doesn't work, I'm never happy with it." So he typically starts with a centerpiece, and then the pieces grow organically from there. His only requirement is in keeping new materials to a minimum. "I am always on the scout for things to use. I take the alleyways and sometimes people even bring me pieces that they have found. Sometimes it is friends and sometimes people I have not even met before will know of my work and bring me things."
The themes and messages of his works, however, are left up to the beholder. Robert continues, "I let others find the message, I usually give the pieces general titles that aren't too explicit. It is important to me that the viewer takes something personal from the piece, I want people to get out of a piece whatever they see for themselves." Currently Robert's work is on permanent display at Hendley Market on the Strand, and the charming quirkiness of the store sets the perfect backdrop. "So many people tell artists that 'you have to get into a gallery,' but so often I have found that many galleries don't represent the artists completely." Such is not the case with Hendley Market, where his unique style is free to be itself among the other oddities and rarities showcased by the store.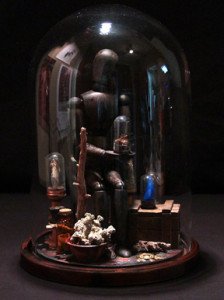 Robert has also recently expanded his artistic platform to include prints of some of his most popular works, as well as a personal revival of a classic children's toy, the stereo viewer. "[My wife] and I have always collected old stereo viewers, so we found a company that makes custom pieces." Robert's version includes a black stereo viewer, complete with seven of his assemblage pieces on a viewer reel, in a numbered and signed collector's box.
Robert is planning to release another, three-dimensional version of the stereo viewer in 2015, and he is also fast at work planning another art show for the summer. He began hosting shows in 2004, with the desire to give newer and lesser-known artists and opportunity to display their work, but this year the show brings in an added dimension with modern sideshow performers on the bill, as well. "It is going to be a Freak Show/Art Extravaganza," Robert describes, and will include the work of Austin artist Blockhead Benny, who both performs and recreates vintage Freak Show Banners as works of art.
Collectively, Robert Dampier's work can be seen as his ultimate assemblage, his own, larger-than-life, allegorical nesting doll. A gathering of prints, shadowbox scenes, sculptures, shows, and stereo viewers that wield layers within layers of deep-seated and soul-stirring meaning that command attention. Situated within a plethora of colorful beach scenes and images of graceful pelicans, Robert singlehandedly adds another dimension to the Galveston art scene that is entirely his own. His works, both individually and collectively, cast light upon darkness, and encourage the viewer to find beauty where it may not otherwise have been found.
For more information check out www.robertdampier.com, www.facebook.com/robertdampierartist, or Robert@robertdampier.com.
See his permanent display at Hendley Market, located at 2010 Strand St., downtown Galveston.