Pre-registration is now available for our Rosenberg Library Teen Summer Reading Program at https://rosenberg.beanstack.org!
Just for registering you get a brand new book, for FREE, and if you complete all 50 hours of reading this summer you'll get a $25 gift card to a local Galveston business.  Check out the event at the website because there's more prizes and end-of-summer drawings inside!
Welcome to the 2021 Summer Reading Program! The Rosenberg Library is offering people of all ages opportunities to read, learn, explore, and connect. Visit each age group to learn more about how to spend your Summer with us!
You can start logging your hours/books on May 28th. Sign up today by clicking the buttons below:
 Beanstack login |  Beanstack Tracker app
If you participated last year, you can use the same account as before, and password recovery is possible via e-mail.
 Children – Ages 0 – 12 (Sign up here)
Explore tails and tales with Beanstack this summer! The goal for children ages 0 – 12 is to read, or listen to, and record twenty (20) books before August 14th.
Children will be awarded t-shirts with their registration! (as supplies last.)
Prizes are given out with library check-out each week.
Once your reader completes twenty (20) books, they'll earn a personalized trophy!
Teen – Ages 13 – 18 (Sign up here)
Hey teens – do you listen to audiobooks? Read fanfic on blogs and Wattpad? Devour manga or graphic novels? Reading novels isn't the only way to participate in the Teen Summer Reading program!
No matter how you read, register for the Teen Summer Reading Program so you can earn raffle tickets and win prizes!
You'll receive three (3) raffle tickets *and* a FREE choice of book from our selection just for signing up.
For every five (5) hours you log, you'll receive raffle tickets to enter into our end-of-summer drawings.
If you complete fifty (50) hours of reading, you'll receive a $25 gift card to your favorite local business!
These drawings are for prize boxes from OwlCrate, each of which has yet ANOTHER free book (with an exclusive cover!) and awesome loot like artsy mugs, bookmarks, tote bags, and more!
Adult – Ages 18+ (Sign up here)
Summertime means a chance to explore new books and e-books, learn new skills, and check out resources through Summer Reading at the Rosenberg Library!
Register for the Adult Summer Reading Program and earn scratch tickets for instant prizes and raffle tickets for big-ticket items! Plus, get a summer reading book bag and three (3) raffle tickets just for registering.
Each badge earns one (1) scratch ticket & one (1) raffle ticket for the end-of-summer drawings.
The more raffle tickets you assign to a drawing, the better your chances are of winning! All drawings will be conducted after August 14th, 2021.
Read fifty (50) hours before August 14th and earn a Henry Rosenberg coffee mug!
Scratch tickets can be picked up at the 2nd floor reference desk. Scratch Ticket prizes will include $5 and $10 gift cards to Galveston local places including Mod Coffee, Galveston Bookshop, La King's, Hey Mikey's, and Teaside Tapioca.
Raffle prizes include $50 Gift Certificates to Galveston Restaurant Group, La King's, Gaido's, and The Galveston Bookshop.
________________________________________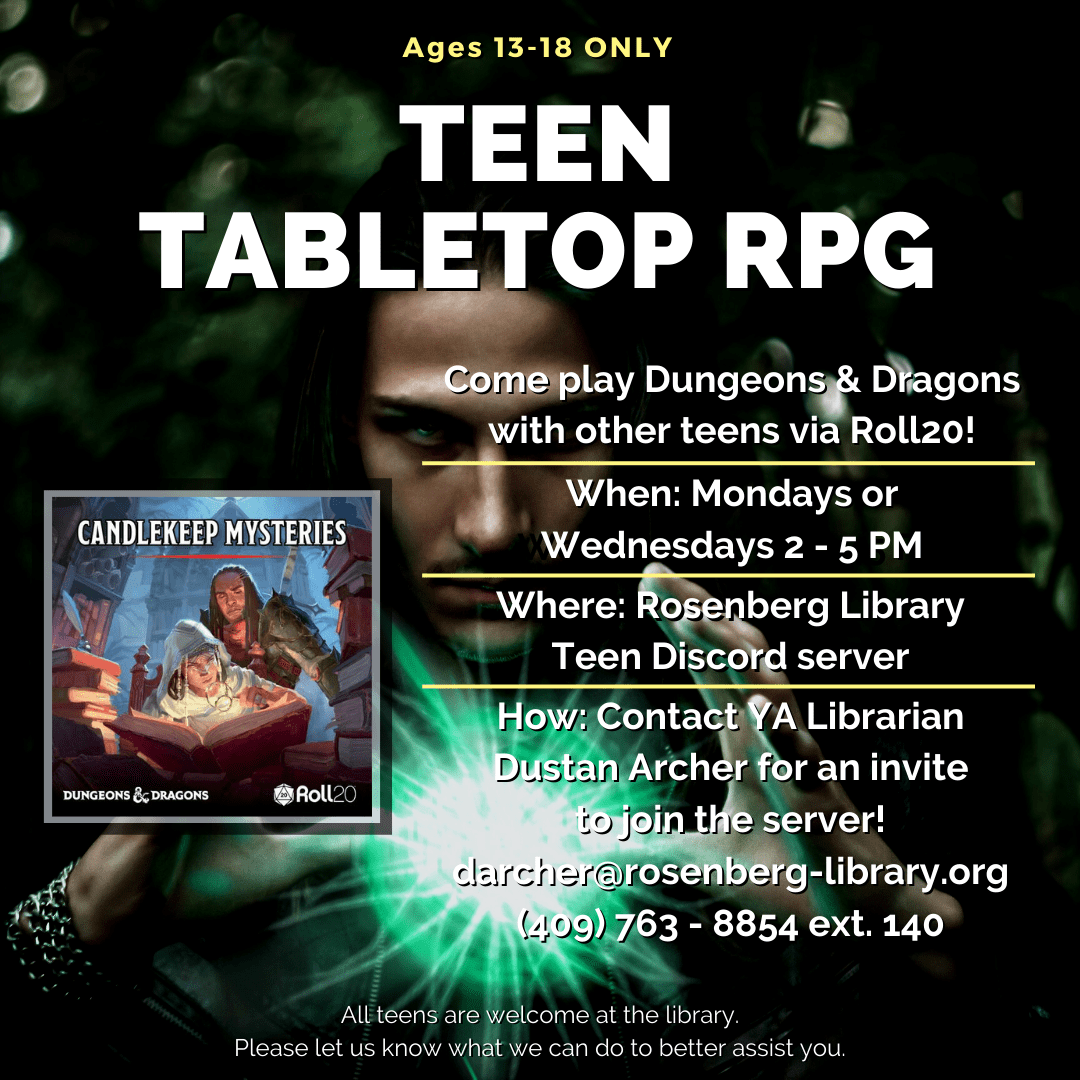 Rosenberg Library is located Downtown at 2310 Sealy St., Downtown Galveston. For more info call (409)763-8854 or go to rosenberg-library.org. All events are free and open to the public. 
Teen Tabletop RPG
Mondays or Wednesdays @ 2 – 5 PM
June 7th – August 16th (closed July 5th)

For ages 13-18 only
Play a pen-and-paper RPG called Dungeons and Dragons (D&D, but virtually, for now) in our librarian-led Candlekeep Mysteries campaign!
Don't know how to play D&D?  That's fine – let us know and we'll set up a time to get you started!
________________________________________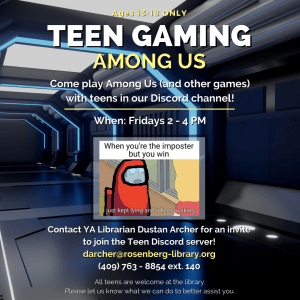 Teen Gaming – Among Us (and others)
Fridays @ 2 – 4 PM
June 4th – August 20th
For ages 13-18 only
Hop into our Discord server and play Among Us (and other games as decided by the players) with other Rosenberg Library teens!
Among Us is a *whole* different game when you use voice chat and get to know the habits of the other players – join us and see!
________________________________________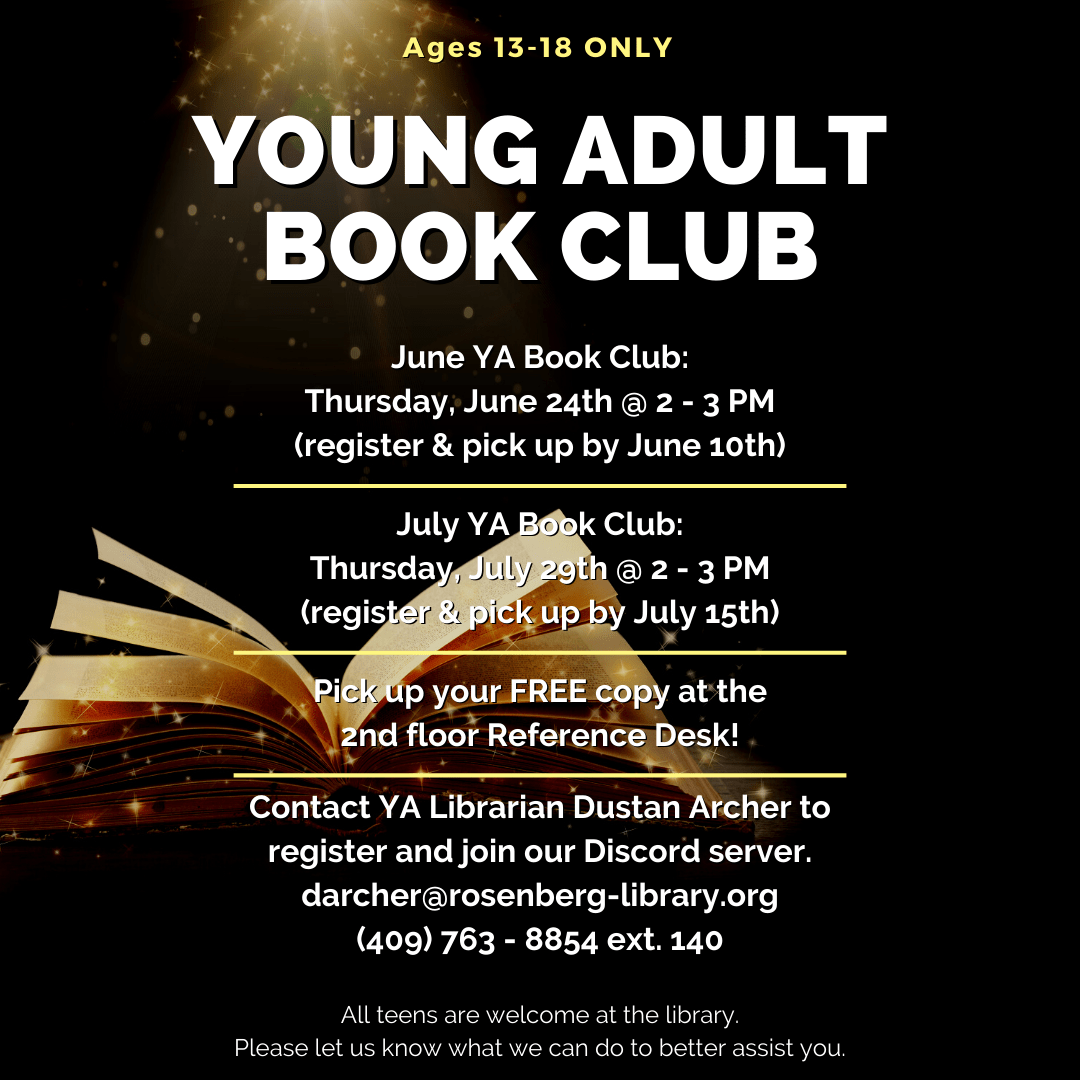 Young Adult Book Club
Thursday, June 24th @ 2 – 3 PM
Thursday, July 29th @ 2 – 3 PM
For ages 13-18 only
Register for the YA Book Club, attend the book discussion, and get a FREE book to keep for yourself! 
We read a new book every month and vote on future titles as a group, so it's a good way to try new titles and expand your reading horizons.  Contact Dustan to register!
________________________________________
More Events at Rosenberg Library

Ask a reference librarian questions by doing any of the following:
Phone: 409.763.8854 ext.115
Online Chat: www.rosenberg-library.org, scroll to the bottom left and click on the "Questions? Click here to chat" button
Patrons can also:

---