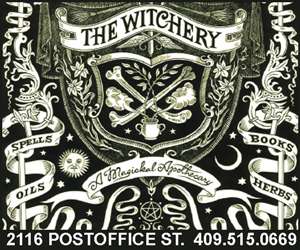 Rosenberg Library is located Downtown at 2310 Sealy St., Downtown Galveston. For more info call (409)763-8854 or go to rosenberg-library.org. All events are free and open to the public. 
There is a lot going on this summer….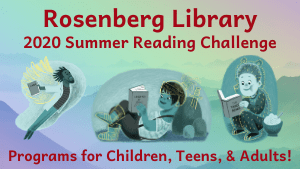 Imagine your story with the Rosenberg Library 2020 Summer Reading Program! Registration is now open to all ages and signing up is easy! If you participated last year you can log in using your previous username/password. Haven't participated before? Just create an account and start reading right away. Each age group has its own challenge with prizes just for signing up. Log minutes read and check out books to earn more (prizes may vary and are limited). Call (409) 763 – 8854 for assistance. Login or Register to the Summer Reading Program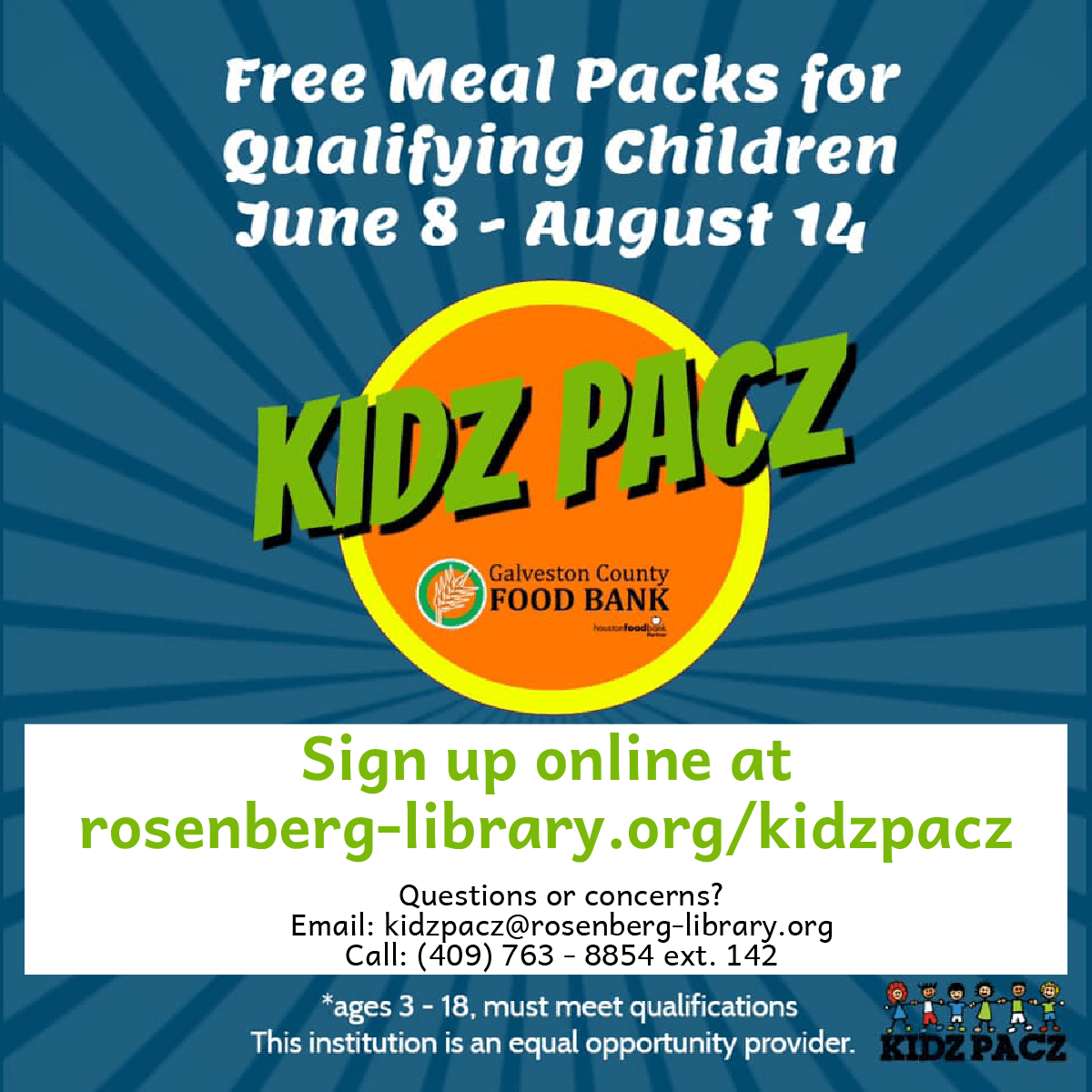 Free Meal Packs for Qualifying Children
Kidz Pacz registration is now available for Galveston County residents with children between the ages of 3 and 18. Families wishing to receive Kidz Pacz from the Rosenberg Library must submit their application before June 4, 2020. Click here to apply for Kidz Pacz online.
Keep Galveston Kids Reading
Your Rosenberg Library is mailing a book to Galveston Kids. This book will be for them to keep. Must have a Rosenberg Library card to qualify. Click
HERE
to read the fine print and get started. Limited availability. We're putting books in kids' hands! Call and leave us a message at (409) 763 – 8854 ext. 135 for more information.
Library Grab Bags
Missing the library's great books and DVDs, but worried about health safety concerns? Take advantage of our unique Library Grab Bag service! Simply fill out the easy online form by clicking the button below, and your specialized bag will be made available to you curbside!
Reclaiming the Swamp: The East End Flats, 1833 – 1954
The East End Flats, the low, marshy lands that lay to the east of Sixth Street in Galveston, have a fascinating history that goes back to Mexican Texas. To understand its history, attention must first be focused on the changes in land ownership that occurred during the nineteenth and early twentieth centuries. To learn more, read Casey Greene's article on Galveston's East End Flats by clicking
Ask a reference librarian questions by doing any of the following:
Phone: 409.763.8854 ext.115
Online Chat: www.rosenberg-library.org, scroll to the bottom left and click on the "Questions? Click here to chat" button
Patrons can also: