By Kimber Fountain, Photos by Christa Schreckengost
A very distinct level of sophistication is required to exude limitless elegance without careening down the slippery slope of pretention, and Saltwater Grill has it. The finesse of their service is endearing and welcoming, the delicacy of the menu is also versatile and unafraid, and the ambiance radiates that pointed level of class, the one that even money cannot buy. Dining at Saltwater Grill encompasses the essence of Galveston at her finest, by accomplishing the impossible task of melding a big-city experience with the unique charm only Islanders can deliver.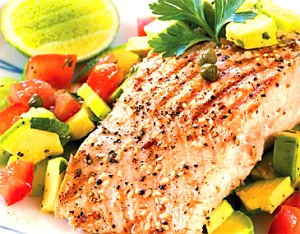 "People will go for the food, but they will come back for the service," is a common mantra in the restaurant industry. Good food is not an anomaly in Galveston, but Saltwater Grill executes a level of service that is at its very least noteworthy, and one could easily go so far as to say it is the best on the Island. Quite simply the servers and bartenders are experienced professionals, which is a key component that normally sets restaurants in cities like Chicago and New York City apart from locally owned businesses in smaller towns. Miranda Rosiek, Marketing Director for Galveston Restaurant Group, describes the commitment and longevity of the Saltwater staff. "All of the servers have been there for a really long time. When an opening comes up, it is quite a big deal because it rarely happens. They are their own little family, and they own it." Meaning that as the professionals they are, the service staff does not wait around to be told what to do. They take the initiative to ensure that dining at Saltwater Grill is a personalized experience, not just a meal.
Lauded as "Gulf Coast Asian Fusion," Miranda explains that the menu was crafted in an attempt to "break away from all of the fried seafood, and move towards fresher and bolder presentations." The creativity of Saltwater's fare is as fresh as the seafood it presents, and features a more upscale approach to the Steam Kettle preparation, a trademark of many of Galveston Restaurant Group's concepts. Bright shiny kettles of Gumbo, Cioppino, and Bouillabaisse soups are overflowing with fresh seafood and topped with Dungeness crab. In addition to daily specials that are ever-changing, the grill produces house favorites like Hong Kong Chilean Sea Bass and Almond Coconut Crusted Salmon, along with inspiring twists on Gulf delicacies such as Southern BBQ Texas Redfish and Sweet Potato Crusted Catfish. The kitchen is also incredibly accommodating, and will often bravely honor requests for alternate preparations of their seafood. For landlubbers, Saltwater Grill also serves 'steaks that can surf,' USDA Prime Filet Mignon and New York Strip, with available accompaniments such as a lobster tail, crab meat, or Applewood Smoked Bacon Wrapped Shrimp. Saltwater's menu also boasts a range of starters from Pot Stickers and Jumbo Lump Crabcakes, to the wildly popular Breaded & Shallow Fried Asparagus, topped with jumbo lump crabmeat.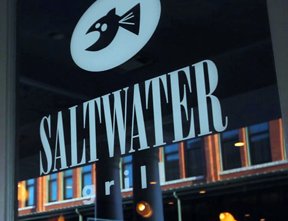 Homemade desserts include Crème Brulee, Apple Strudel, White Chocolate Bread Pudding, and the devilishly decadent Hot Chocolate Truffle Cake.
The main ingredient of Saltwater Grill, the one that brings it all together, is their effortless elegance, which exudes the same versatility of their kitchen. Boisterous Saturday nights are handled as seamlessly and gracefully as peaceful Sunday evenings, encapsulated by a consistent and unwavering attention to detail. "Whether it is the food presentation, or just the table setting, it is always immaculate," says Miranda. The cumulative result is an atmosphere that is warm and inviting, but also refined and graceful. "This is the best of both worlds," she continues, "sometimes you want flip-flops and the beach atmosphere, but sometimes you want a little more upscale, but you don't want it stiff. And I think that is really what Saltwater Grill accomplishes so well. We ensure quality service, but it is also cozy and laid back."
Saltwater Grill is brilliantly emblematic of the burgeoning Historic Downtown and Arts District in which it is located, where people come from all over to experience the very essence that makes Galveston unique. Its presence is calculated, but still inspired; situated directly across from The Grand 1894 Opera House, nothing less than a restaurant of Saltwater Grill's caliber would do.
Still, it accepts the role in stride, and graciously uses the culture of its surroundings as a catalyst, not a crutch. "Houston Press" recently stated of Saltwater Grill that, "This restaurant could hold its own anywhere. If it were in Houston, in fact, you would never be able to get a table." The only thing they forgot, however, was that if it were in Houston, it wouldn't be Saltwater Grill.
Saltwater Grill
2017 Postoffice St., downtown Galveston
(409)762-3474
www.saltwatergrill.com
Monday—Friday 11am – 2pm, 5pm – 10pm, Saturday 4pm – 10pm, Sunday 5pm – 9pm
Reservations Recommended