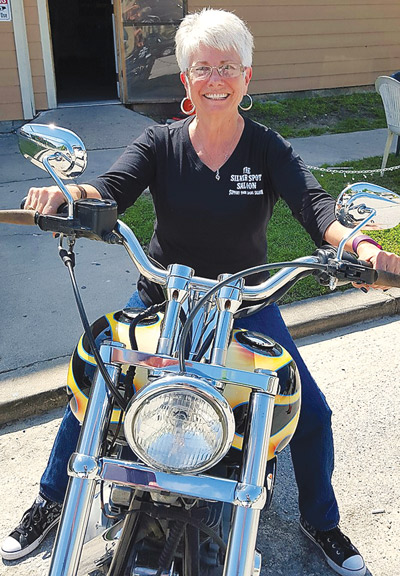 By Terry Card
The owners of Silver Spot Saloon, Mary and Jim "Bucky" Pregler, are two entrepreneurs who not only have been in the bar business for many years – they know exactly where they are going and already have plans for the future. This is one couple who will never need a 'Bar Rescue' by John Taffer.
They have established ownership of the word 'Saloon' – having saloon doors emblazoned on T-shirts depicting their bars, past and present.
The Silver Spot Saloon opened its doors during the first weekend of May in 2015, and the building was – to put it mildly – a mess. They reestablished the name Silver Spot, which was the name of the first bar in the building built by Marguerite Cano at that location; the same lady who built the Gulf Greyhound Dog Track. They added the word Saloon to represent the saloons they had previously owned. In the 1960's the bar was called The Elbow Room, which then became The Lazy Lounge in the early 2000's, until like many businesses, it was shuttered by the devastation Hurricane Ike wreaked on Galveston. Post-Ike it was reopened by Bob Walker for a while and then once again fell into disuse and disrepair and despair for the building owner Betty Evers, who would have lost her commercial license for the building if it did not reopen as a commercial establishment. At 86 years old, she did not know where to turn.
But she did know the history of Mary and Bucky intimately, and in her time of need, it was to these two stalwart bar entrepreneurs she turned!
Theirs is an interesting history. How did a boy from Dubuque, Iowa end up married to a girl from Galveston, not only a BOI, but whose father and grandparents (on her father's side) were intimately entwined with the most famous "benevolent" gangsters of the 1950's and 1960's – Sam and Rocco Maceo?
Mary's father was the co-bookkeeper for the famous Balinese Room along with Mary's Godfather, Sam 'The Books' Serio. Her father testified before the Commission in Austin on the Maceo's behalf much to the chagrin of her mother, who was taught by the nuns at the Ursuline Academy along with thirteen other girls in a strict Catholic upbringing. And as Mary laughingly said, "My father and my mother were complete opposites!" Her Grandparents worked at the Maceo's famous Turf Club on Market Street.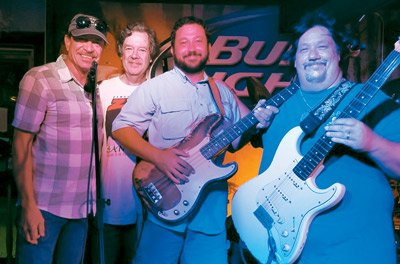 Meanwhile, Bucky Pregler, guitar bassist, and songwriter, was honing his skills as a musician in Iowa. He started playing the 'bar circuit' at 15 with a band called The Dark Side, which later became The Blissfield Blues Band. He then hooked up with fellow songwriter Lindy Bob Stuart and they both relocated to Texas, doing music with their band Wheeler on the rodeo circuit. After going back to Iowa, he returned to Texas, this time to Houston where he joined the band Salty Dog, which morphed into '98 In The Shade, which went through a rough patch, dissolved, and then reinvented itself in 2006. They added a new lead singer, Andra Mitrovich, and along with the Blues guitar renditions of Mark Kingsley, is a combination made in heaven.
Back to 86-year-old Betty Evers! She owned a building at 20th and Strand. In that building was a bar, and it was here that Mary met Bucky, who was playing in more or less a house band. Now Bucky is not just a one-dimensional talent. He is not only a superb musician/song-writer, he also fights the IRS on the behalf of wronged taxpayers. After Mary and Bucky got married, with Betty as their landlord, they opened The Strand Street Saloon. Bucky concentrated on the band, the "backroom" of the bar operation and the IRS, while Mary took over the "front room" day to day operation of the bar.
Being very entrepreneurial, and unable to resist the call of help from friends, Albie and Thad McCormick, who owned the land, started "The Bunny Roast" on their friends' property on Stewart Road where the present Bahia Oaks BBQ is located. At first, it was a small affair but quickly grew to the point that cars not only filled the property but were lined up down the road.
Their friends convinced them a bar was needed. And so while running The Strand Street Saloon, and using any cash available from that operation, in 1993 they began building the Saloon they ultimately dubbed The Lazy Bend Saloon. Many of their loyal customers at The Strand Street Saloon were building contractors. A deal was struck with them, in turn for providing the labor, they were provided with a $100 tab plus beer and BBQ. The extra cash from the Strand Street operation paid for the material, 75% of which was recycled from the Galvez Mall, being razed to make way for the new Target building. They also purchased 40-foot trusses from the demolition of the Falstaff Brewery building at 30th and the railroad tracks.
While all this was going on, they were still running The Strand Street Saloon. One day, Mary was sitting talking to her staff. These were people she had known since their days hanging out together. Diane, the 4 foot 11-inch bartender, that everyone calls 'Biscuit' because of her height, is still with her and is a permanent fixture. About a half hour previously, a girl came up to Mary and said she was a singer and asked to sit in with the band. Mary had heard this many times before, but said "sure, sure," and forgot about her, sitting with her back to the band. Then the band started playing Janis Joplin's "Ball and Chain." Mary said, "I snapped my head around so fast I almost broke my neck. I thought Janis Joplin had come alive." Andra Mitrovich is now part of "98 In The Shade" and if you, like many of us, revered the one and only Janis Joplin, this is as close to "being there" as you will ever get.
Is it easy to restart after being out of the business for 13 years? In 2002, Bucky and Mary sold out and after Ike flooded their home at 71st and Jones, they moved up to their duplex in Iowa. Bucky was still commuting back and forth to Texas, playing in the band, and finally, their friends kept at them to return to Galveston, especially Chrissy, one of their Strand Street bartenders. So, when Betty Evers, she of 86 years, needed help, they returned and took over the destroyed bar in her building. Mary and Chrissy hauled out all the ugly 60's red carpet, tore down a wall separating the pool room from the main bar and stage, which meant breaking up and hauling away huge amounts of concrete flooring themselves to even the transition, rebuilt all the walls and the main bar to include believe it or not, a chandelier, and created a back sports bar. Not easy, but as Mary put it "Needless to say, Chrissy has tenure."
If you like a bar with great live music, that will become a "Galveston destination" emphasizing great 60's and 70's era music, dancing, and the best Bloody Mary Sunday Specials served by Mary herself, try the Silver Spot Saloon, located at 5202 Avenue S. They are open 10am-2am every day.
These two very smart, witty, interesting, and most enjoyable people, Mary and Bucky, are hard working, talented entrepreneurs!


---