By Gini Rainey 
"The Isle of Gold" by Seven Jane 
If you like to read adventure books that have everything from swashbuckling pirates to mystical lands beneath the sea, then this is the book for you.  Set in 1716 – the golden age of pirates – this book follows the adventures of Merrin Smith, an orphaned waif who was raised in the kitchen of a quayside brothel.  Written by Seven Jane, a "dark fantasy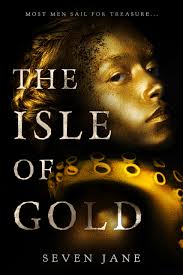 and speculative fiction," this book is filled with more pirates and fantasy than you can shake a stick at.   
When Merrin, at the tender of age of probably fourteen or so, decides to join the crew of the pirate ship Riptide in order to discover who her parents were, she disguises as a pirate and falls under the watchful eye of the notorious Captain Winter, whose madman antics and behavior keep everyone on board in line, lest they get run through by one of the many daggers he has hanging from his belt.  When she meets the handsome boatswain, Tom Birch, a bit of unrequited love begins to weave itself into the story.  Fortunately, or perhaps not so fortunately, as time passes on the Captain's quest to find the mythical island of Bracile (a place hidden between air and sea and that exists only for a moment every two years–and which has never returned any man who has sailed for its shores) Merrin's body begins to mature and she must now bind herself to prevent anyone on board from discovering that she is a woman. 
This book is a delightful romp and an easy read filled with the things that will keep the reader engrossed to the very end.  Pour yourself a glass of wine, curl up in your comfy chair and let Seven Jane take you a mystical place filled with adventure and romance. 
4 of 5 – Copyright 2018 – Black Spot Books 
 "Gracie's Secret" by Jill Childs 
This book is one long emotional rollercoaster.  Beginning when Jen's 3-year old daughter Gracie is involved in a car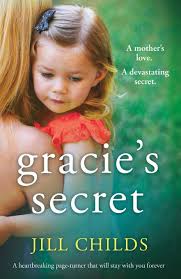 accident and nearly dies, the emotions of everyone involved are raw and aching.  While the character development was good, as was the premise, there were many things about this book that left me wondering "why?" 
Following the accident, Gracie has a near death experience and met angels who asked her if she wanted to stay or go home.  She chooses to go home and shares with her non-religious mother that she met a man in heaven who is later identified as the archangel, Saint Michael after spotting a statue in a parish church.  There could be a spoiler alert here, but I won't tell anymore, so no need for one. 
It was too far into the book, and Jen's relationship Doctor Matthew, that the plotline began getting convoluted and twisted.  Lots of accusations and insidious mysteries are uncovered, and suffice it to say the intrigue became deeper and deeper.  I for one had no idea where this was all heading, but when everything started falling apart and coming together, I had a hard time moving through to the end of the book. 
I will say that I kept turning the pages and finished the book, but there many things that I had to question.  For one, if Gracie's mom, Jen, was so completely devastated by her recent divorce, it amazes me how quickly she falls for the doctor she met while Gracie was in a coma.  Doctor Matthew steps into their life and begins to fill all of the voids they had both been experiencing since the divorce.  He steps in way too easily.   
All of that being said, though, this is a pretty intriguing book and well worth the read. 
4 of 5 – Copyright 2018 – Bookouture 
---