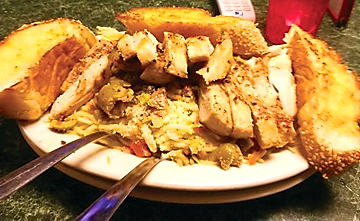 By Kimber Fountain, Photos by Christa Schreckengost
With menu items like Artery Clogger, Oyster Mug, and Shrimp Bun, it is obvious from the very beginning that Sonny's is an Island original. The building that houses Sonny's is one of those blink-and-you-will-miss-it types, but once inside the front door, the whirlwind of nostalgia hits you like one of their massive Muffalettas. Pinball machines, lollipops at the register, black and white photographs, multiple signs that read "Behave or Be Gone," and "Please Watch Your Language," and the endearing affection of an owner simply called "Junior," all help set the scene for an incomparable dining experience that can only be found on Galveston Island.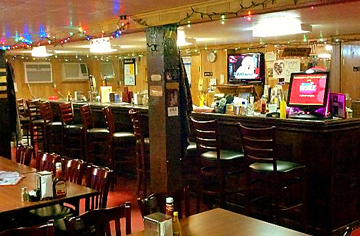 Known as "Galveston's oldest family tavern," Sonny's was opened by the Puccetti family in 1944. Since that time, Sonny himself has passed, and Lawrence Puccetti, Junior, has taken the place of his father and mother, Theresa, who in the 1960s was hailed as, "the best cook on the Island." Of course there are strictly enforced rules that you must abide with while you eat here (see above), but your good behavior will be well rewarded.
The Muffaletta is so large that they will actually let you just purchase a fourth of one, and they take the Italy via New Orleans classic to an entirely new level by smothering the bread in Parmesan cheese before they grill it. Comfort foods abound, like Coney Island dogs, Frito Pie, homemade chicken soup and chili. The Artery Clogger is a chicken-fried steak sandwich piled high with bacon, two types of cheese, ranch dressing, and all the fixings. Burgers are inexpensive, grilled to perfection, and super fresh: they grind the meat for their burgers in house. The Shrimp Bun is a fried shrimp sandwich with homemade tartar sauce, available either "Dressed" or "Undressed."
Complement your sandwich with crispy fries, which also come in Nacho Fries and Super Nacho Fries varieties, or on Fridays only, with a cup of their gumbo made with an authentic, dark roux and your choice of shrimp, crawfish, or both. Rounding out the menu are the entree pasta dishes, featuring Grandma Theresa's Spaghetti and Meat Sauce, a Sicilian family recipe that has been passed down through generations.
Another claim to Sonny's fame is the absolute protestation of locals that they have "the coldest beer I have ever tasted." Just be sure to restrain yourself from the complimentary expletives that are bound to be summoned the moment it hits your lips.
Sonny's Place
1206 19th Street, Galveston
(409)763-9602
Open Tuesday-Thursday 11am-2pm, 5-9:30pm, Friday & Saturday 11am-2pm, 5-11pm, closed Sunday and Monday
---