Have no idea what to do with your children all summer? Rosenberg Library has your problems solved!
Rosenberg Library is located Downtown at 2310 Sealy St., Galveston. For more info call (409)763-8854 or go to
rosenberg-library.org
. All events are free and open to the public.
Children
Every Wednesday (10-10:30am): Storytelling-
This is a fun and energetic storytime featuring storytelling, action rhymes, music, puppets, and movement. Preschoolers are welcome.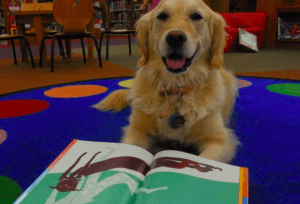 November 8th 15th, 29th (6pm): Paws to Read – Beginning readers get individual time to practice reading skills with therapy dog Oliver.
November 24th and December 22nd (10:30am): Breakfast with Santa –
Visit with Santa, enjoy refreshments, listen to festive stories, and receive a special treat. Pre-register at rosenberg-library.org. Don't forget your camera! Please choose one session, either November 24th or December 22nd.
Every day November 24th-December 22nd (4pm): Christmas Countdown with Stories-
Enjoy hearing a story everyday in the Children's Department as we countdown the holidays.
Teens (Ages 13-18)
Every Wednesday, November 12th and 26th (4:30-7:30pm): Teen Tabletop RPG –
Come to play a pen-and-paper RPG like Dungeons and Dragons game. Space is limited but come to enjoy the story even if you can't play.
Thursday, November 8th (4:30-5:30pm): Y.A.L.L. Meeting –
Young Adult Library Leaders (Y.A.L.L.) is a teen library leadership group.  Attend to have a voice in the library, earn volunteer hours, and eat snacks.
November 9th and 19th, 20th (2:30-5:30pm): Makerspace Drop-Ins –
There will be different topics at each session. The 3D printer and laser cutter will be at work and you will receive a take souvenir of your experience. These activities are designed to be "drop in and out" events so that you can come when it's convenient.
November 16th (4:30-5:30pm): Teen Gaming: Board Games –
Smash Bros. and Mario Kart on the Wii U will be available.
November 30th (4:30-5:30pm): Teen Book Club –
Discuss your favorite books, choose books to read, and pick up our next discussion book.
Adults
Every Tuesday and Thursday (10-11am and 4-5pm): EBook Drop-in Training Sessions –
Come and get-hands on assistance downloading ebooks with your tablet, phone, or other smart devices. A librarian will assist you with setup, troubleshooting, and accessing library electronic resources such as e-books, e-audiobooks, and other streaming content.
November 8th (6:30-8:30pm): Adult Board Game Night –
Come to try out a new-to-you board games like Pandemic, Catan, and more. Don't worry, we'll teach you the rules.
November 11th, 15th, December 9th, 20th (9am): Friends of Rosenberg Library Book Sale at GOFM –
The
Friends of Rosenberg Library
Book Sale & Give-Away takes place at GOFM every 2nd Sunday and 3rd Thursday of the month. Show up at the market and peruse the books of all genres or just come grab a free kids book to take home. The Friends curate special selections of nature, cooking and science-related books, but you will also find plenty of fiction, children's literature, and general bookish goodness! Pay a few extra bucks and become a
Friends of Rosenberg Library
member yourself AND take home a special keepsake.
November 14th (5-6pm): Gulf Coast Trees with Arborist Priscilla Files –
Join in welcoming Galveston Island Tree Conservancy arborist Priscilla Files for a talk about the trees of the Galveston area, their care, history, and conservation. There will be great food and refreshments served.
November 15th (6:30-7:30pm): Adult Trivia Night –
Put together a team of two or more and come to enjoy this trivia night. No team? Meet new teammates here.
November 17th (3:30pm): Molly Idle Author Visit –
Caldecott award-winning author and illustrator Molly Idle will get up close and personal with Galveston families with a live drawing demonstration. There will be autographing after the program and books available for sale.