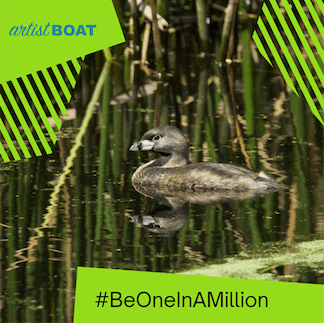 As we think about World Oceans Day and what to do to celebrate the ocean, what do we think about "celebrating"? Science tells us that we have lost more habitat and species in the last ten years than the last 100 years, we have heated our planet up to a tipping point past which if we don't stop it will not be habitable here for vertebrates and life as we know it, and we have collectively put so much plastic in the ocean it numbers more in pieces than there are fish.
So what do we celebrate? I want to challenge you to NOT CELEBRATE, but ACT. More important than festival going, animal species posting, or nature enjoying is ACTION.
Celebrate by taking actions to SAVE ISLANDS, WETLANDS, and COASTAL PRAIRIES and SYSTEMS. Our shore-lined wetlands are the filters for our ocean.
JOIN US AND TAKE ACTION
Help us save 120 acres of land to add to the Coastal Heritage Preserve this World Oceans Day. You can be a part of this place by contributing $10 and becoming One In A Million!  EVERY DOLLAR you donate leverages $26.12, right now!!!!!! Imagine how any action could be more impactful, more local, and more important to wildlife.
In the next 45 days, Artist Boat will be working to close on two pieces of land to protect FOREVER on West Galveston Island. Each parcel is a $1,356,000 effort, meaning to save 120 acres here costs $2,712,000. We have raised the following funds for these 120 acres:
$2 million dollars is from grants with the United States Fish and Wildlife Service and Texas Parks and Wildlife Department,
$150,000 is from The Brown Foundation,
$125,000 is from the Galveston Bay Estuary Program,
$30,000 is from the Gulf Coast Bird Observatory,
$32,000 is from the Galveston Bay Foundation,
$16,000 is from the Great Texas Birding Classic,
$67,250 is from local foundations and donors that committed to give if the grant was awarded over two years ago,
$223,750 through individuals who designated donations to the Coastal Heritage Preserve, the new Be One In A Million Campaign, and small grants, and
and $50,000 is from the Galveston Preserve at West Beach.
This totals $611,950 in matching funds toward this effort to match the $2 Million in grants.
Currently, we have about $50,000 remaining to raise to purchase these 120 acres to bring the Preserve to 820 acres of the visioned 1,400 acres from bay to beach on Galveston Island.
The Coastal Heritage Preserve is enjoyed by thousands of middle schoolers annually in our kayak and habitat restoration adventure programs and the public is welcomed at the Oppenheimer Bird Observatory.  As the Preserve grows, we dream of installing an oak mott and ADA trails and piers to wetlands, a three-mile trail hike and bike trail from 8-mile road to 11-mile road, and one day a nationally significant Gulf Coast Environmental Education Center.
You are critical, and no donation is too small or too big because all are equal in heart! Become One In A Million and join our effort. Your donation protects habitats for over 315 species of birds, mammals, reptiles, amphibians, and fish that have been identified in the Coastal Heritage Preserve and lands we will save. Many of you have already helped save 700 acres!!  We have more to do!
Learn more at artistboat.org/be-one-in-a-million/


---