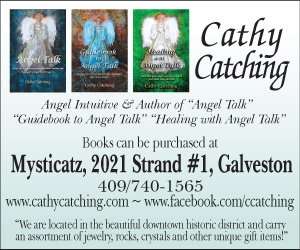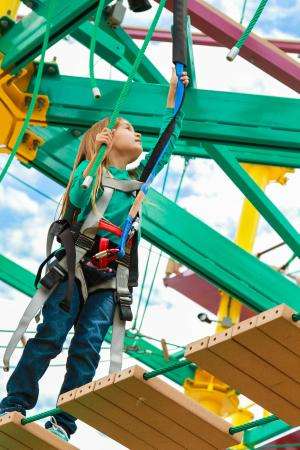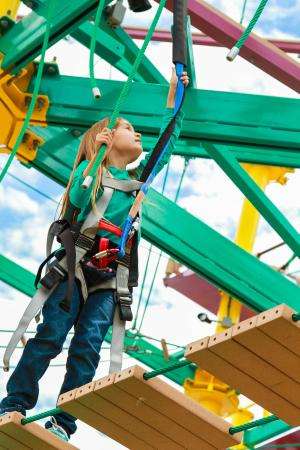 Challenge your agility, balance, and strength at Moody Gardens as you encounter the new five-tier Sky Trail® Explorer Ropes Course and thrilling new Zip Line.
Ranging from Criss-Cross Tight Ropes to Burma Buckets, the 71-foot Ropes Course is filled with 48 fascinating obstacles suitable for the whole family to enjoy. Each participant is outfitted with a full body harness and a safety lanyard or sling line. This unique system also allows participants to choose their path through the course while going at their own pace with the ability to pass other participants at each platform.
Children between the ages of 2 through 7 can take on an adventure of a smaller scale on the Sky Tykes™ Ropes Course that is appropriate for those who are 48 inches and under. The open course design allows for easy parent participation for any level of assistance needed. Parents can walk alongside their child or simply step back and watch the smiles grow.
Thrill seekers can then take an adventure to a whole new level at the Moody Gardens Zip Line. Snap into the harness, step to the edge of the zip line platform and glide over Palm Beach and the Lazy River 60 feet in the air for a bird's eye view of the Moody Gardens Pyramids and tropical gardens.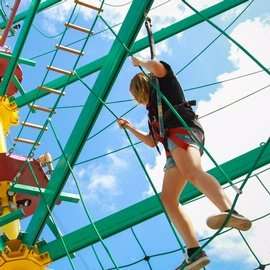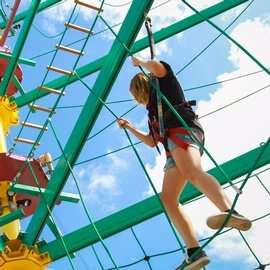 Guests can enjoy the Ropes Course or Zip Line for just $18 each, or double the fun with a combo ticket for $27. Kids can take-on the Sky Tykes™ course for only $5 with a chaperone.
Visitors who are wanting to experience all that Moody Gardens has to offer with a Day Pass will receive 25 percent off the two attractions, or upgrade to an Annual Membership and receive a 50 percent off discount.
Both attractions will be open year-round with a seasonal schedule and are available for event rental. Visit moodygardens.org for the full schedule.
Moody Gardens is located at 1 Hope Blvd., moodygardens.org. Moody Gardens® is a public, non-profit, educational destination utilizing nature in the advancement of rehabilitation, conservation, recreation, and research.