By Kimber Fountain
For performance schedules check out our Gig Guide!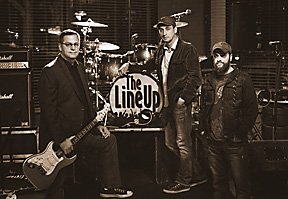 Picture a young boy, six years old, singing on the steps of the Customs House on 20th Street. Not too far away is another lad, an unassuming presence in the audience. Now fast forward a few decades with the knowledge that both of those boys are now grown men and members of The Line Up, and you just may be able to wrap your head around the relevance of this band to the Galveston music scene. Most native Galvestonians remember the first time they saw The Line Up as well as the rest of the country remembers the first time they saw the Beatles.
Led by founding member Willy Gonzales, aka the boy on the steps, The Line Up was formed almost twenty-five years ago as a five-piece ensemble focused on great musicianship. "We were all from different bands, it really was an all-star lineup. In fact, that is how we got the name," Willy recalls. Assembled as the House Band of Hennessy's, a popular local nightspot at the time, the band soon began to land gigs outside the club, and reverted to a three-piece for those performances. Willy notes that not long after the transition was made permanent, "and we have been a three-piece ever since." Although two-thirds of the band changed several times, current bassist Stacy Cook has been with The Line Up since 1996, and Jeff Pennington, lead guitarist and the boy in the audience, will reach his ten year anniversary with the band this March.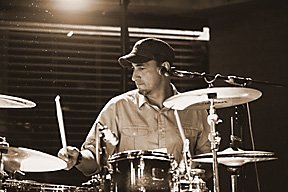 Willy began playing the drums at the age of eight, and became the lead vocalist almost by accident. "I told the guys I would sing until we found someone else to do it, but we never did," he laughs, "so that's how I became a singing drummer." Jeff originally picked up the guitar in the fourth grade, but became disinterested, "until I heard Van Halen and Rush."Jeff remembers his astonishment and thinking, "[Guitar] can sound like that?" Soon after he reclaimed his abandoned guitar. As kids, he and Willy played together, in his mom's garage during junior high, and later at high school dances.
Stacy grew up in various towns along the southern corridor of I-45, and was no stranger to Galveston. He describes his entrance into music, "My uncle was a guitarist, I learned from him, technique, and rhythm guitar. Then one time his bassist didn't show up, so he taught me to play bass." Stacy has played with national acts like Diamond Rio and Tim McGraw, and Willy attests that his roots in country music make him incredibly consistent, "He is the epitome of what a bass player should be."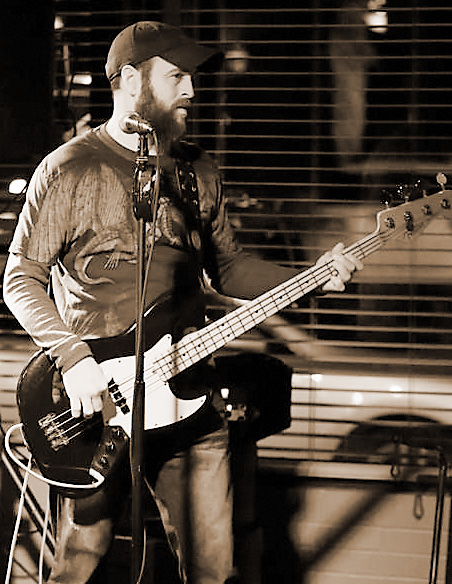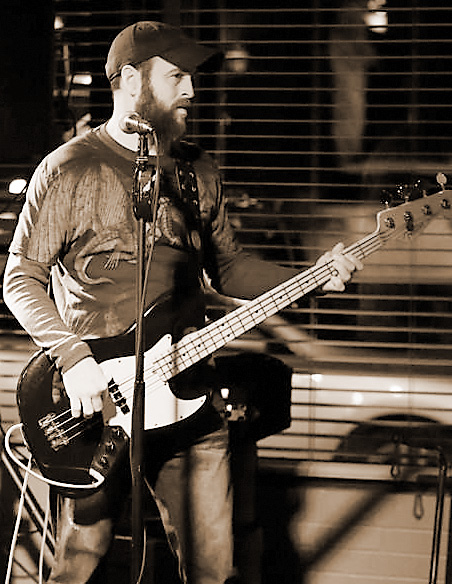 With each band member's unique background and talent, The Line Up is a personified cross-section of cultures and musical genres, also evidenced in their repertoire that numbers nearly 500 songs spanning decades and genres. "There is not one type of music that anyone in this band likes enough to play all the time," Willy attests, "We like the stuff that is timeless, and we play it all." This enables the trio to custom-fit their performances to the respective crowd, and Willy admits that they "haven't had a set list since probably the early nineties. We do a really good job of reading our crowds," he continues, and the band has an unspoken, three-song guarantee. "Within three songs, you are going to hear something you like."
Of course song selection alone is an entirely insufficient explanation for the popularity and longevity of The Line Up. That can only be explained by their flawless execution of them. Many bands make lackluster attempts with unique arrangements and interpretations, but The Line Up gives you the songs you love, the way you love them. "We are very cautious about our sound and our quality," says Willy, and Jeff adds, "We like to give people what they are used to hearing, we call it the meat and potatoes, we do our best to replicate the essence of a song."
It would seem their best is certainly good enough, as The Line Up is one of few local bands that has never had to travel to keep their calendars full. "Most successful bands have to travel, but we have been very lucky to have that balance, we get to play music, but we also get to be there for our families," says Willy. The Line Up is a regular fixture at B. Jigger's Lounge, located on the main floor of the Holiday Inn on the Seawall, a venue which Willy believes deserves much more credit. "There really isn't any other place like it on the Island, it has been a mainstay of the music scene here for over thirty years. They bring in great names and high caliber acts, it really is a hipper, cooler spot than most people realize."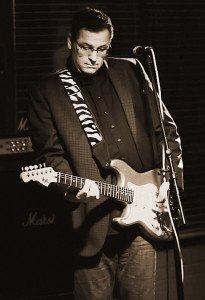 Other venues frequented by The Line Up include Yaga's Café, Club 21, T-Bone Tom's in Kemah, and The Backyard at Smooth Tony's on the East End. They are also one of the featured acts for Mardi Gras 2015, and one of the festival's most highly anticipated acts. "We are a different band at Mardi Gras," explains Willy, crediting the high-energy crowds for amplifying their performance even further. On February 7th they follow headliner Delta Rae, after which they will move over to Yaga's. They are also the featured act for this year's Mardi Gras Ball at the Tremont House, all of the proceeds of which will be awarded as scholarships to students of Texas A&M University at Galveston.
For Willy, Jeff, and Stacy, 2015 is poised to be a ground breaking year. They look to expand their merchandising, and dabble with some original songs. Although they have never before considered releasing an album, they are also currently considering the production and release of a live recording of their 2014 Mardi Gras performance. The idea of an album of cover songs is not one they originally assumed would be popular, but with their expansive fan-base and more importantly the fabulous frenzy of Mardi Gras fully captured in the recording, it has the potential to be insanely popular among The Line Up's loyal legions of Island fans.
For Performance dates, go HERE.
For more info go to www.thelineupmusic.com.
The Line Up performs at B. Jiggers Lounge, on the Seawall, every Thursday 9pm-1am.
Please check our Facebook fan page for monthly performance schedules plus our Gig Guide!
For private performance bookings, please contact Willy Gonzalez at 409.789.6876.

---