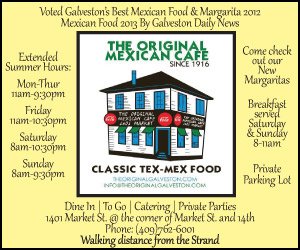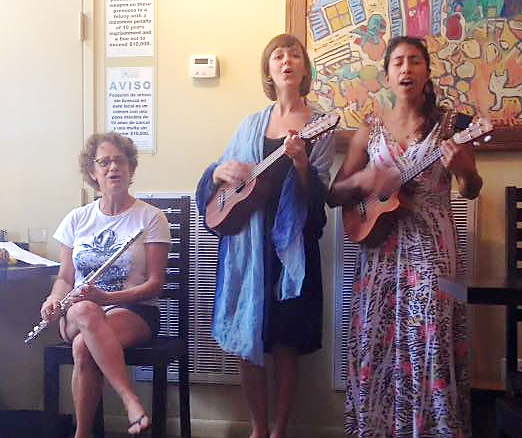 By George Douglas Lee
Certainly, one of the most unusual musical groups to appear anywhere in Galveston are the Ukuladies, featuring Catherine Stroud, Jenny Joha, Genesis Guajardo, and Nellie Cornett.
I found out about them playing by accident. As Catherine Stroud pointed out, I actually pronounced the name of the group correctly. I recently had an opportunity to interview them after their show.
Hearing songs drifting on the breeze as I crossed the corner at 23rd Street, I was drawn to the foyer of ZaZa's Bar and Bites at 2219 Postoffice Street in downtown Galveston.
When is the last time you heard a musical group described as "adorable?" Nobody would say that about Heart, Joan Jett, or Led Zeppelin, or even other groups of a similar vein. But then, when one examines the music scene in Galveston, there isn't a comparable group with instrumentation or a set like the Ukuladies. But yes, "adorable" is what others gathering around the concert were saying. The audience seemed to magically appear on the sidewalk and enter ZaZa's, and they were obviously drawn to the sounds of this three-piece quartet.
My overall impression was that what they produce is a whimsicality and lilting "sound." It's a loose sound, but it is so heartfelt that you are compelled to listen.
The line-up includes: Genesis Guajardo playing the ukulele, percussion, and vocals. Jenny Joha plays the flute, ukulele, and also vocals. Catherine Stroud plays the ukulele, percussion, and vocals. All of them contribute original songs to the act. Nellie was not there that night, but she plays ukulele, drums, percussion, and sings.
During their show, the group features maracas, ukuleles, flute, percussive instruments, and their distinctive singing.
No one I talked to in the audience could really describe this music in a particularly specific way as far as genre, approach, or category. I don't think these ladies think of "category" when they get together and play. I believe they only think of entertaining their audience and simply having fun with their love of music.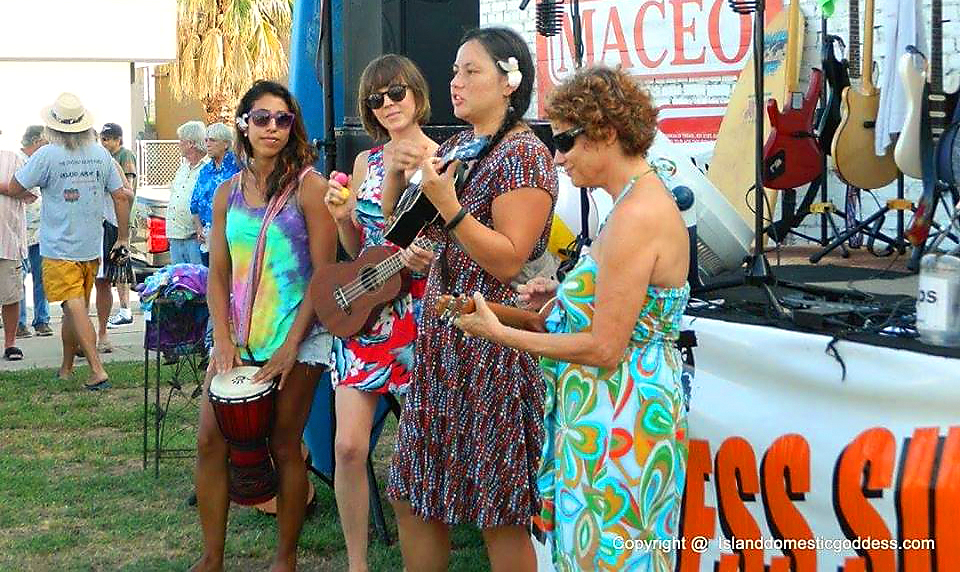 It's almost as if they are making it up as they go along. The audience sang and clapped. The children inside ZaZa's came outside and literally loved what the Ukuladies were doing. The little girls sang along, danced, and clapped. Generally, the Ukuladies music is very soft and melodic. Most songs are folk-influenced and even Celtic in nature. Applause was not sparse.
It's very hard to explain what they have – their sound is organic, spontaneous, and it bubbles up from their enthusiasm and love of what they do acoustically without amplification. It reminds me of playing around the campfire with friends on a late summer night.
Catching up with them after the show for an interview on my Electric Theatre Radio Hour, they joined me to talk about their group.
George: "Where do you get your material from? I am not familiar with most of the songs, though many seemed European in nature."
"We play a mix of originals and covers," said Catherine Stroud, who took the role of spokesperson. "[Most are] original takes on covers that we research differently, and we also do original songs by each of the members."
"Some of them are by people we see as mentors," added Jenny.
George: "Do you write some of the songs?"
"I've been getting into it," Jenny replied. "I've written one, 'The Lonely Girl'."
George: "What was the name of the song you played as an encore?"
Catherine explained, "It's 'X's and O's,' an L. A King song an English woman wrote. We do a very different version from hers."
George: "Tell me about your version of Glen Campbell's 'Galveston,' the official Park Board of Trustees anthem for our town. That was unexpected. Your rendition was very different from the one we are all used to."
"It's pretty raw," said Jenny. "Our stuff is very spontaneous. Kind of magical."
George: "Funny you use those particular words to describe your approach. I was thinking 'raw' and 'straight from the heart.' You seem to agree. Some of it just, explodes. Do you feel that way?"
"Yeah. It's organic," said Genesis. "We just look at each other and figure it out as we go."
George: "Are you comfortable with that?"
"Yes. Whenever we're in the zone!" laughed Jenny.
George: "So do ya'll feel like you come across better when you're just being spontaneous or do you think you need to practice more?"
"We practice. But we don't want to be tight and tense and focus too much on little, tiny details," explained Stroud. "We want to have an overall lovely, welcoming feeling with our songs and we enjoy the fun. We want everyone to be comfortable while they listen; we strive to create a nice relaxed atmosphere."
George: "That's exactly how it came across. It's as if the band just saw people out there gathering to listen and you said 'Ok, we'll do something for them.'"
Near the end of their show, I pointed out that they mentioned one of the songs that they said they had never played before. Then they launched into it.
"That's right," said Catherine. "I thought it went really well. I wasn't uncomfortable."
George: "How long has the group has been together?"
"We've all been together the same amount of time," she said. "It's been about five months, maybe. Jenny, Genesis, and Nellie. Nellie couldn't be here tonight, but she also plays the ukulele, sings, writes songs, and plays the drums," Catherine continued.
George: "Do you ever use any kind of amplification in your show?"
"Sometimes we do," she said. "It's something we have to tweak a little more, we don't have everything we need yet. We use other people's for now. Acoustic is preferable for me because it is more 'organic'."
I talked to Catherine about her musical ambitions from some years ago when she started learning drums, then guitar and singing. She has played at Vanishing Point, Old Quarter, and some other venues before joining The Ukuladies.
"I've come a long way," she smiled.
Again, I had to express my surprise that their ukuleles were as loud and full as they sounded at ZaZa's. I didn't expect the sound to project nearly as much as it did without the benefit of microphones or any kind of amplification. The flute added tremendously to what they do.
George: "Some of the songs are of French origin. What 'genre' best describes your music?"
Catherine quickly said, "Poppy folk."
To this listener, with the addition of the flute, their music begins to take on a Celtic feel.
They played till around 9pm and held their crowd. If you're looking for something very unusual, different, and mellow, seek out The Ukuladies!
Find them on Facebook.

---