Click for Events & Things To on the Beach!
By  Galveston Island Convention & Visitors Bureau
Can't wait to feel the wind in your hair and the sand between your toes? We know the feeling. After over a month of homeschooling and awkward zoom meetings, it is time to trade in your pajamas for board shorts. Still working remotely? All Park Board beaches come equipped with free Wi-Fi so you can escape your home office and hit the beach. With 32 miles of gulf coast—social distancing should be a breeze.
The Galveston Park Board staff has adopted rigorous cleaning procedures at its parks and will all be donning face masks and gloves. Bathroom surfaces will be cleaned on an hourly basis and fully stocked with soap and paper towels, increased trash removal, plenty of hand sanitizer and daily sanitation of all park equipment. Beach Patrol will be on hand to enforce social distancing and provide lifeguarding services. Enjoy the beach worry free and take advantage of the businesses and services listed below. They truly have everything you need to provide the perfect beach day.
R.A. Apffel Park (East Beach)
Follow the Seawall all the way to the Eastern tip of the island and there you will find East Beach— one of the most expansive beach layouts on the Island. The park has all of the same services and amenities as Stewart Beach plus it allows alcohol. Stop by the Cantina at the top of the pavilion for food and drinks or order from the beach in your chair and umbrella from East Beach Cantina and Rentals. If you are interested in a unique beachside tour, take a ride with Galveston Island Horse & Pony Rides operated out of the far east corner of the beach.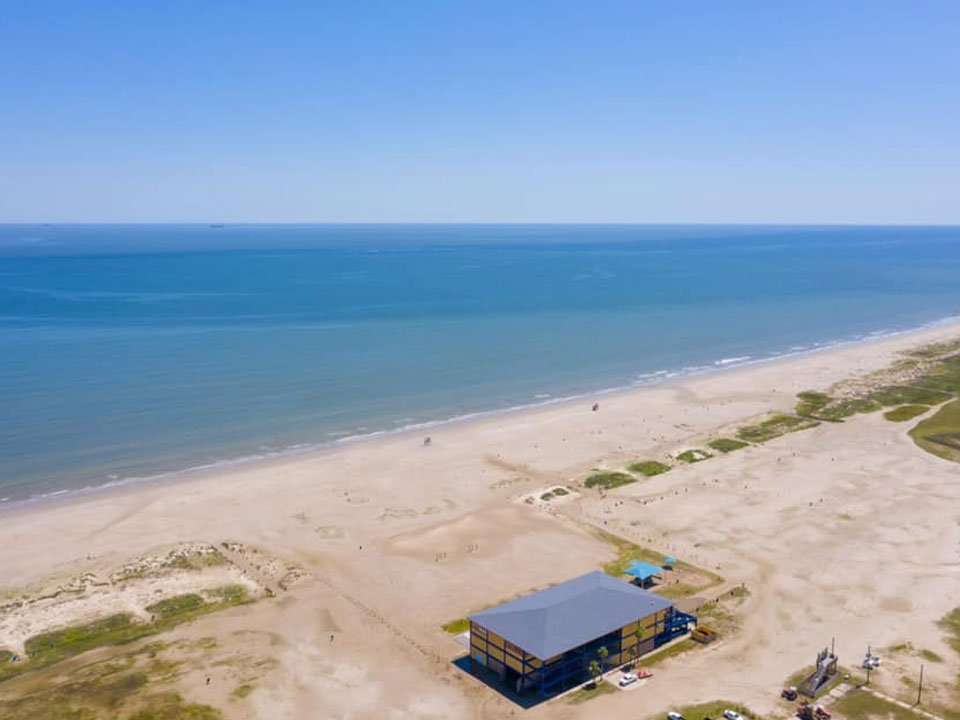 Stewart Beach
Located where historic Broadway Avenue meets the Seawall, Stewart Beach offers plenty of amenities for a day at the beach as well as regular supervision of highly trained lifeguards. The park is home to a pavilion, concessions, restrooms, showers, beach volleyball courts and more. Be sure to check out Cristo's Cabana for food, beverages and beach gear and have it made in the shade in one of John's Beach Service's chairs and umbrella rentals. Want to see Galveston from the air? Helicopter tours are operated by Oasis Services at Stewart Beach.
Seawall Urban Park
Stretching more than 10 miles it has plenty of beach and the nation's longest continuous sidewalk offering easy access to the island's many beachfront restaurants, resorts and tourist attractions. There are several businesses operating right on the beach—eliminating the need to go anywhere else. Take a drive down the Seawall and look for the rows of umbrellas and chairs. You can rent a stand-up paddle board from SUP Gulf Coast near 26th and Seawall, make waves on a jet ski from Beach Service, LLC near 39th and Seawall or relax in a chair and Umbrella from Bennett's Beach Service at Babe's Beach.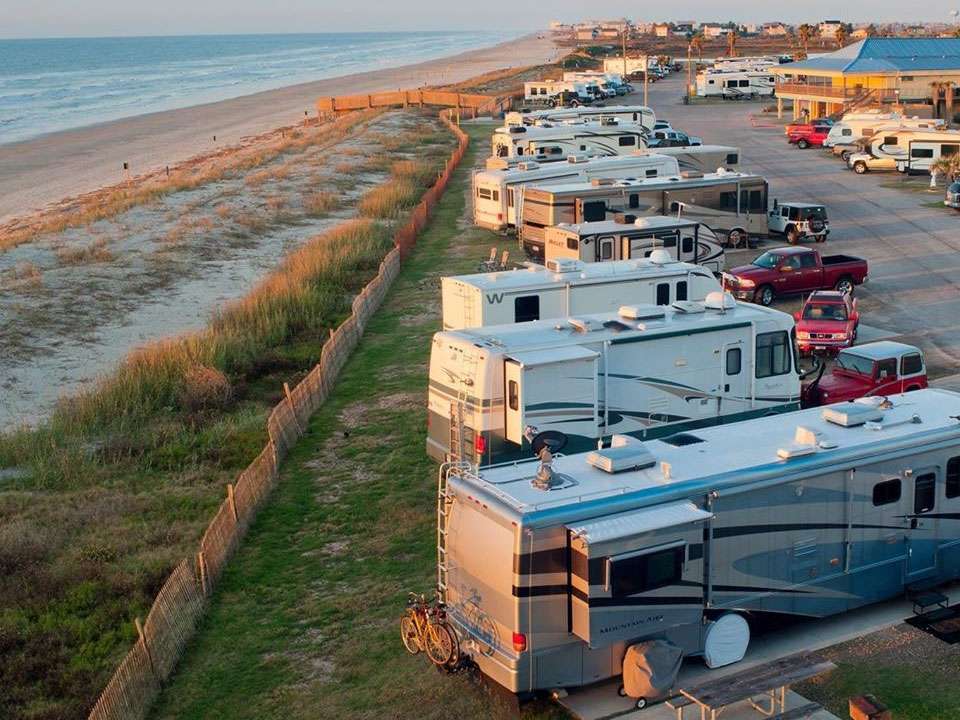 Dellanera RV Park
Want to stay on the beach and fall asleep to the crashing of the waves? It does not get more beachfront than Dellanera RV Park. The RV sites are properly spaced to allow for social distancing and promotes 1,000 feet of sandy beach. The sites provide service utilities, water, sewer and electrical service. Each site features its own picnic table and barbeque pit. The beach at Dellanera includes picnic sites and a pavilion with showers, laundry facilities and gift shop.
Seawolf Park
So it is not a beach… but it is an amazing spot to spread out and enjoy the bayside of Galveston. Seawolf Park is located on Galveston's Pelican Island on a former immigration station site. The park offers one of the island's most popular fishing piers which will be first come first serve to adhere to social distancing standards. All you need is your rod and reel. Bait is available for purchase from several of our local vendors. With picnic sites and a playground this is the perfect place for the family post-quarantine to soak up some Island sun while surrounded by views of the historic ship channel.
Galveston Island Convention & Visitors Bureau
The Galveston Island Convention and Visitors Bureau (GICVB) is the official destination marketing organization for Galveston Island, Texas.
---