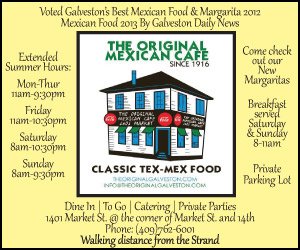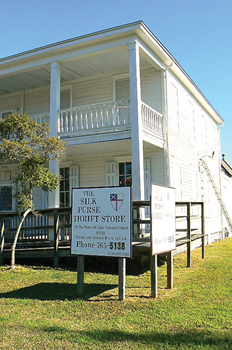 Written and Photographed By Rob Lucey
In Galveston, treasure hunters might spend years digging holes under oak trees on the west end seeking Jean Lafitte's buried gold. Or they could simply haunt the island's thrift shops, rummaging through shelves and boxes. Unlike an antique store where shopkeepers usually know what they're selling and ask market price, thrift shops deal in donated items of all sorts and are often staffed by volunteers who may not spot the occasional gold nugget among the pile of pyrite.
Bargain hunters might enjoy the thrill of taking home a copy of "Jaws" for $1 and learning that it's a first edition worth over $100. A pair of gently worn designer shoes for $5 might sell for well over $100 new. Or you could score an attractive watercolor of some fish for $20. Later you spot similar works by the same artist selling in an ArtWalk gallery for over $1,200. All of these are actual thrift shop finds!
More likely, you could go home with an autographed volume by your favorite author, an inexpensive read to enjoy on the beach, a cheap blouse to match your favorite skirt, or the perfect picture to fill that blank space on the dining room wall. Whatever you find, you can also feel good for supporting a worthy charity with your shopping dollars.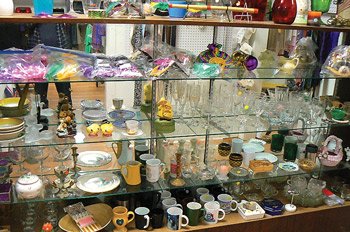 The island's thrift shop phenomenon dates back to 1959 when the Episcopal diocese opened the Silk Purse in a house that survived the 1900 storm. The shop at 1124 37th St., behind Grace Episcopal Church, is part of the church's mission to support various community causes. Funds raised from sales are donated to such organizations as St. Vincent House (a free health care clinic), and the Jesse Tree (a non-profit network of community services).
The shop also provides direct benefits to people in the community who need clothing or work clothes. "We have street people come in about once a month to pick up something to wear," said Shirley Bridges, who has been the "temporary" manager of the shop on and off since she began volunteering in 1997. Bridges says the shop is entirely dependent on donated goods and volunteer labor. Store hours are 10am-2pm every Saturday and Tuesday. The shop's racks are packed with clothing including a discount dollar section to move out items that have been around a while. There are also shelves of household goods and a few pieces of art on the wall. "Some of the art has tags from downtown galleries," Bridges says. "You never know what will turn up. One time we found a $100 bill in an old purse. We check them really close now."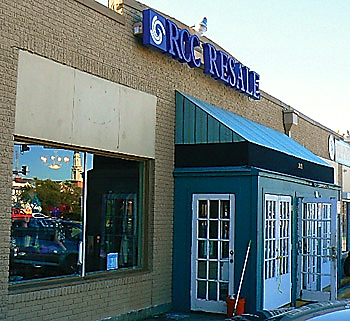 Another longtime thrift haunt on the island is the RCC Resale Shop, which moved to 2025 Broadway St. last year. The store sells gently used clothing, furniture, housewares, working electronics, books, records, and many other items. All profits support the Resource and Crisis Center of Galveston County in its mission to promote the safety, well-being and best interest of victims of family violence, sexual assault, and child abuse.
In 2014, the resale shops (including locations in League City and La Marque) raised 42 percent of the organization's operating revenues. RCC also diverts some of its tax deductible donations for use in its shelters, the office, and for client needs. The stores accept donations and consignment items. They also manage estate sales as part of fundraising operations.
Two of the best known shops on the island are part of national chains of thrift stores: Goodwill and the Salvation Army. Goodwill's mission is to provide education, training and job opportunities to people with disabilities and other challenges. The Goodwill Select Store at 4525 Ave. U is one of 60 retail locations operated by the Goodwill Houston organization, collectively employing nearly 2,000 people. The stores are the economic engine for the organization's workforce programs, helping to provide jobs for those who would otherwise have barriers to employment.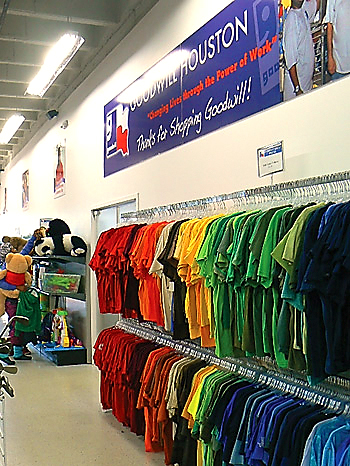 The Salvation Army Thrift Store also changed locations last year, moving into a new building at 601 51st St. Funds raised from its operations support its homeless shelter, a Thanksgiving meal for the homeless, an Angel Tree gift buying drive for families during Christmas, and the donation of blankets and coats during the winter months.
A new entry into the charitable thrift market last year was For a Cause Resale. After paying bills and employees, remaining funds are donated to animal-related charities. On February 1st, owners P.J. and Tara Head will mark the first anniversary of their store at 4414 Broadway. "I have had a weak spot for animals, and we've always enjoyed shopping in thrift shops," said Tara. "We saw some puppies in a resale store in New Orleans, and the owners talked about donating to an animal shelter. We just thought it was such a good idea."
In their first year of operation, the couple reports donating more than $6,000 to benefit the welfare of furry friends, including helping the Humane Society and paying the veterinarian bills for animals in need. "One month, we paid for 15 animals to get spayed and neutered," Tara said. P.J. said he'd like to eventually help fund service dogs for veterans with post traumatic stress syndrome.
Most of what they stock in the shop is donated – from clothes, books and toys to sailboats, a motorcycle, and a concrete picnic table. "We get all types of things," P.J. observed. "If people don't want to store it at their house, it's what we get. Being as it was our first year in business, we just put everything out and see if it sells."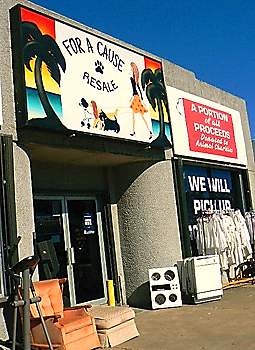 Tara said she's sold donated antique Singer sewing machines for $150 that she's seen offered for $1,200 on internet sites. "We get a lot of vintage things that probably could be sold in an antique store for more," she said. "We are a treasure hunters dream!"
Eventually, the couple hopes to expand with additional locations to serve communities beyond Galveston County.
Two other stores that might be termed specialty charity thrift shops are the Galveston Historical Foundation's Architectural Salvage Warehouse and the Friends Book Shop at the Rosenberg Library.
The Salvage Warehouse occupies the first floor of the 1940 Sears Building at 23rd and Broadway. It carries an inventory of doors, windows, shutters, lumber, hardware, balusters, decorative woodwork, and furniture reclaimed from buildings on the island. Sales not only raise funds to support GHF's mission of historic preservation, but the items sold are re-used in other island homes and businesses to help maintain the historic integrity of island.
The Friends of the Rosenberg Library raises more than $20,000 per year selling donated books at the Book Shop on the main floor of the library and during the organization's annual book sale in October. Funds are used to help purchase additional circulating materials for the library, including new CDs, DVDs, and, of course, more books.
As with all thrift stores, another person's charitable donation may be your treasure and the funds you spend for that treasure help keep vital community services operating. We all win!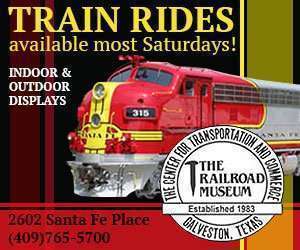 ---