By Terry Card
The two golfing buddies sat down at the bar to order their drinks. The bartender came over immediately and said, "What'll you have?"
"I'll have a draft – how many different kinds do you have?"
"We've got about two dozen varieties – with an all day special on a Texas favorite for $1.25."
"Great – I'll have a Lone Star and my buddy always has the same drink, so can you get him a bourbon on the rocks?"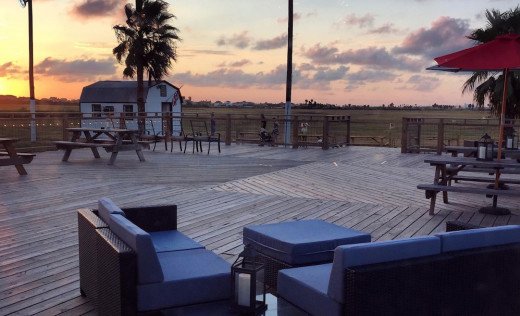 As they carried their drinks outside onto the patio, they looked over the whole bar and noticed the pool tables. "Up for a game later? It's free, and it looks like there's no smoking. That's two pluses for us."
"Sounds good to me!"
In their other hands, they carried a large bucket of balls each, past the tables and couches, out to the driving range area where they had left their clubs. "Next time I'll have to bring my putter and practice some putting."
"Yeah, me too, I really need the practice."
For some time, they drove balls out into the night under the floodlights. Then they decided to take their drinks back to one of the patio tables and sit down for a while to rest and listen to the music.
"This is great! No standing out in the heat of the day pounding balls and dying of thirst. I'm sure glad they opened this place. Great bar with really friendly wait staff and huge patio area! Prices are right too. "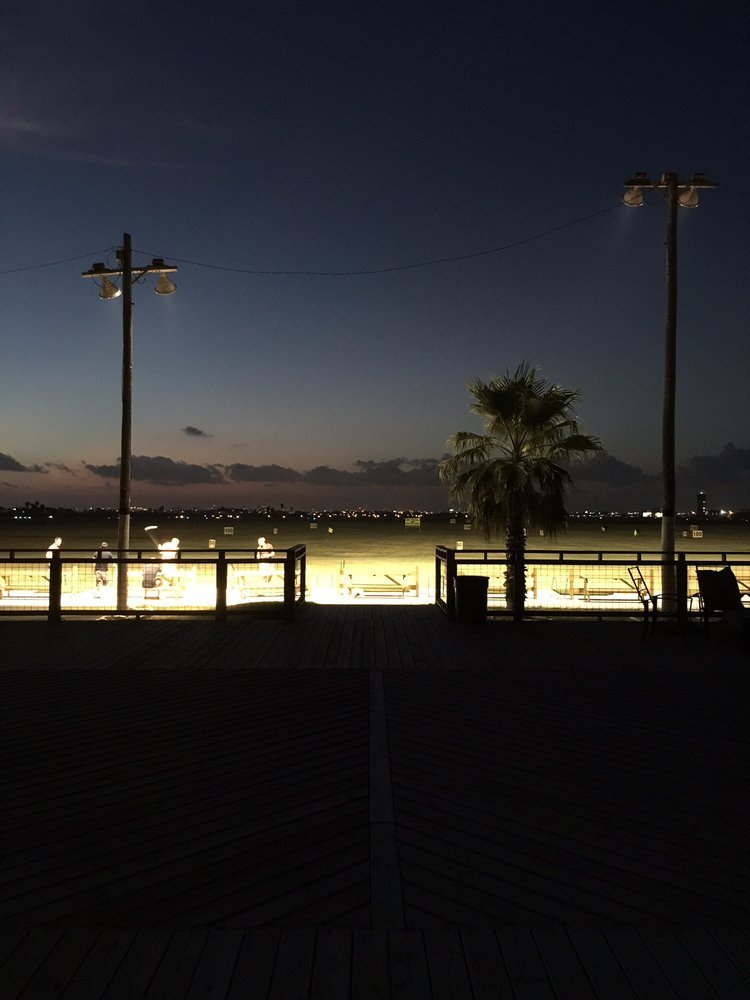 "Yeah, and I heard they have great views of the sunsets, so I think I'll bring the missus over for a wine to watch the sunset and listen to the music, and maybe I can sneak in a small bucket while I'm at it. And I see they allow smoking out here on the patio, so she will be happy."
"Good thinking, sounds like a plan!"
"The other thing, did you notice there were no mosquitoes?" "Yeah, I heard they have one of those mosquito misters. Sure seems to work!"
Within days after opening on St. Patrick's Day in 2015, Joe and his brother Tim, with their partner Danny Higgins, the owners of Tin Cup's, purchased the mosquito mister knowing that with a driving range that is open at night, it would be mandatory if their customers were going to properly enjoy their evening hitting balls and relaxing on the patio with a drink. It would also enhance the comfort when driving the balls during the day, providing a little cooling moisture.
Joe and his brother Tim also own Buck's West in Jamaica Beach which they started in 2004. Their original bar, Buck's Bar on the Strand was started in 2002, but was wiped out by Rita. They then opened up in Clear Lake, but unfortunately, the timing did not go their way when NASA and BP, both big employers in the area, downsized operations after ending the space shuttle program and the Horizon Deep Rig oil spill. The brothers saw their business cut in half within one month.
Joe had always been an entrepreneur. He started his own landscaping business when he was just 15 years old and soon had 4 employees. Then at 18, he started a D.J. business and made enough to be able to pay for his college education.
Both brothers were born in Tennessee. Joe joined the army and served for ten years. When he got out, both he and his brother wanted to become policemen, but they also wanted to start a bar. Since they couldn't do both at the same time when first starting up with no money, they decided to flip a coin to determine which brother would become a policeman and which brother would start up and run the bar.
Tim became the policeman and joined the Galveston Police Department. Joey, who had often been a Disk Jockey in bars, even though he was underage, used that familiarity with bar operations as a base for starting up the Buck brothers' first bar on the Strand.
The Tin Cup's Caddy Shack location had been a driving range about 10 to 12 years ago. It subsequently became a paintball facility, when that was wildly popular. After a while, paintball lost its allure and the business folded. The land remained unused until the three partners saw the possibilities of opening a combination driving range and bar.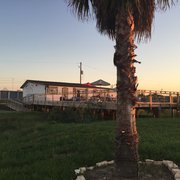 For Joey, it's more than just that. He sees it as a kind of a community center where people and families can gather for a good time out. For this reason, and because he was able to go into bars when he was underage when he was a disc jockey, he allows 18-year-olds to be in the bar, listens to the music, has a few laughs, uses the pool tables and driving range – but they cannot drink. Joey was finally able to join the Galveston Police Department three years ago. He knows that as policemen, he and his brother are respected by the patrons, young and old, and feels it is a place where they may have an influence on setting the moral compass for some of the youngsters.
At present, Tin Cup's Caddy Shack is open 7 days a week from 10am to 10pm. It is located at 9020 Stewart Road on the north side, near Scholes International Airport. In addition to $1.25 "Texas favorite" draft beer, they have $3 house wine all day Sunday. Happy hour is from 5-7pm every day and features $2.25 draft beer for any of the 24 varieties they have on tap. With a full bar, virtually every taste is satisfied.
Buckets of balls for the driving range, range in price from $5 for a small bucket (45 balls), $10 for a large bucket (110 balls) and $30 for an extra large bucket (400 balls).
For more information visit www.tincupscaddyshack.com.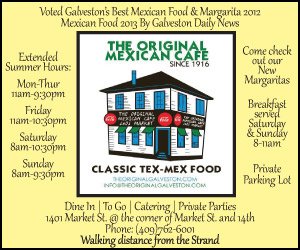 ---