Located at 215 23rd St. in Downtown Galveston, Vintage Crown Boutique Bar features a nice line of clothing and a specialty bar with world class preparadas, micheladas, beers, and more.
Vintage Crown Boutique & Bar was created in 2013 by Angelo Arriaga. Angelo is a self-described "sneakerhead" who would go check to check to pay for his obsession for shoes and clothing. Streetwear clothing is a style of street fashion, rooted from West Coast surf and skate culture and has grown to encompass elements of hip-hop fashion and Japanese fashion. Vintage Crown carries a variety of brands such as Diamond Supply, 10 Deep, Mighty Healthy, Huf, Mitchell and Ness, The Hundreds, Black Scale, Crooks & Castle, and much more.
They also feature an original line of "409" clothing, stickers, and more.
And, they have drinks like preparadas and micheladas…some of the best on the island according to locals!
A preparadas is a Mexican term for beer mixed with tomato juice, and hot sauce or salsa. The drink dates back to the 1940s, when it became popular in Mexico. Vintage Crown Bar offers theirs with your choice of Smirnoff Ice, chopped fruit, chili powder, chamoy, and topped with a variety of mexican candies.
A michelada is a Mexican cerveza (beer) preparada made with beer, lime juice, and assorted sauces, spices, and peppers. It is served in a chilled salt-rimmed glass. Most are spicy! The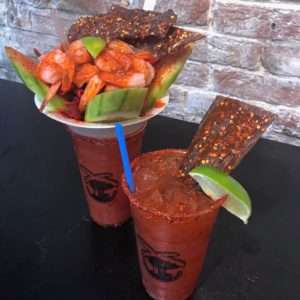 micheladas at Vintage Crown include cucumber, shrimp, takis, jerky, tapatio hot sauce, beer, and clamato. They come in two sizes – small and large – go ahead and get the large, you are going to love it.
Vintage Crown also servers mangoladas which is a drink that is typically made with frozen mango chunks, mango nectar, ice, chamoy sauce, tajin, lime juice, and chili powder and is usually decorated with a tamarind straw.
Giant Fish Bowl drinks are available in micheladas and hurricanes. 6-Pack Preparadas, Ceviche-ladas, dacquaris, sangrias, domestic and imported beers, various kinds of  Smirnoff Ice, wine, and Jell-O shots are on the menu. Manzana (apple) Locos are available too.
Said by Crystal from Houston, "I'm so glad we decided to stop by this place! The service was great and our drinks were amazing – they are huge and come with a big topping of snacks (shrimp, cucumbers, fruit, gummy candy) all for about $10 each."
Vintage Crown Boutique & Bar can be reached at (409)877-4400 and on Facebook and Instagram.
---