By Gini Rainey

So, when was the last time you picked up a great mystery novel and read through it in nearly one sitting?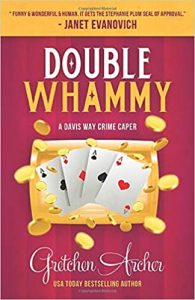 Well, that's too long and it's time for you to pick up Double Whammy!  Ms. Archer's romp through a casino in Biloxi is so much fun, it will change the way you think about, not only casinos, but light mysteries.
Davis Way, the heroine of this book, finds herself working on a casino security team and the troubles she gets in and out of will endear you to her zany character. Not only does this book have intrigue, it takes a peek into the surreptitious ways that casinos control the winning odds of their gamblers.
You'll fall in love with Davis and all the spontaneous and crazy things she winds up doing while trying to bust up a circle of gambling crooks, which might or might not also involve her ex-ex-husband.  If you love mysteries or technology or love triangles or family drama, you'll love this book and will want to read more of Davis Way's misadventures as do I! Fortunately, Ms. Archer has written several books Davis Way's crime capers that should keep you in fun reading for quite a while!
5 of 5 – Copyright 2018 – Gretchen Archer
---