Stewart Beach Offers Gigantic Obstacles, Games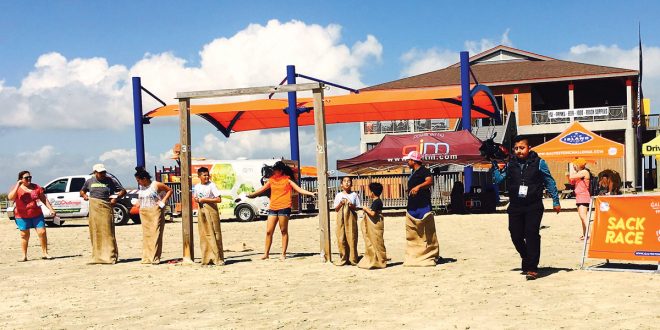 Giant battleships, huge bean bags, and limbo showdowns are coming to Stewart Beach for the return of the Galveston Family Beach Challenge.
The challenge, which will take place from 11 a.m. to 3 p.m. on the dates listed below, will transform a portion of Stewart Beach into a gigantic obstacle course, allowing families to compete in life-size versions of classic favorites like giant Jenga and dominoes, sack races and sandcastle building.
The Galveston Beach Family Challenge consists of 14 Stations that allow family members and friends to compete for one on one or as a family against another participating family.  Each family has the opportunity to participate no more than five times per station in a period of 4.5 hours.  Browse through each of the stations and learn more about them. The stations are:
Giant Jenga
Giant Memory Card
Giant Toss Game
Giant Connect 4
Volleyball
Sand Castle
Sack Race
Real Battle Ship
Limbo
Bean Bag
Time Challenge
Volley Balloon
Blind Water
Water Balloon Fight
Giant Tic Tac Toe
Frisbee Target Practice
Participants will have the chance to win the grand prize of a $500 gift card plus tickets to popular Galveston attractions.
The Galveston Family Challenge will be held on second Sundays in March, May, June, July, and August and on Sunday during Labor Day Weekend.
Galveston Family Challenge Dates
1st Place Winner: $2000 In Prizes
4 VIP Passes for Bishop's Palace

4 VIP Passes for Great Storm Theater

4 VIP Passes for Harbor Tours Drilling Rig Museum

4 VIP Passes for Ocean Star Offshore

4 VIP Passes for Rosenberg Library Museum

4 VIP Passes for Seawolf Park,

4 VIP Passes for Texas Seaport Museum

4 VIP Passes for Bryan Museum

4 VIP Passes for Grand 1894 Opera House

Plus a $500 VISA prepaid Card
2nd Place Winner: $500 In Prizes
2 VIP Passes for Bishop's Palace

2 VIP Passes for Great Storm Theater

2 VIP Passes for Harbor Tours Drilling Rig Museum

2 VIP Passes for Ocean Star Offshore

2 VIP Passes for Rosenberg Library Museum

2 VIP Passes for Seawolf Park,

2 VIP Passes for Texas Seaport Museum

2 VIP Passes for Bryan Museum

2 VIP Passes for Grand 1894 Opera House

Plus a $100 VISA prepaid Card
3rd Place Winner: $250 In Prizes
2 VIP Passes for Bishop's Palace

2 VIP Passes for Great Storm Theater

2 VIP Passes for Harbor Tours Drilling Rig Museum

2 VIP Passes for Ocean Star Offshore

2 VIP Passes for Rosenberg Library Museum

2 VIP Passes for Seawolf Park,

2 VIP Passes for Texas Seaport Museum

2 VIP Passes for Bryan Museum

2 VIP Passes for Grand 1894 Opera House

Plus a $50 VISA prepaid Card