By George Douglas Lee
If you're a fan of the Galveston area music scene, you've seen or heard Geoff Fish. He's played lead guitar with Soulshine for a long time but recently decided to take a break.
But not entirely. He took a break from being an electric guitar hero and picked up his acoustic instead.
Now he's playing at a number of venues, hosting open mics, doing a solo acoustic show or appearing with musical friends as a duet, or in his latest side project, "Well Played" featuring Geoff, Scott Misner, Mike Miller, and Michael Arcadia. It's an electric group, but for the most part, he's gone acoustic.
Geoff Fish has turned down the volume. For awhile.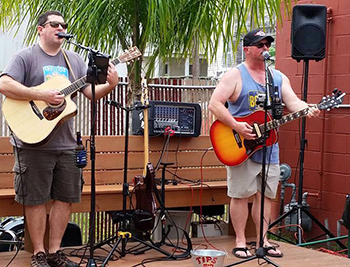 "Electric is nearest and dearest to my heart, but acoustic is fun in its own right," Geoff explained when I asked him about his preference. "I just acquired a new looping pedal, so I can have a rhythm section then jump in with a lead."
Geoff recently left "Soulshine," a local rock band he'd played guitar with for several years, to take a break from performing rock and roll.
"I can't really stop, I guess," he laughed. "The day after I got out of that band, I got offers on the table, and I thought, well, I can't turn down a good offer."
Geoff has been a musical fixture in Galveston for several years, particularly at Crow's Southwest Cantina, on the Strand between 24th and 25th Streets. He has hosted both acoustic and electric open mic nights there, where he said he's made many new friends.
"I've always felt that one should build your friends, not replace them," he mused. "I've stayed in touch with most of my high school friends, and this incredible network of musicians I've become part of."
Geoff Fish grew up in La Marque, Texas. He shared a room with his two older brothers, who also controlled the record player (remember those?), which exposed him to a lot of music that was before his time.
"You might hear me playing Buffalo Springfield or Neil Diamond at some of my acoustic gigs," he added.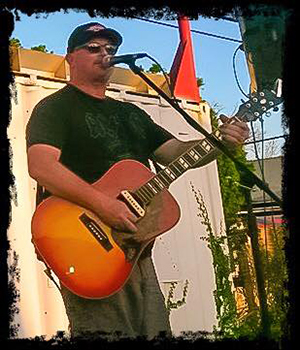 Geoff's parents arranged for Geoff to take guitar lessons from the legendary Manuel Pedrazza, whom many area musicians owe their interest in music to. Once he was in high school, he started jamming with friends and neighbors. He would even ride his bicycle to Parker Music in Texas City, with his guitar strapped to the handlebars. "I started with a cheap acoustic," he laughed. "One of those where the strings are about three-quarters of an inch above the fretboard. Yeah, my fingers would bleed from playing it."
Later, he bought a Silvertone electric guitar and a Fender Champ amplifier. He played with neighbor Rocky Calaway on drums. A couple of guys across the street from his house, Johnny Angel and Mike Flores, would hear Geoff playing and come over. "They'd take the instruments from us and show us how it's done," he said. "It was humiliating and enlightening at the same time. I learned a lot from those guys."
Throughout high school, Geoff would practice, listening to records, playing them at sixteen rpm instead of 33, to slow it down and learn the notes.
He continued to jam and play with different bands, often renting the Fireman's Hall in La Marque to throw a party.
"I still have some cassette tapes from those days," he remembers. "Pretty entertaining!"
He went through the new wave genre of the eighties, then he would hang out at Cruisers Ice House in Santa Fe every weekend. "Playing with guys that were way better than me at blues, watching them, jamming with them, I absorbed a lot. I hope it looks believable when I play," he says. "Blues, blues rock, blues influenced me for sure, as well as the legends such as Clapton and Hendrix."
Geoff's wife Patricia, is a drummer. "We even played together in a band during the mid and late eighties," he adds. "She has a drum set at the house and we still jam. Sometimes she even comes up to Crow's and sits in."
Of course, just about every local musician has to have a day job. Geoff started out as a waiter at Gaido's on the Seawall. He worked a lot of part-time jobs. One was at a restaurant in Bayou Vista, where he talked the owners into letting him play acoustic guitar and sing.
"My wife finally told me," he laughs, "if we're going to stay together, you better get yourself a real job!"
That is a refrain familiar to many a musician. Geoff took some courses at College of the Mainland, and he was particularly interested in microbiology. He got the necessary academic requirements and went to work for the University of Texas Medical Branch as a laboratory scientist.
"We work with bacterial and viral cultures," he says. "We figure out what patients have and what antibiotic or antimicrobial will treat them. We do testing to see what treatment will be best for organisms."
Even with a demanding full-time job, Geoff never stopped playing. A few years ago, his band began hosting open mic nights at Crow's for owner Diane Flores.
"I didn't know it was going to be an open mic situation," he says. "I made tons of friends over the years and the network of musicians I've met is just incredible. You know, the goal is to make them feel like they're the star, it's their moment. When somebody comes up, you want to introduce them, you want to let everybody know who's playing, truly give them the spotlight. If somebody's up there, and they're really trying, giving it their all, even if they're not the best player, well, we all started somewhere."
Talented as he is, Geoff is a very humble man, well-liked and popular throughout the area as a guitar player and singer. Now that he's no longer with his previous band, he's still doing open mics and playing acoustic shows, as well as occasional electric rock and roll performances with the side project "Well Played."
"It's a good life!" says Geoff. "Work hard at work and it's rewarding, so I get to play hard at night."
Right now, Geoff's shows are mostly acoustic. "Sometimes I mix it up. I'll drag out my little Marshall amp and do some electric on acoustic nights."
As far as his vast knowledge of classic songs, and Geoff is quick to point out that he does "interpretive covers," which means he doesn't try to emulate artists note for note, but to interpret the songs and make them his own.
"If I don't know the song," he adds, "I can probably figure it out pretty quickly."
Geoff has ongoing gigs at Crow's (every Tuesday night, 7-10pm), Aspens Bar and Grill in Clear Lake Shores (every other Wednesday) and other venues.
"It's going to be a fun musical summer," Geoff says. "Keep up with my Facebook posts and Island Guide. See what's going on and come out to join us at open mics!"
Geoff Fish impresses in many ways, but the overall takeaway is that he is a hardworking, humble and self-effacing man, whose job is saving lives, and whose avocation is bringing joy to people through music.


---