By Terry Card
When tourists indulge in conversations, whether it is while shopping, or talking to a local in a bar, one of their questions often is – "where is a good place to eat?"
Why? Because they know that if a local frequents a restaurant or café, the chances are higher that it will be an enjoyable experience.
What is it that separates the locations where the locals eat from the rest of the establishments? One factor is that usually it is locally-owned and not part of a big chain. Another factor may be that the food is excellent and so is the service. But there is something else – something unique that really separates it from the crowd.
In the case of Gino's – it is the atmosphere. The warmth is strikingly evident even from outside, especially at night when the soft lights strung around each window, create an inviting feeling which makes you want to spend time inside enjoying great Italian food. And the feeling does not end outside. The owners, Luciano and Emanuele Minardi, and Emanuele's sister Josie Walker, do not just provide friendly service, their customers are family.
This is not surprising for those who know people from the old world. Restaurants and cafés are gathering places for friends and family to enjoy a meal and a drink. Conviviality reigns in small cities, towns and villages, when people finish work, and want to relax.
For Luciano Minardi, who owned a bakery in Gela, a city of about 75,000 people on the beaches of southwestern Sicily, the progression from the island of Sicily to Galveston Island with its population of 50,000 surrounded by beaches, was a move that made him feel comfortable. Island time is more laid back, no matter where you live in the world. Once here, Luciano went back to what he knew – baking.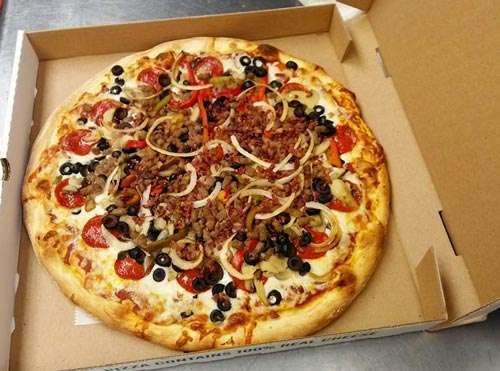 In February 1975, he opened a bakery at 45th and Avenue S. The building the family rented was a 2500 square foot shell in which they had to install all the flooring, walls and ceiling, after adding electrical service, lighting and plumbing. Then, all the baking equipment had to be added and coordinated with the other kitchen facilities. While he worked to establish the bakery, his family was integrating into their new life in Galveston. Both his son and daughter went to Ball High. During high school and after graduating, both Emanuele and Josie helped their father in the bakery. Their business provided baked goods to markets like Arlan's and many other restaurants, which then led in 1980 to adding sandwiches and then pizzas. Five years after opening the bakery, it was expanded to include a full pizzeria.
Finally, in 2011, the opportunity to own their own building presented itself, and they moved their business from the rented building to their current building at 6124 Stewart Road on the northwest corner of Stewart Road and Grover Avenue, one block west of 61st.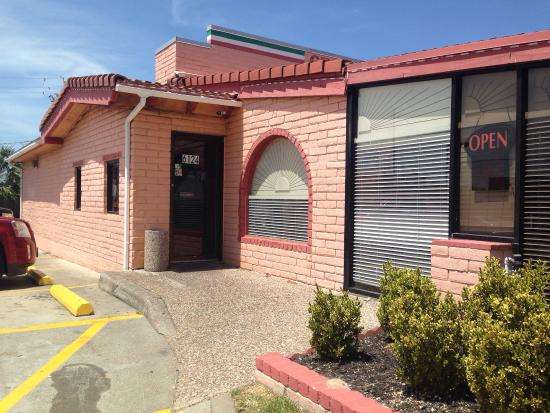 With the move, they decided to establish a full restaurant and pizzeria. The bakery was not included, since their customer base had been shrinking through competition from the big players like Wal-Mart, Kroger's and Randall's – conglomerates that had added baking sections to their stores over time.
Instead, they concentrated on creating a restaurant that combined the flavor and warmth of the old world with the relaxed atmosphere of Galveston.
Aside from feeling like you are part of the family, guests are treated to sizeable portions of great Italian food at good prices. Beer, wine, soft drinks, milk and iced tea are available to complete the meal.
One of the owners is always there, the restaurant now being run essentially by Emanuele and Josie, but Papa frequently drops by to look in upon his two siblings, their restaurant, and to talk to the many patrons who are like his extended family. In other words, the family is there for their guests. There is no intermediary, who may not really care. They look after the restaurant personally.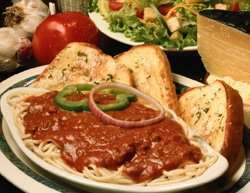 The majority of the patrons are local, but on average there is a surprising mix of tourists. About 30% of the guests on average, through word of mouth, have learned about Gino's.
All the pasta is homemade and the variety available is staggering. As well, their meals include six kinds of veal dinners, nine kinds of chicken, and five different shrimp dinners. They have a number of combo plates, sandwiches, salads, and appetizers. The list of desserts, which includes many old world recipes, will make your mouth water, even after a full meal.
A different lunch menu at reduced prices is available 11am-3pm Monday through Friday. Pizza and dinners are delivered in town for free. They deliver as far away as Jamaica Beach and Sea Isle. For these locations, a delivery charge is added.
Gino's is open every day except Tuesday 11am-10pm. Call (409)762-6481 for delivery or other inquiries.
---