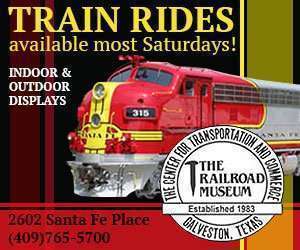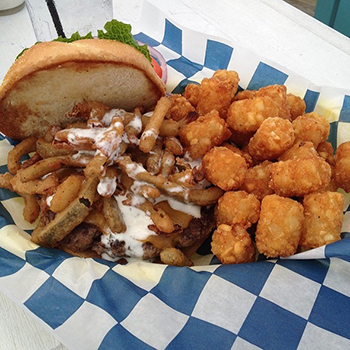 By Terry Card
The howling wind barreled down out of the black sky in full fury, lifting the surging water to unimagined heights. Slowly, it began tearing at the tin and clapboard bake shop, exposed on the landward side of the long fishing pier until, in a great rush, it was destroyed, utterly and completely.
Not yet satisfied, Hurricane Ike created a storm surge the like of which had not been seen since the beginning of the 1900's. It pummeled the concrete pier, tearing out the wooden decking and heaving great sections into the churning Gulf waters.
It was only four months prior, that Jimmy and Kelli McClure had put much of their life savings into purchasing the pier and bait shop. This terrible misfortune, striking at a time when businesses are most vulnerable, would have been devastating for all but the brightest of optimists.
As Jimmy said, "Prior to purchasing the fishing pier and bait shop, and renewing the land lease with the Texas General Land Office for the land on which the pier sits, and after selling our property business, I thought that the biggest challenge in life would be hauling in trophy fish and relaxing in the sun. Then, the opportunity to buy the pier emerged. It took us only nine days to decide to discard the relaxing bit, and buy the business on the pier, which was already an ongoing concern. It had been my intent to continue running the business as is – then Hurricane Ike changed everything! I simply viewed it as an opportunity to make the business better."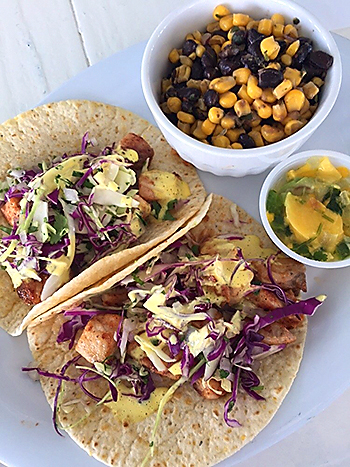 Fortunately, they had insured the pier and bait shop fully with some coverage to spare which was fortuitous as delays caused by lost permitting plans submitted to the city and cost overruns which occur in most construction projects were finally able to be overcome.
It took 2 years to rebuild the pier and create the restaurant and gift shop which now exists. Jimmy says, "I was heavily involved in the reconstruction, but two years is a long time to live with no income. Fortunately, my wife who is a real estate broker came to the rescue. Without her, I don't know……"
As many locals who watched the ongoing pier reconstruction recognize, the pier rebuilding was done in two phases. We watched in awe as piles were driven from floating pile driving boats into the sandy bottom of the Gulf, then beams were connected to the columns, decking was installed and finally railings and lighting completed section by section.
Income generated from the first phase and a bank loan allowed the second phase to be completed out to the pier not devastated by Ike, which runs perpendicular to the newly rebuilt long pier. The perpendicular pier of course, had to be extensively reconstructed, but structurally it had withstood the pounding surge.
Jimmy McClure was born in Dallas. His parents are Southerners, his mother from Mobile and his father from Oklahoma. They worked with various defense contractors, ending their careers with Lockheed Martin in Fort Worth. Jimmy settled in Galveston after completing a degree in marine biology at Texas A&M University at Galveston where he was introduced by a friend to his future wife Kelli at Molly's Irish Pub on Postoffice. Married eighteen years, they have a daughter 10 years old and a two year old son.
Seventy five percent of Jimmy's customer base are tourists, but of course, this fluctuates with the season. In the cooler, off season, locals prevail and are kept snug in the fully enclosed restaurant by a blazing fireplace and warming heater.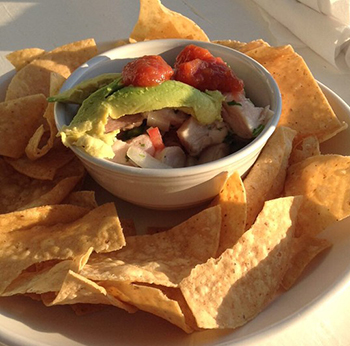 When they first purchased the business, Jimmy estimates that between 65,000-75,000 people would go out on the pier to fish or just walk along taking in the view, especially at sunset. Today that number has grown to about 120,000. Anyone who eats in the restaurant receives a band which allows them to venture out onto the pier for free. Just be sure to wear closed toe shoes.
On a net basis, the pier and the restaurant/gift shop business contribute equally. Fishing on the pier is very popular and has resulted in record catches including the largest ever 30-pound puffer fish, and a State record 220 pound Tarpin, which took five big men to lift from the water to the deck.
Jimmy and Kelli love Galveston, and Galvestonians love their restaurant and the fishing access at Jimmy's On The Pier. That doesn't mean there are never things to work out. They are presently working with the City to level the playing field for businesses like theirs and the ones in the Strand downtown district whose customers have to pay for parking, because providing free off-street parking is impossible for them given their location.
Stretching from Seawall Boulevard out into the warm waters of the Gulf, Jimmy's Restaurant and Fishing Pier immediately attracts the attention of those staying in nearby hotels or those just passing by. It has a sense of adventure about it, with an expectation that the view will be unique.
And the views are exciting, especially at sunrise and sunset. But, even during the day, it is great to have a drink at the fully stocked bar while watching the fishermen struggling with their catch, or baiting their hooks, or deciding which lure to use.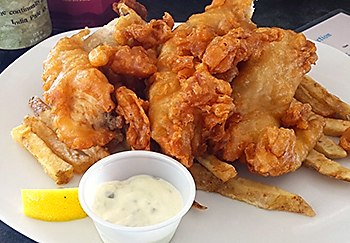 Add to all of that, there is the good, wholesome Southern food, like the specialty fresh fish tacos made with locally caught grouper. Lunch and any quick meals include hamburgers, fries and chicken nuggets.
For breakfast, Jimmy's serves delicious coffee with real cream in big cups, followed by a choice of tamales and eggs, waffles, scones, burritos, biscuits or migas.
Aside from local seafood, all other meat and produce is grown naturally, pesticide free and hormone free at McClure Farms.
Located at 9001 Seawall Boulevard across from the Premier Movie Theater and close to many hotels including the Holiday Inn Express, The Marriott, La Quinta, and the brand new Best Western Plus, Jimmy's can be reached by calling (409)974-4726.
This is a restaurant, gift shop and fishing complex that is unique to Galveston and in turn, helps make Galveston unique. Whether a local or a visitor – it is a must on your to do list!

---