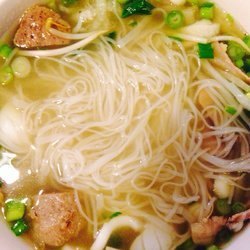 By Kimber Fountain
The charming duo of Hao and Rose have delighted Galveston with their popular Vietnamese delicacies for over eight years, winning many Island hearts with their massive, authentic bowls of steaming Pho. Veterans of the industry, restaurants are also a family affair to Hao and Rose. "My family owned restaurants back home," Hao says, "My brother in California owns several restaurants, also my niece. We use a lot of family recipes here." And Pho 18 is actually only one of several restaurants the pair have owned and operated over the past twenty years. They began with establishments in Sugarland and on Scott Street in downtown Houston, and the popularity of Galveston's Pho 18 withstood even the hardship brought by Hurricane Ike, the aftermath of which was seen and featured by a Vietnamese television station.
The family recipes that abound on their menu keep with the traditional versatility of Asian cuisine, giving guests a variety of options. The trademark Pho, a Rice Noodle Soup, can take on many personalities, like the simple and approachable Chicken Noodle, or a complex and robust version chock full of Marble Brisket, Beef Medallions, Soft Tendon, and Beef Meatballs.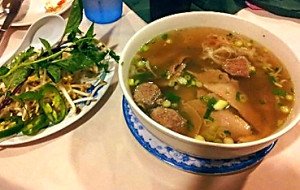 Pho 18's menu expands well beyond the Pho, adding Fried Rice, Rice Plates, and Vermicelli Noodles to your list of options. Delicate but vibrant Spring Rolls are stuffed in five different ways, and are accompanied on the appetizer menu by Vietnamese Egg Rolls and Summer Rolls.
Pho 18 also boasts one of the largest and most delicious Vegetarian and Vegan menus, with meatless versions of each of their appetizers and entrees. Authentic Vietnamese beverages like Fresh Coconut Juice and Salted Lemonade Soda also grace their menu, or to warm up on a winter's day try their rich coffee sweetened with condensed milk or a cup of their Vietnamese tea.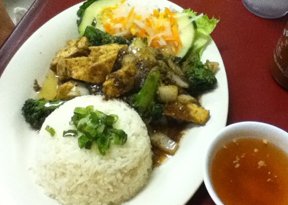 Hoa and Rose are frequented daily by every facet of the Galveston community, from students and young professionals, to doctors and former mayors, and their popularity is gaining state and nationwide attention.
In addition to receiving the Top Rated Business Award for 2014 from Trip Advisor®, Pho 18 has been featured three times on the pages of "Texas Monthly."
But more important to them than the plaques on the wall are the people who regularly make Pho 18 a priority destination. "We have people from Houston who come to visit Galveston and they make sure that they come here," says Rose proudly. "We love that."
Pho 18
704 Holiday Drive, (409)762-8849
Open Monday-Saturday, 11am-9pm, closed Sundays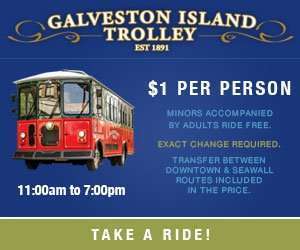 ---