Celebrating everything library on Rosenberg Day at Rosenberg Library on 2310 Sealy, downtown Galveston Saturday, March 25, 10am-4pm.
This family-friendly festival is FREE and open to the public.
Enjoy events and activities inside and outside the library all day, including:
All Day Events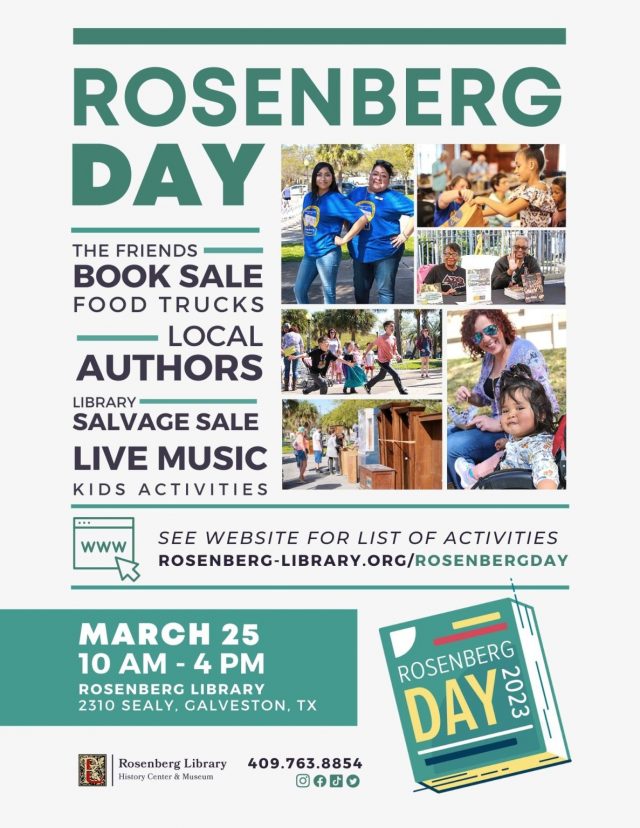 FURNITURE SALVAGE SALE
 – Outside
Take home a retired piece of Rosenberg Library history!
FOOD TRUCKS AND MORE
 – Outside
Galveston Island Taco, Cosmic Ice Cream Co., Cotton Candy, Odyssey Academy Coffee Cart
AUTHOR FESTIVAL – Outside
Meet and support local authors!
FREE BUBBLE BLOWING ACTIVITY – Outside
Presented by the Early Moody Childhood Center.
CIRCULATION CHALLENGE – 1st Floor
Enter to win a $25 gift card by signing up for a library card OR checking out three items with your existing card. Winners will be chosen at 11 AM, 1 PM, and 3 PM.
BONUS: First 100 people to enter get a reusable Rosenberg Day bag!
FRIENDS OF THE LIBRARY BOOK SALE – 2nd Floor
SCAVENGER HUNT – 2nd Floor
Visit the Reference Desk and find everything in our hunt to win a gift certificate to the Friends Book Sale!
3D PRINTING DEMONSTRATION – 3rd Floor
HISTORIC PHOTO AND BOOK SALE – 4th Floor
Buy canvas prints of historic Galveston images, as well as 20th century books published by the Rosenberg Library.
More Fun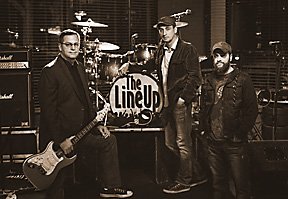 LIVE MUSIC – Outside, Sealy Pavilion
Listen to Houston's very own DJ Bill from 10 AM to 12 PM, then enjoy Galveston's most sought after band, The Lineup, from 1 – 4 PM.
FREE FACE PAINTING – Outside: 10 AM – 1 PM
AUTHOR PRESENTATIONS – 1st Floor, Randall Room
10:30 AM – Steve Alexander
11 AM – Penny Clark
11:30 AM – Kimber Fountain
12 PM – Pat Jakobi
12:30 PM – Jan Johnson
1 PM – Glenda Owens
1:30 PM – June Collins Pulliam
2 PM – Wren Richards
3 PM – Tommie Boudreaux & the Galveston Historical Foundation
IN THE CHILDREN'S DEPARTMENT – 1st Floor, Wortham Auditorium
Meet Bruce the Bear and participate in drop-in activities in the Children's department throughout the day.
10 AM – Bilingual Storytime
1 PM – Costumed Character Storytime
2 PM – Costumed Character Storytime
2:30 PM – Chess Club
3 PM – Costumed Character Storytime
FAQ
Where can I park?
Parking can be found on the north side of the library facing Ball Street.
Do I need a ticket/band/library card to get in?
This event is free to the public, so you can come and go as you please! We'd love it if you signed up for a library card, though!
What is Rosenberg Library?
Rosenberg Library is the first and oldest continuously running library in the state of Texas. It opened to Galvestonians in January of 1871 as the Galveston Mercantile Library and later became Rosenberg Library in 1904. The rest is history!