Best Places to Find Cold Weather Comfort Food on the Island
By Matthew West
For those of you who are like me and think that cold weather belongs someplace other than at the beach, you can take comfort in all the great places around the Island that will warm your body and nourish you enough to take on the frigid weather that thankfully never lasts long.
Whenever people visit the Island, the number one question that I have heard more times than I can count is, "Where is a good place to eat?" Followed up shortly after by, "That's not going to break the budget." Well, almost every place that I frequent serves a very tasty and fulfilling gumbo or some kind of soup of the day that is rarely disappointing. But just to make sure that your visit doesn't include taking a chance, these are my favorite places to warm up during this time of year with local cuisine.
Little Daddy's Gumbo Bar is number one on my list of delicious gumbos, soups, and all around good food. It is located right in the mix of shopping, and on some Saturdays ArtWalks, at 2107 Postoffice St. in downtown Galveston. The prices are reasonable especially when compared to the portions you receive. I don't think that I've ever left there feeling hungry. The options of Gumbo are Seafood, Chicken and Sausage, Prime Rib, or my favorite Mumbo Gumbo. Mumbo Gumbo is a combo of all the gumbos that they offer. If gumbo isn't what you're in the mood for, try one of their steam pots – you won't regret it.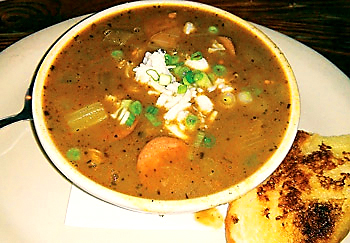 The Black Pearl has always been one of my favorites, too. Just a short walk from The Strand, located at 327 23rd St., downtown, their Seafood Gumbo is amazing, and I can see why there is only one on the menu. Why mess with perfection, right? Again, the serving is more than enough for most people, but for those who want an appetizer to start the meal off, I recommend you sit at the bar, order some oysters, and watch as the oyster shuckers work their magic.
Miller's Seawall Grill at 1824 Seawall Blvd. is not only my go-to spot for brunch, but in the afternoon has a Gumbo that compares only to my aunt's home-cooked version. When you don't have the time (or the patience to wait all day for the kind you may make at home), Miller's will never disappoint. The combo of the scenic view from every seat in the house overlooking the beautiful Gulf waters, the timeless jazz standards playing in the background, along with a piece of award winning chocolate ganache pecan brownie for dessert, and you will see why I love this place.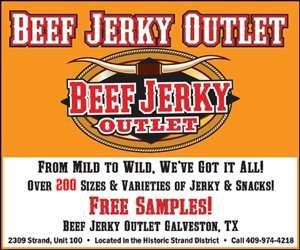 Mario's Seawall Italian & Pizzeria, located at 628 University Blvd., is a bit higher on the budget than the rest of this list. The atmosphere there always takes me back to the small Italian neighborhoods I used to visit with my family. Combining that with the close proximity to Stewart Beach, makes it a great place to warm up after the sun sets on your walk beside the waves. The Cioppino Fisherman's Stew combines a tomato-based stew with every kind of seafood that you could want. Shrimp, clams, crabs, fish, and mussels make each bite as wonderful as the last. You can add angel hair pasta for a little extra, but this a more than filling meal on its own.
Benno's Cajun Seafood at 1200 Seawall Blvd., with dine-in or carry-out options, will help satisfy any cravings you might have for a taste of Louisiana. This location offers a fast food style menu over the walk-up-to-order counter but none of the fast food taste. They have Jambalaya, red beans and rice, and of course, Louisiana Gumbo served all day, every day. The gumbo is thick and hearty with just the right amount of spiciness. Add a serving of Boudin, and you'll be hooked and coming back for more.
Gaido's and Nick's share a parking lot at 3828 Seawall Blvd. with additional parking available on 39th St. The parking lot is the only thing these two restaurants share. Once inside you will see how different they are. Gaido's is a place that you will want to wear more than your usual beach attire, while Nick's is a casual, come-as-you-are restaurant complete with a pool bar. That being said, both of these places are great. Gaido's has Watkin's Bisque, which has a rich, creamy seafood-base soup with baby shrimp. Gaido's also offers Brooks Gumbo, which is a Louisiana-inspired traditional gumbo recipe with okra and shrimp. Nick's has a Lobster Bisque that I can't get enough of, along with Charles Brook's Shrimp Gumbo, that in my opinion is seasoned just right with not much difference in price for these amazing choices. At Gaido's or Nick's, all you have to decide is whether you are in the mood for a more upscale or relaxed atmosphere while you dine.
Last on my list, but most definitely not least, is Fish Tales. Fish Tales is conveniently located directly across from Pleasure Pier at 25th and Seawall, making it a perfect option when the kids are starting to get hungry and the parents need a break themselves. This one is a special place for me. I was born a southern man, but my family is from New York. So, as you can imagine, I love clam chowder, and this is the place I go when I have a craving for it. Of course Fish Tales, like all the others on my list, has a wonderful Seafood Gumbo. During lunch time from 11am–2pm, you can grab a bowl of Roasted Red Pepper Crab Soup or Baked Potato Soup, and you really can't go wrong with either one of these lunchtime selections.
This is definitely not a complete list of all the wonderful places around the Island to get gumbos and soups. These are just some of the places that I enjoy, and I think you will too. So when you are out and about on the wonderful Island of Galveston and the winter wind starts to come down from the north, take shelter in one of these great locations long enough to warm yourself up and enjoy one of their many varieties of gumbo, soup, bisque, or chowder.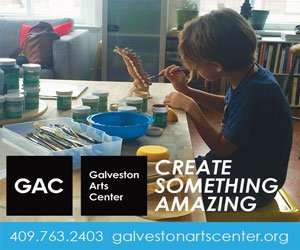 ---