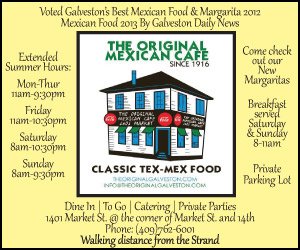 By Kimber Fountain, Photos by Christa Schreckengost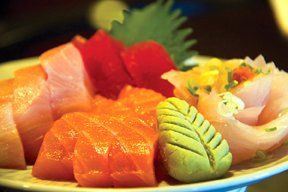 There are sushi restaurants, and there are hibachi restaurants. And then there is Yamato, a seamless fusion of both, yet in a class all of its own. The succulent sashimi melts in your mouth and the rolls are prepared by expert chefs who would more appropriately be called artisans, and their creativity is coupled with the spark of grill masters who dazzle with their culinary pyrotechnics. Yet these are only a few of the reasons that Yamato has held fast for twenty-six years, on an island in the Gulf of Mexico, far from its native inspiration and further still in concept from a community born and bred on local seafood.
A sign hangs behind the sushi bar that reads, "Yamato Bait Shop and Sushi Bar," and was made as an affectionate joke by a local regular, who Yamato converted into a sushi-lover. Owner Yih Chern Lo, lovingly called "Lo" by his frequent diners, tells the story. "This man would always come in at dinner time and eat on that side," Lo says, pointing to the hibachi dining room, "and I would always say, 'Why don't you come over here [to the sushi side] and just try it?' He would say, 'No way! That's not food, that's bait!'" Lo laughs. "But then after many years, finally, I got him to try it. And he said 'Wow!' And now he never sits on that side anymore, he always sits on this side," Lo beams, his arms resting proudly atop his gleaming sushi bar, lined with the finest cuts of fish that could not be fresher if they had been pulled from the Gulf.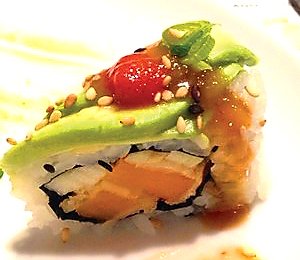 "Freshness was always my priority," Lo continues, and explains that he has fresh fish flown in from all over the world, from three different companies, three different times per week. Lo's impeccable standard of quality stems from both his extensive culinary experience and his utmost regard and respect for his clientele. Originally from Taiwan, Lo became a chef at the age of eighteen. He procured a position with a local restaurateur who was expanding his enterprises into the United States, and Lo opened a restaurant for him in Tennessee. It was then he decided to branch out on his own, much to the chagrin of his boss. He told me, "Don't go, don't go," Lo remembers, "And then he said, well, if you are going to go at least don't go to Texas!" Fortunately for Galvestonians Lo did not heed his mentor's advice. "This is my hometown now," says Lo "this is the first place I lived in the United States, I was the first generation to come here. The first five years were tough," he admits, but recognizes the community, and local businesses such as American National and The University of Texas Medical Branch, for supporting him and carrying him through those early years.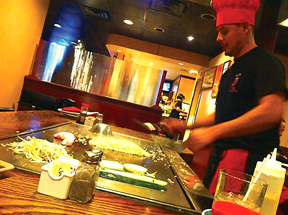 His affection for Galveston and its residents is obvious not only in the quality of fare he provides, but in the relationships he has forged that go back all the way to 1988. "I have seen three generations come through here," Lo exclaims, and despite his location on the main tourist drag of 61st Street, most of his patrons are locals and regulars; even Galveston's most famous chef of all is frequently sighted at Yamato's sushi bar. But the restaurant in itself is a family affair, and Lo's wife and children are always on hand to help with the daily operations, thus it is no wonder why the atmosphere is more reminiscent of a family dining room than a restaurant.
The sushi bar is situated on the north side of the building, and the south half is dedicated to the dinnertime hibachi dining. Yamato only offers the hibachi during dinner service, because Lo feels that often people are rushed at lunch and do not have the time to enjoy the full service. "With the hibachi, it is entertainment, we want you to come and have an experience and not be rushed." A private party room complete with its own grill is available for special occasions and large parties.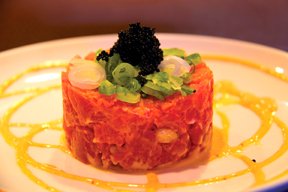 The sushi bar is open for both dinner and lunch, however, and boasts Lo's original creations. The Tuna Tartare is a fan favorite, a tower of sushi-grade ahi tuna tossed with toasted pine nuts, as is the Rock & Roll Special, a soy paper roll stuffed with succulent tempura shrimp and garnished with pickled mango and avocado. Lo also makes all of his sauces in house and from scratch, from his own recipes, and his rolls are a showcase of incredible design and originality. For the purists, sashimi combinations allow guests to choose from a variety of fresh-daily fish brought directly to Yamato from all over the world.
Thus it goes, right smack dab in the middle of a region reared on fried fish, grilled shrimp, and crawfish boils, and where the only thing ever eaten raw is an oyster, Lo and his Yamato family, both immediate and extended, have established a different yet enduring standard for seafood dining in Galveston. The warmth of the welcome, the pride in their craft, and the commitment to serving the community only the best, have successfully and seamlessly parlayed Eastern cuisine into an Island institution. "It's funny," he says "people will tell me they will go and try another sushi restaurant, but no matter what they always come back and tell me, 'No, Yamato is better."'
Yamato is located at 2104 61st Street and is open for lunch on weekdays only, Monday – Friday 11am-2:30pm, Sunday – Thursday, 5pm-10pm, Friday and Saturday, 5-10:30pm, (409)744-2742. Visit www.yamatotx.com to see Yamato's full menu.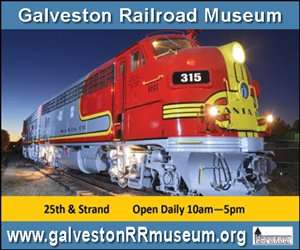 ---