By Kimber Fountain, Photos by Christa Schreckengost
Flaky crust, gooey center, fluffy topping: thus is the ultimate Trifecta of Pie, and this month "The Island Guide" takes you on a tour of the restaurants and individuals who have made this combination of three into an art form. From creamy to fruity, from mini to massive, from world famous to neighborhood baker, Galveston Island is slicing it up any way you like it.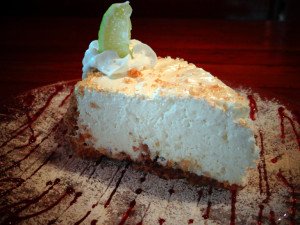 Miller's Landing
Miller's on the Seawall is owned and operated by long time Galvestonian Don Clark, and is known as the place to go for fresh seafood, huge portions, breakfast all day, and Key Lime Pie. Described as, "to die for," Miller's Key Lime Pie is dished out in massive slices, and one patron advises that you may need "a tag team to eat it all." Indeed a slice of pie at Miller's is not just an order, it is an experience, so whether your slice is for two or for twelve it is guaranteed to be gone, as the pang of a full stomach is effectively quieted by an outstandingly perfect combination of creamy, tart, sweet, tangy, and rich, housed in a crust that is gooey and crumbly all at the same time. So when the line to get in to Miller's is out the door, as it often is, just remember that the pie is worth the patience.
1824 Seawall Boulevard | 409.763.8777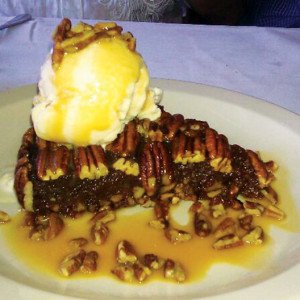 ShyKatZ Deli & Bakery
As soon as you step through the door of ShyKatz you feel like you are home. An ambiance of eclectic Southern charm and grace is amplified by their home-cooking flavors and a dessert table that will make you swoon. Proprietor Shy Leger oversees the deli and Kathryne Kearns is responsible for the daily output of desserts, which includes an array of cakes, pastries and cookies. But she is also known for her extravagant version of the American classic, which she has dubbed the 'Mile High Apple Pie' and describes as, "pretty darn good." Newton used the apple to confirm physics, but Kat uses the apple to defy physics, as it seems nearly impossible to fit that much goodness into one pie crust.
Another of Kat's pies can be found across town at The Cajun Greek (2226 61st Street), who features her homemade Key Lime Pie on their dessert menu. Connoisseurs of this dessert will agree that this is one pie that is either done right or not at all, but Kat's perfect balance of sweet and tart makes her Key Lime Pie one of the Greek's most sought-after desserts.
1528 Avenue L. | 409.770.0500 | www.shykatzdeli.com
PattyCakes Bakery
PattyCakes is a full-service bakery owned by the proprietors of the local favorite Mosquito Café. Steve and Patricia Rennick, head baker and wedding cake designer, respectively, have provided for Galveston a unique and creative sweet spot with a colorful ambiance and cheerful imaginings of both original and traditional desserts. Now in its third year of business, familiar favorites line the glass cases of Pattycakes, flanked by one-of-a-kind sugary concoctions that are as enticing as they are original.
They carry full-sized pies, they offer single-serving Tarts that are excellent for just a little something sweet. A Tart is officially a mini-pie, although traditionally they have crust only on the bottom and are formed to be removed from their pan before serving. But Pattycakes' Tarts come in a mini pie pan, making them convenient to store and carry, and are available in familiar pie varieties such as pecan and cherry.
704 14th Street | 409.762.2537 | www.pattycakesgalveston.com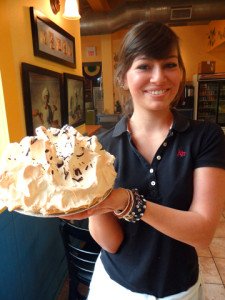 Sunflower Bakery & Café
There are so many reasons to love Sunflower, the heartwarming comfort food, convenient and healthy meal options, a picturesque patio, and nothing stirs a sugary soul quite like their dessert case. Rows of brownies and blondies, piles of cookies and scones, and pies loaded so high with merengue that your jaw will drop twice – once when you see it, and once when you try to eat it. Made fresh daily and available to purchase whole, the varieties include Coconut Cream, Chocolate Cream and Lemon Merengue.
Sunflower also sells a Chocolate Dipped Pecan Pie by the slice, and mini Key Lime Pies are a perfect individual size that does not require sharing. They also offer several other variations of pie including a Chocolate Ice Box Tart, a Cream Cheese Tart, and a Strawberry Tart, as well as savory Quiches.
512 14th Street | 409.763.5500 | thesunflowerbakeryandcafe.com
Texas Star Bakery
Texas Star Bakery is a locally owned, family business that dates back well over half a century. "It was started by my uncle, and then his kids took over, and then his grandkids," says current owner Chris Chapa, whose immediate family has been involved with the bakery for 44 of its 68 total years in operation. "My mom taught us to make the pie crusts by hand," Chris continues, "everything we do is from scratch, the old-fashioned way." Any day you can find on hand a variety of Merengue Pies, including Lemon, Coconut Cream, Chocolate Cream, and Banana Cream.
However the pie-making does not end with what is in the display case, as some of the best of Texas Star's offerings in this category are made to order. "We have the best pecan pie you have ever eaten," says Chris, which along with Apple Pie, Cherry Pie, and Pineapple Pie can be ready for you with as little as one day's notice. Homemade Pumpkin Pie and Sweet Potato Pie are also on the menu during the Thanksgiving and Christmas season.
5425 Broadway Avenue | 409.744.5905
Gaido's
An icon of the Island, Gaido's is Galveston's oldest restaurant and among the Island's most recognized legacies. The restaurant has thrived through 103 years of operation and four generations, known for its spectacular presentations of fresh Gulf seafood which are trumped only by its world-famous Pecan Pie. The recipe was developed by Father Tom Ponzini, who established Gaido's in-house bakery before his ordination and service as a Roman Catholic priest. It was in that very bakery where he sought the perfect pie crust, disheartened by the soggy texture of traditional pie crusts that tasted bland and lost their freshness long before the rest of the pie. The process he develops includes mixing crushed, candied pecans directly into the pie filling. As the pie bakes, the pieces of pecan rise to the top. After the pie is baked and cooled it is turned upside down, and then pecan halves are placed all around the top and the sides, creating a magnificent piece of dessert history. Typically pecan pie is served room temperature, but when ordered tableside the slice is served warm with a heaping scoop of Blue Bell Vanilla Ice Cream.
Gaido's Pecan Pie is available by the slice for dine-in guests, and whole pies are also available for purchase either online or in house. Gaido's ensures your craving can be met any time of the year, as they offer shipment of their Pecan Pie anywhere in the world.
3800 Seawall Boulevard | 409.762.9625 | www.gaidos.com
Andrew Liebig
Andrew Liebig Designs is a floral design company that specializes in weddings and events, although its owner and namesake is also a popular independent pie maker whose talents were discovered at a friendly pot luck dinner. Local musician Kat Joel-Reich tasted his apple pie, "and she asked me if she could pay me to make them for her and I said, 'Sure!'" Andrew continues, "The funny thing is I really don't like sweets, so I make the pies the way I like them, with less sugar. So it is still sweet but it is not overwhelming or rich. The flavor is not as harsh but it is still enough to fulfill that craving."
Andrew's Apple Pie is still the most popular, but he also adds his special touch to Cherry Pie, Peach Cobbler, and Pumpkin Pie, which is one of his personal favorites. He even has his own Key Lime Pie recipe, in which he uses a touch of other fruits such as orange or cranberry to round out the flavor. But as any baker will tell you, there is one key ingredient that surpasses all the rest, and Andrew does not keep it a secret. The first thing he will tell you about his pies is, "I bake them with love."
To place an order, please call 832.359.8387
---